Hurricane Ian Path Update, Tracker as 155mph Winds Hit Before Landfall
Hurricane Ian, which is due to make landfall in Florida later today, has strengthened to a Category 4 storm with maximum sustained wind speeds of 155 miles per hour, according to the National Hurricane Center (NHC).
This places it just short of a Category 5 hurricane and means "catastrophic damage will occur," according to the federal body.
More than 1.75 million Floridians are under mandatory evacuation orders, according to state Governor Ron DeSantis, with 2.5 million residents being advised to flee.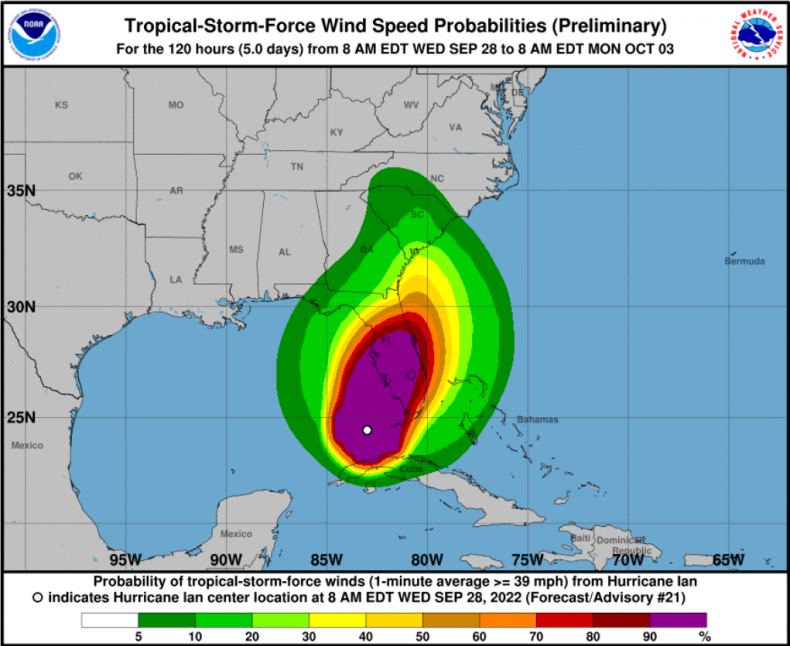 The Tampa Bay region, home to 3 million people, is bracing for what could be its first major hurricane direct hit since 1921.
Storm-surge danger to life warnings are in place across a swath of Florida's coastline, with flooding also forecast in Georgia and South Carolina.
The NHC announced Ian had become a Category 4 hurricane at 6:35 am EDT on Wednesday morning, based on data recorded by a National Oceanic and Atmospheric Administration (NOAA) aircraft.
If it reaches "157 mph or higher" it will become a Category 5 hurricane on the Saffir-Simpson Hurricane ranking.
The NHC says this means: "A high percentage of framed homes will be destroyed, with total roof failure and wall collapse. Fallen trees and power poles will isolate residential areas. Power outages will last for weeks to possibly months. Most of the area will be uninhabitable for weeks or months."
On Tuesday, it passed over Cuba, knocking out the island's power grid, with the NHC forecasting further "strengthening" until Ian makes landfall as an "extremely dangerous major hurricane." According to hurricane specialist Michael Lowry, Ian has increased in size by 50 percent.
The National Weather Service reports tornadoes have been seen in southern Florida, as the hurricane makes its approach.
In its latest 'key messages' update, released at 12.30 am EDT, the NHC said a "life-threatening storm surge is expected along the Florida west coast and the Lower Florida Keys, where a storm surge warning is in effect, with the highest risk for Naples to the Sarasota region."
The NHC continued: "Hurricane-force winds are expected in the hurricane warning area in southwest and west-central Florida beginning Wednesday morning with tropical storm conditions expected overnight. Devastating wind damage is expected near the core of Ian."
Flooding is expected across the Florida peninsula on Thursday, with parts of Georgia and South Carolina also at risk. Up to 20 inches of rain could fall over some parts of the Sunshine State.
In its update, the NHC said: "Heavy rainfall will spread across the Florida peninsula through Thursday and reach portions of the Southeast later this week and this weekend.
"Catastrophic flooding is expected across portions of central Florida with considerable flooding in southern Florida, northern Florida, southeastern Georgia and coastal South Carolina. Widespread, prolonged moderate to major river flooding expected across central Florida."
Governor DeSantis tweeted: "#HurricaneIan is expected to bring catastrophic flooding and life-threatening storm surge to large portions of the west coast. Listen to your local emergency officials and heed all evacuation orders to keep your families safe."
The governor spoke to Joe Biden on Tuesday and told Fox News's Sean Hannity that he is "very thankful" for the support offered by the president.
On Tuesday, Tampa Bay Mayor Jane Castor said a curfew will be put in place for those residents who refuse to leave.
She said: "This is not a drill. I don't know that it can get much worse, but I'm sure that there's a scenario that it can. No matter where it lands if it does come in a little south of us, we are not getting out of this unscathed, and there is going to be flooding throughout the Tampa Bay area."
CNN reported that 58 school districts have closed across Florida, so the buildings can be used as shelters for those evacuating.
Disney World and the Kennedy Space Center Visitor Complex will both remain closed on Wednesday and Thursday.
Hillsborough County Sheriff Chad Chronister said that "help's not coming" for those who ignore mandatory evacuation orders.
"There will be time where the winds are going to be as dangerous as they are. Someone's going to pick up the phone and say, 'Listen, I had that moment. I think I want to leave,' or 'I need help.' And help's not coming," he said.
Over the weekend, Hurricane Fiona knocked out the power for hundreds of thousands of people in eastern Canada, having earlier devastated Puerto Rico.
Update 9/28/22, 7:33 a.m. ET: This article was updated to reflect that Hurricane Ian has now become a Category 4 storm.