Before-and-after aerial photos show the extent of devastation across New Jersey, following historic flooding caused by Hurricane Ida.
The death toll in the Garden State alone has climbed to 27, as the Category 4 storm wreaked havoc across the Gulf Coast, before ripping through the eastern seaboard.
Despite being downgraded to a tropical storm after landfall, it caused severe flash flooding in New York, Connecticut, Philadelphia and New Jersey as Ida traveled northwards.
The National Weather Service reported 8.44 inches of rain were dumped on Newark, LaGuardia recorded 6.89 inches, 5.94 inches battered Bridgeport, while Central Park saw 7.19 inches fall on Wednesday alone.
In New Jersey, major rivers, including the Passaic, Delaware, and Raritan, burst their banks, turning roads into canals, with cars and homes submerged in the rising waters.
Public transportation, including New Jersey Transit and Amtrak, ground to a halt in some areas, as trains became stranded by floodwaters, and thousands of residents were left without power.
New Jersey Governor Phil Murphy, per NBC, called the devastation a "tragedy," saying: "All of these deaths are related either directly or indirectly to flooding and water, either in cars or homes."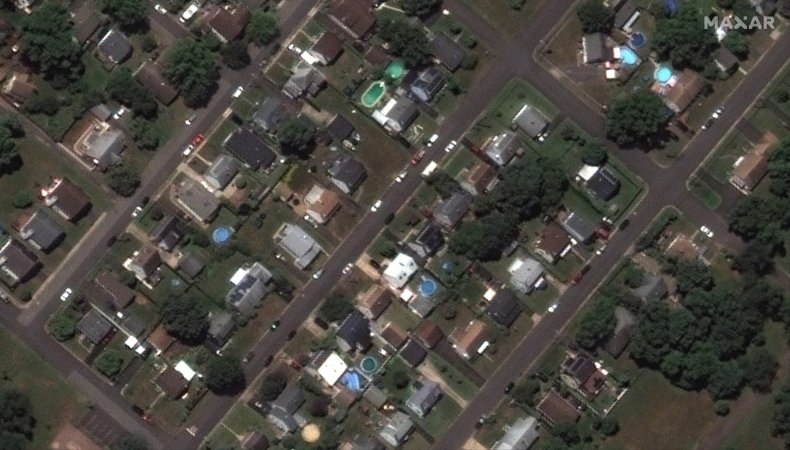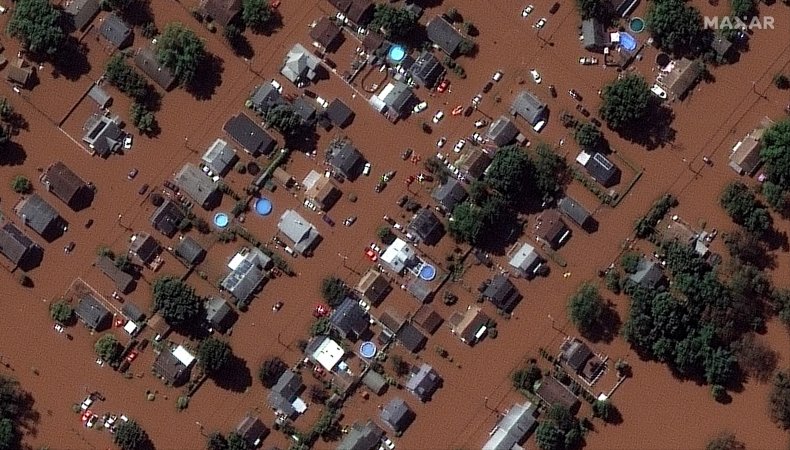 "This was a deadly and dangerous storm and we continue to face its after-effects," he added according to Reuters.
The state's worst-hit areas include Manville, New Brunswick, Somerville, South Bound Brook, with the scale of devastation laid bare in satellite images.
Maxar Technologies took a series of photos on September 2 and 4, showing neighborhoods in the midst of Ida's grip, and in the aftermath as the clean-up job gets underway
The space technology company also shared snapshots taken in 2020, with the before-and-after photos revealing the scale of the damage.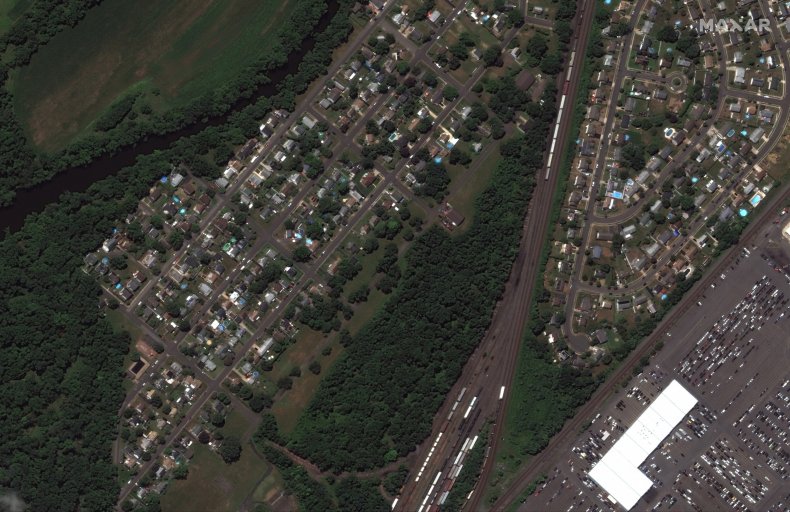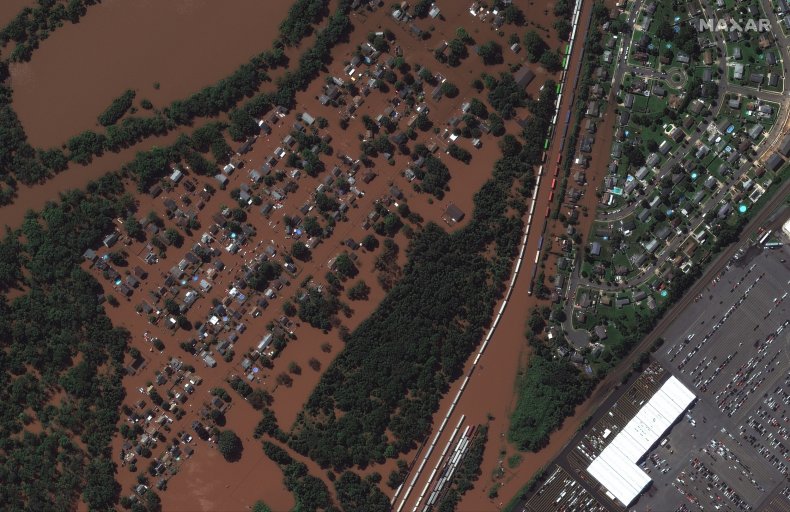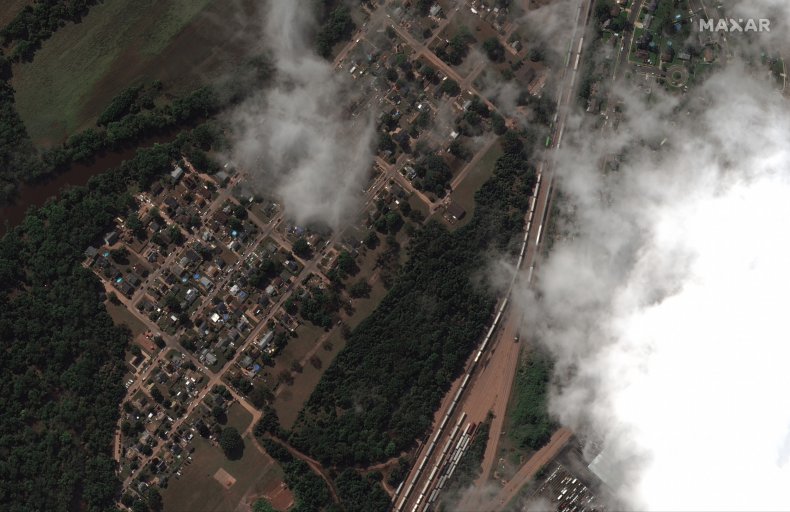 In one, the TD Bank Ballpark, in Bridgewater, where the minor league baseball team the Somerset Patriots play, is partially submerged, with the parking lot underwater.
Another shot shows a railyard, in Manville, with the train tracks obscured beneath brown, muddy water.
The Saffron Banquet Hall, also in Manville, exploded and was razed to the ground, with NJ Certified Emergency Manager John Bentz telling NBC the wedding venue couldn't be accessed due to flooding.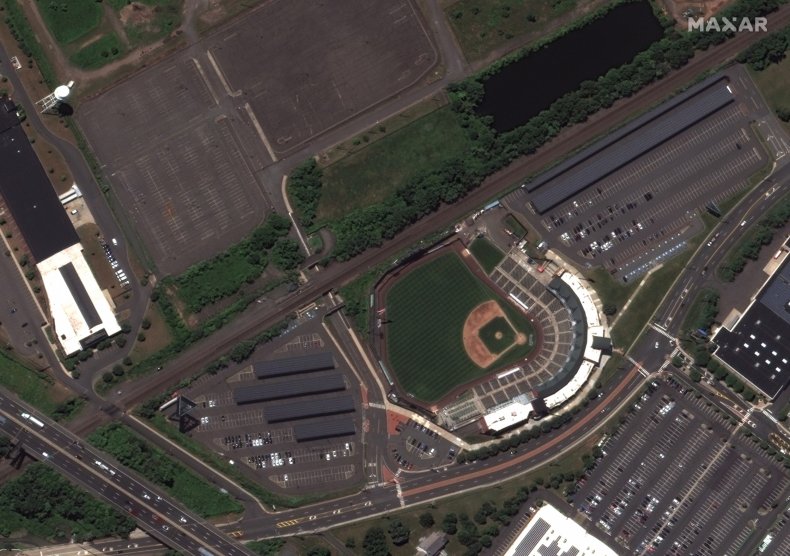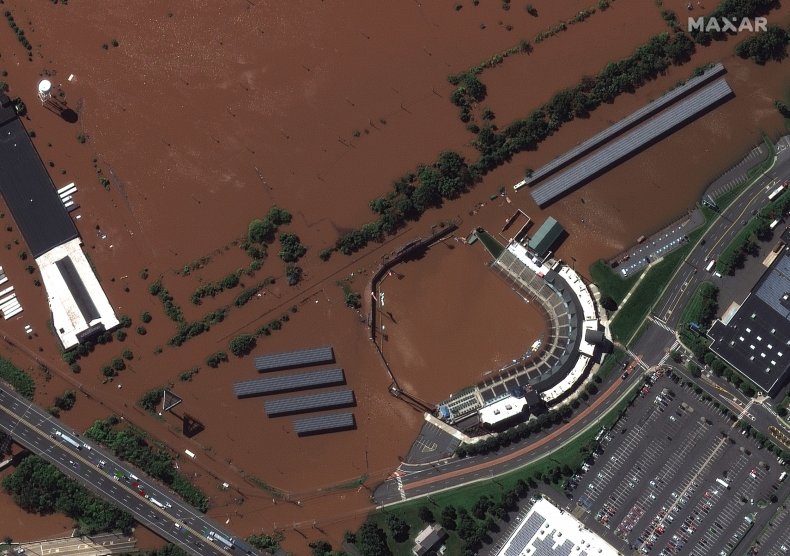 The building caught fire on Friday, with images from Maxar showing the burnt ruin surrounded by debris caused by the blaze. No one was injured in the explosion, NBC reported.
On Monday, President Joe Biden said "a major disaster exists in the State of New Jersey," and approved federal aid to support local response efforts in the aftermath of hurricane Ida.
Following his visit to Louisiana last week, the president is due to visit Queens, New York, and Manville, New Jersey, on Tuesday, two of the hardest-hit areas on the east coast, to assess damage.