Hurricane Irma Live Updates: Category 1 Storm Hits Tampa and Approaches Georgia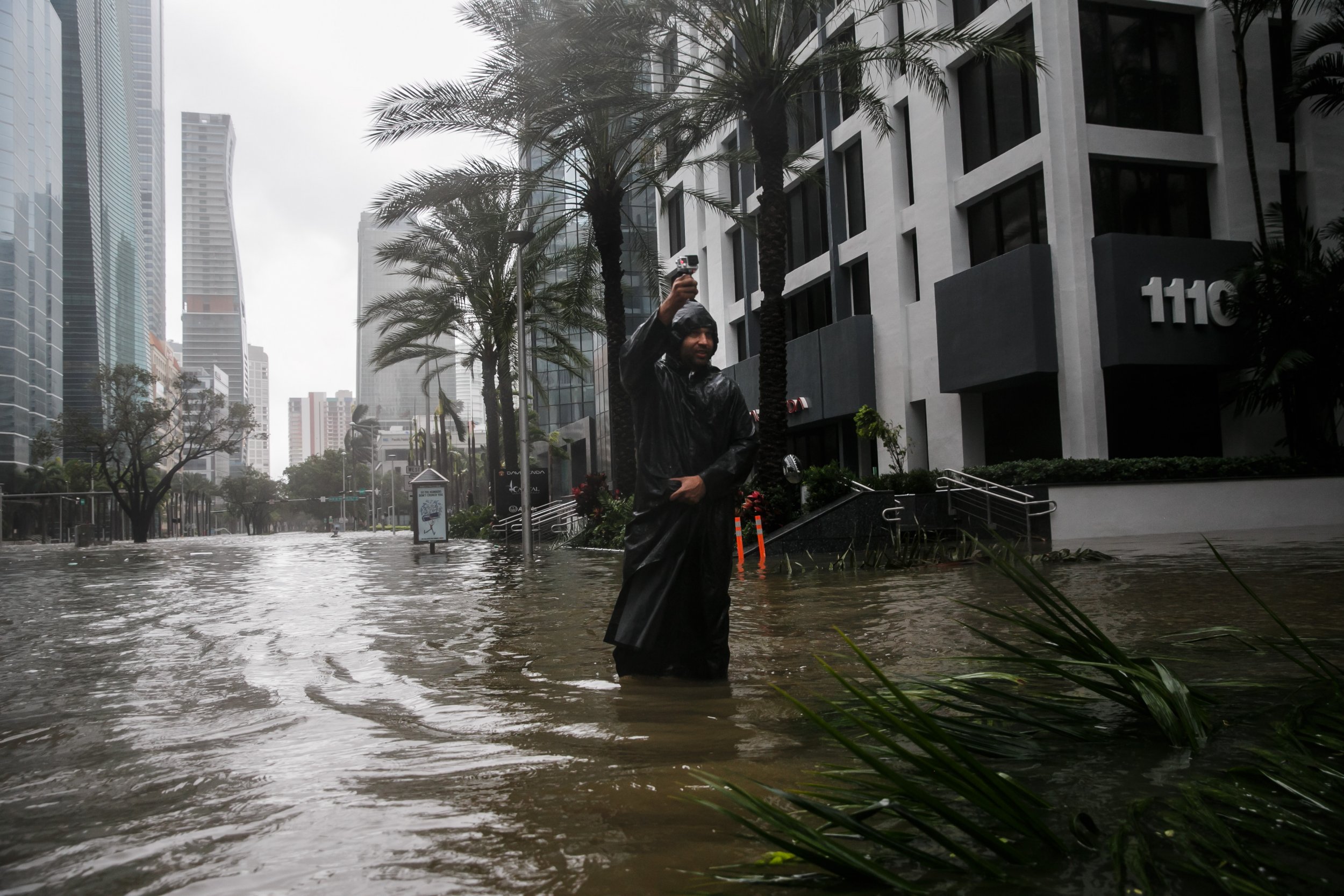 Hurricane Irma was downgraded to a Category 1 storm early Monday with wind speeds of 85 mph.
Nearly 6 million customers are without power because of the storm.
Flash floods and strong winds are a threat as the storm hits northern Florida and approaches Georgia.
Affected states include Florida, Georgia, Alabama, Tennessee, South Carolina and North Carolina.
In Miami-Dade County, police arrested 28 people for looting and burglary.
There have been five storm-related deaths in the U.S., while the hurricane claimed 26 lives in Caribbean last week.
There was flooding in the Florida Keys and Miami after the storm slammed into Florida Sunday with winds of up to 120 mph.
This concludes Newsweek's morning coverage of Irma, as it was downgraded to a tropical storm and moved toward Georgia. For the latest coverage of the storm and its aftermath, visit Newsweek.com.
Update: 11:07 a.m. ET - The American Red Cross said 208,000 people sought refuge from Irma across six states, and 7,500 people remain in shelters because of Harvey, which struck Texas and Louisiana in August.
Update: 10:37 a.m. ET - More than 250,000 people are without power in Georgia, and as many as 800 flights out of Hartsfield-Jackson Atlanta International Airport have been canceled, according to local media reports.
Irma has been downgraded to a tropical storm but is expected to hit Georgia with high winds and heavy winds when it reaches the state this afternoon.
Georgia Governor Nathan Deal on Sunday expanded the state of emergency to include all 159 counties in the state.
Update: 10:06 a.m. ET - President Trump has sent his prayers to victims of Hurricane Harvey and Katrina in a 9/11 ceremony at the Pentagon.
"When Americans are in in need, Americans pull together.... And when we face hardship, we emerge, closer, stronger and more determined than ever," said Trump.
Update: 9:46 a.m. ET - A flash flood warning is in place in Jacksonville, Florida, where video footage shows streets submerged by storm surges.
Update: 8:29 a.m. ET - The number of customers without power as a result of the storm has risen to 5.8 million, according to state officials and local electric utilities.
Most of the losses are in Florida, with losses in Georgia expected to increase as the storm moves north.
Update: 8:23 a.m. ET - The economic cost of Hurricane Irma and Hurricane Harvey could be as much as $290 billion, according to a forecaster.
"We believe the damage estimate from Irma to be about $100 billion—among the costliest hurricanes of all time," said AccuWeather CEO and founder Joel Myers, as cited by the AFP news agency.
Harvey, which caused devastating flooding in Texas in late August, will be "the costliest weather disaster in U.S. history, at $190 billion, or one full percentage point of GDP," which stands at $19 trillion, said Myers.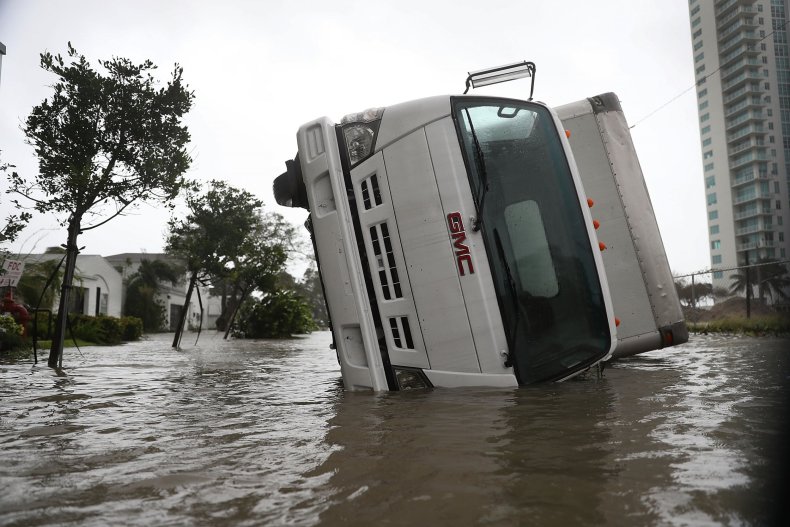 Update: 8:16 a.m. ET - The Cuban government said that 10 people have been killed by Hurricane Irma, which hit that country late Friday and early Saturday, Reuters reported.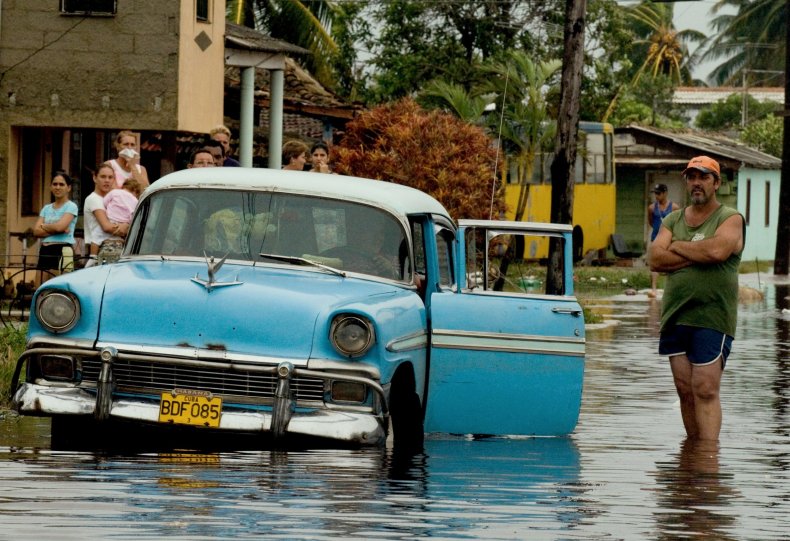 Update: 8:11 a.m. ET - Another warning has been issued about the dangers posed by electrical power lines felled by the storm. The Florida Department of Health has urged residents to beware of standing water where streetlights and power lines may have fallen.
Update: 7:39 a.m. ET - More pictures and footage of the damage caused by the hurricane as it tore through Florida on Sunday, including the moment it ripped the roof from a Miami building.
Update: 7:24 a.m. ET - Hurricane Irma has been downgraded to a tropical storm by the National Huricane Center (NHC), with 70-mph winds.
The storm is producing life-threatening storm surges in Florida.
"A storm surge warning is in effect for: South Santee River southward to the Flagler/Volusia County line; Cape Sable northward to the Ochlockonee River and Tampa Bay," said the NHC in a statement.
"A tropical storm warning is in effect for: Bonita Beach to the Okaloosa/Walton County Line; Jupiter Inlet to the South Santee River and Lake Okeechobee."
Update: 6:39 a.m. ET - Record flooding has been recorded in Jacksonville, Florida, according to the National Weather Service. It exceeds the previous all-time record set by Hurricane Dora in 1964.
15 inches of rain have fallen in the city since the storm began, and the St. Johns River is overflowing, CBS reported.
Update: 6:20 a.m. ET - The Beaufort County Sheriff's Office in South Carolina has issued a statement asking evacuated citizens to stop sharing sensitive information about their homes on their Facebook posts in the interest of security, reported WYFF4.
Evacuated citizens have created public-facing social media messages in which they ask friends to check on their property and include their exact address.
"Posting this information publicly provides would-be thieves, who may have remained behind for the opportunity to burglarize, with a target," the advisory stated.
Authorities ordered more than 5 million people in Florida to evacuate as the hurricane approached.
Update: 5:30 a.m. ET - British entrepreneur Sir Richard Branson has called for a "disaster recovery Marshall Plan" after Hurricane Irma devastated the British Virgin Islands, including Branson's Necker Island home.
"Over the coming weeks, we'll have to assess exactly what is needed. It is clear to me creating jobs is paramount—there will be a huge amount of rebuilding to be done and people will need work to help rebuild their lives as well as their homes," he wrote in a blog post.
Update: 5:28 a.m. ET - Miami-Dade police are telling people to remain indoors while officials deal with the hazards caused by the hurricane, and posted a video showing a fire caused by a power line felled by the storm.
Update: 5:21 a.m. ET - Hurricane Irma's wind speed has decreased to 75 mph, the National Hurricane Center (NHC) said. It is expected to be downgraded to a tropical storm later this morning.
Update: 5:07 a.m. ET - The National Weather Service is currently warning that the storm is causing hurricane-force winds across central Florida.