Hurricane Laura Brings Down Confederate Monument in Louisiana After Officials Rejected Calls to Remove It
As Hurricane Laura made landfall along the Gulf Coast early Thursday morning, it brought down a Confederate monument in southern Louisiana that community members pushed to remove earlier this summer. Despite requests from residents and support from a local mayor, the government in Calcasieu Parish, where the monument is located, voted to keep it in its place during a meeting held two weeks ago.
On Thursday morning, photos shared to social media showed the Confederate statue, known as the South's Defenders Monument, incurred significant damages overnight as a result of the hurricane.
"Lake Charles and Calcasieu Parish has been filled with controversy and tension after our parish government by a vote of 10–5 refused to take down the Confederate South's Defenders Monument," wrote Davante Lewis, director of public affairs at The Louisiana Budget Project, alongside pictures of the toppled structure.
A statue of a Confederate army soldier that previously topped the monument's columnar base was removed from its position entirely. Lewis posted a second photo in the tweet's comments section showing the statue from a closer vantage point. It was bent sideways and lying in a patch of grass below the column. "The confederate general has fallen," Lewis added.
In subsequent comments to Newsweek, Lewis noted that only a few Black members belong to the Calcasieu Parish Police Jury—similar to a board of commissioners—and said the governing body's vote to maintain the South's Defenders statue was divided along racial lines. Although Lewis himself is not currently a resident of Calcasieu Parish, his family lives there and father Eddie Lewis is a representative on the Police Jury.
"What really upsets the community is, there have been a lot of protests about it, there's been a social justice movement, there have been young people getting involved," said Lewis of the public's response to the jury's decision.
Frustrated by jurors' decision to protect the monument, protesters launched an initiative to boycott local businesses with ties to the board's members.
Residents of Calcasieu Parish petitioned local parish officials to retire the statue, originally placed outside the area's courthouse in 1915, amid nationwide calls to remove monuments and symbols connected to the Confederacy that began to surface in June. The movement came as demonstrators across the U.S. held protests against police abuse and racism after George Floyd's death in former Minneapolis police custody.
"The people of Lake Charles and Calcasieu Parish once again voice their desire to destroy the statue and remove the memory of slavery from its literal and figurative pedestal within the community," reads the description for a Change.org campaign that highlights the monument's harmful significance.
Newsweek reached out to the Calcasieu Parish government for comments, but did not receive replies in time for publication.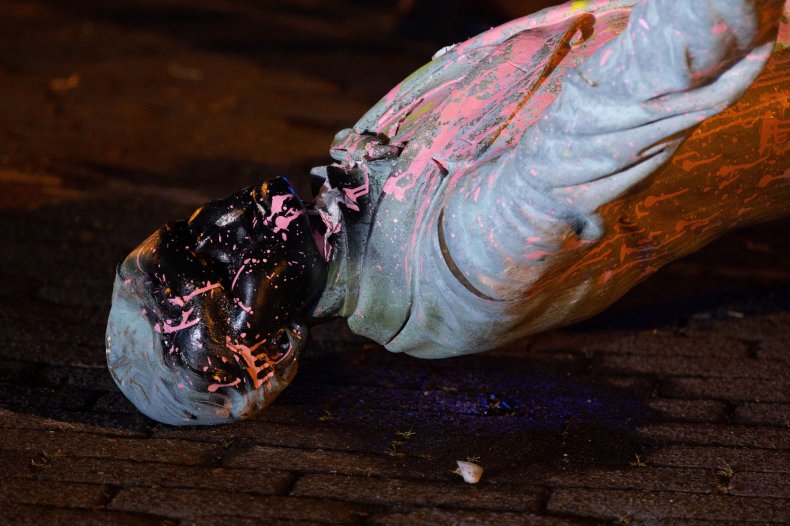 Hurricane Laura arrived in Louisiana's coastal regions early Thursday as a Category 4 storm that forecasters described as "extremely dangerous." The National Hurricane Center placed Laura's maximum wind speed at 75 miles per hour later Thursday morning, equating to a Category 2 storm.
The center has issued multiple advisories for residents of southeast Texas and most of southern Louisiana that warned of flooding, harsh winds and "life-threatening" surges that could cause water levels to rise 10 feet above ground level.
"Dangerous storm surge will result in elevated water levels for the next few hours along the Gulf Coast from Sabine Pass, Texas to Port Fourchon, Louisiana," the weather agency wrote around 11:15 a.m. ET on Thursday. Storm surge warnings remained in effect for residents of those areas.
Update: This story was updated at 1:00 p.m. ET to include Lewis' comments.