Lake Charles is predicted to be entirely flooded by sea water, and water set to reach as far as 40 miles inland as Hurricane Laura affects the area. Those in Southern States Louisiana and Texas are being told to brace for impact.
The highest flooding In Lake Charles was recored at 13 feet in 1913, but that level could be surpassed by this hurricane. Meteorologist Jim Cantore posted potential damage to the area via illustrative Google Earth satellite images.
Some areas of normally dry land may receive up to 20 feet of flooding, and The Weather Channel has urged residents not to underestimate this storm.
A life-like 3D simulation has been created by The Weather Channel to show the potential extent of the predicted flooding. At 3 feet of water, "it's too late to evacuate, cars can float away in just 3 feet of water. Who knows what's in this, it could be dangerous wildlife or toxic chemicals," said weather reader Greg Postel.
However, in some places flooding is predicted to be higher than the average man, even reaching the height of two-story building. "This is why they call it an unsurvivable storm surge and why you should pay attention to the latest updates and evacuate now. It may just save your life," Postel said.
The flooding is expected to go past the I-10 upto 40 miles inland and winds are predicted to reach up to 150mph. The perimeters of Lake Charles are predicted to see around 9 feet of flooding.
The National Hurricane Center said Hurricane Laura is "extremely dangerous". Last night, both a 133 mph gust and an 85 mph sustained wind were measured in the Lake Charles area, which took a direct hit from the storm.
Witnesses have already posted footage they've captured in the eye of the hurricane, causing buildings to be severely damaged and cars to be toppled.
The national weather service said Hurricane Laura is a dangerous Category 4 hurricane, and a "catastrophic storm surge" with "hurricane force winds, and flash flooding". The adverse weather has already caused more than 410,000 customers to be left without electricity in Louisiana and Texas, according to Power Outage US. Around 333,000 homes with power outages in Louisiana and 81,000 out in Texas.
More than half a million residents in the states of Texas and Louisiana have been issued mandatory evacuation orders. Those who stay will face life-threatening extreme weather conditions today. The National Weather Service has advised those unable to evacuate to take cover immediately.
"The safest place to be during a major landfalling hurricane is in a reinforced interior room away from windows. Get under a table or other piece of sturdy furniture. Use mattresses, blankets, or pillows to cover your head and body. Remain in place through the passage of these life-threatening conditions."
Nim Kidd, chief of the Texas Department of Emergency Management, said to residents in the state: "You are safer seeking shelter in Dallas, Austin, or San Antonio than you are in the path of this dangerous storm." Meanwhile, Texas Gov. Greg Abbott told those in southeast Texas to leave their homes: "The power of Hurricane Laura is unprecedented, and Texans must take action now to get out of harm's way and protect themselves."
Follow this link for the areas under Mandatory Evacuation Orders in Texas, and for information about Reception Centers for Evacuees.
In Lousiana, Gov. John Bel Edwards said it may be too late to evacuate in certain areas, and if residents have missed the window they should brace for the storm and stay off the roads.
"Much of our state is in the path of Hurricane Laura tonight. Whether you evacuated or are at home, you need to stay off the roads.
"This is a time for all of us to be praying for the best, while we're prepared for the worst. God bless you and your families. Be safe tonight. #Laura."
Click this link to view the mandatory evacuation areas in Louisiana, plus the Evacuation Centers in state.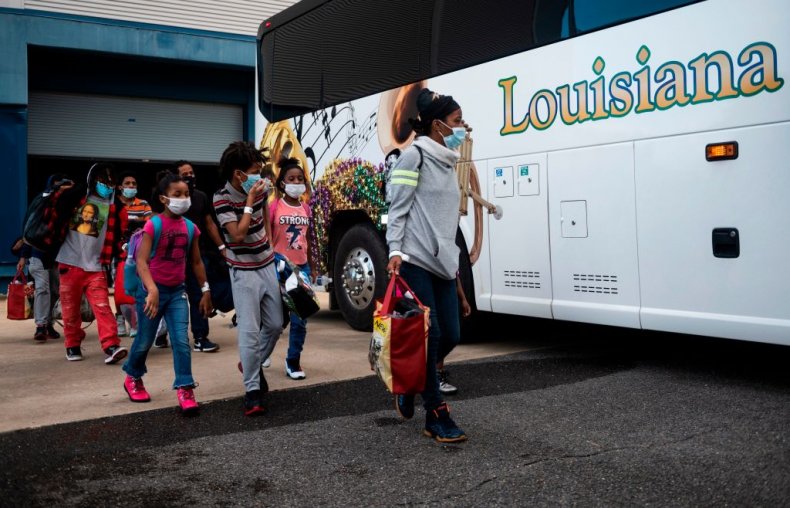 The most recent storm updates can be found via the National Hurricane Center website, and visual illustrations can be found via the GOES Geostationary Satellite.
"To think that there would be a wall of water over two stories high coming on shore is very difficult for most to conceive, but that is what is going to happen," explained NWS meteorologist Benjamin Schott, the BBC reported. "The word 'unsurvivable' is not one that we like to use, and it's one that I've never used before."
As masses of residents are displaced, and COVID-19 still very much at large in the region, people are being ask to remain vigilant and continue to prevent against the spread of coronavirus. In a recent study by Columbia University and Union of Concerned Scientists (UCS), researchers created a hypothetical evacuation in which residents of Palm Beach, Broward, Miami-Dade, and Monroe counties fled a Category 3 hurricane. The study imagined a scenario in which 2.3 million people were displaced, and predicted that in this instance COVID-19 cases could spike by some 61,000 if the hurricanes affected areas severely impacted by coronavirus.