Hurricane Laura Gives Trump Chance to Show Leadership After COVID Criticism
President Donald Trump's leadership skills have been thrown into question amid the COVID-19 crisis, with Hurricane Laura and its aftermath a fresh challenge set to put them to the test.
The responsibility of the presidency, and gravitas of the situation, puts pressure on Trump to perform—but it also somewhat puts his destiny in his own hands as to what people make of him.
"Americans always want their presidents to be 'strong leaders,' and these perceptions largely reflect the state of the country. When the country does well, voters perceive that its leaders have been effective; and when it fares poorly, voters attribute it to poor leadership," Jon C. Rogowski, associate professor in the department of government at Harvard University, told Newsweek.
"Incumbents typically benefit from the opportunity to showcase their leadership abilities. By virtue of being in charge, they can demonstrate their success in getting things done. Rather than shirking responsibility, Americans want their presidents to demonstrate decisive, bold, and competent leadership."
The commander-in-chief has faced sliding perceptions of his reaction to COVID-19, with many Americans disapproving of his handling of the situation.
Meanwhile, recent polling on his leadership in general showed more than half of those asked deemed it to be weak.
Among 1,200 self-identified registered voters asked by YouGov on August 6, 54 percent said Trump's leadership was weak. There was a partisan split among Dems and Republicans, with the former far more likely to see him weak than the latter, but 60 percent who identified as independents also identified his leadership as weak.
In separate polling, from The Economist/YouGov from August 16 to 18, Trump fared slightly better, with 51 percent of 1,500 U.S. adults asked branding him a strong leader. Again, Republicans and Democrats differed, whereas independent voters were closely split with 52 percent strong and 48 weak—with the poll having a 3.6 percent margin of error.
As he trails Biden ahead of election day in national polling, such perceptions could impact the reaction of voters in the booths.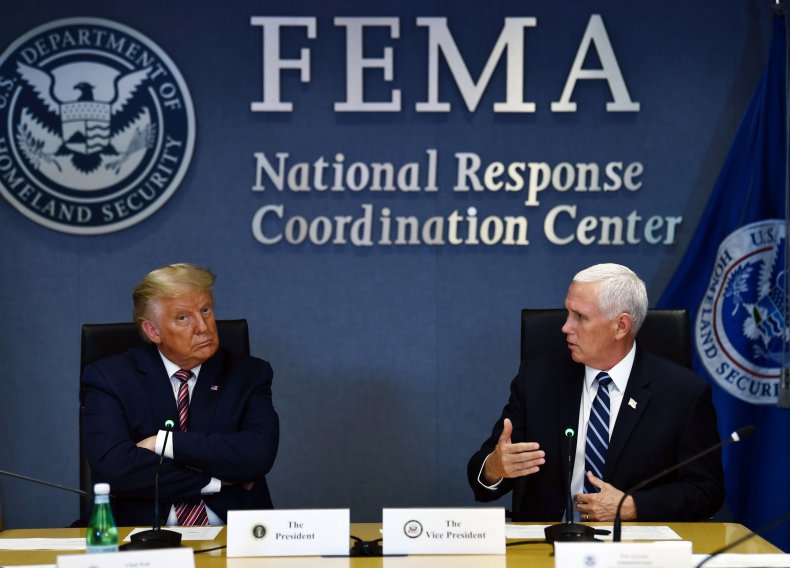 "Major events, such as Hurricane Laura and its destruction to the Louisiana and Texas coasts create an opportunity for the president to act decisively, which could shift perceptions of him as a weak leader," David McLennan, professor of political science at Meredith College, told Newsweek.
"President Obama's quick and personal response to the damage caused by Super Storm Sandy in 2012 helped him in his reelection campaign and may have caused some undecided voters to see that he was a compassionate, yet strong president."
He added that Trump "having deferred to governors and blamed others for the problems" could have contributed to people seeing his leadership as weak, though that "decisive actions" could see him perceived as strong.
"Presidents are always in the spotlight during a disaster and President Trump can claw back some of the perception of his weak leadership during COVID with an excellent government performance in the aftermath of Laura," Brandon Rottinghaus, a political science professor at the University of Houston, told Newsweek.
"He cannot turn back the clock on failed action during COVID but the White House can gain leadership momentum by doing better in recovering from the most recent disaster.
"Opinions can change quickly as unprecedented events continue to confront the nation, so there is still a chance the White House can alter the public's perspective on President Trump's leadership but time is running very short."
While negative perceptions of Trump are something he would wish to reverse or allay, they could also mean his margin for boosting perceptions is higher, Rottinghaus said.
"President Trump has more room to grow as a leader in voters' minds because of high profile failures and because he has the powerful image of the presidency to back him up," he added.
Rogowski, of Harvard, similarly believes Trump could boost perception of himself by his reaction to Laura, referring to how Obama was perceived when he reacted to Hurricane Sandy as an example, but couched this with the fact that there is still a lot of time until the election and focus is split among other crises.
"I think it is possible that Hurricane Laura could be a situation where Trump could use the event to bolster people's perceptions of him," he said.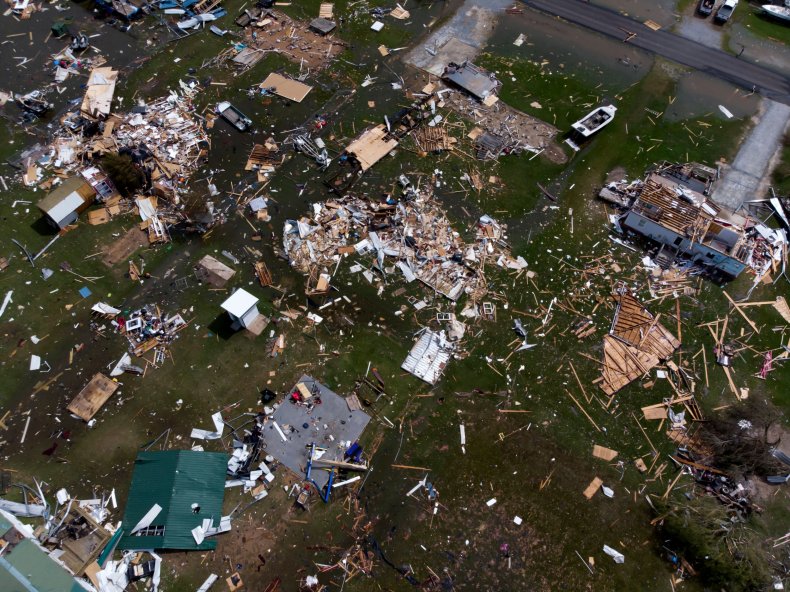 "For instance, would Louisiana Governor John Bel Edwards – a Democrat – express his gratitude publicly for whatever support the Trump administration provides? That could help. But Laura offers relatively minimal upside, I think, as an event that Trump can use for political advantage.
"One, media coverage of it is drowned out by coverage of Trump, the RNC, coronavirus, and Kenosha. In such a saturated media environment, Laura just isn't galvanizing people's attention.
"Two, Laura probably is too far out from the election to register any meaningful impact. October surprises shake things up on the eve of the election but given all that we're unlikely to hear about over the last two months, it is difficult to see much of a political opportunity here."
McLennan, of Meredith College, also pointed out that the perception of strength is one that people may see differently.
"'Strength' is a very fickle concept in terms of voter perceptions," he said.
"It is also difficult for presidential candidates to change their perceptions in this highly polarized political culture. Although Donald Trump could act in a way that causes his base to perceive his as strong, his opponents would label the same actions as tyrannical."
Trump addressed Hurricane Laura, the most powerful to strike the Louisiana coast in more than 100 years, before his RNC speech Thursday, in remarks at FEMA headquarters.
"Well, I just wanted to say that all Americans are thinking of the great people of Texas, Louisiana, Arkansas, Mississippiti [sic] — Mississippi, and all of those incredible states that are affected. It's covered a big range of territory — probably more than almost anyone that we can think of," he said. "It covered a lot, and it went very deep into the country and is going deep into the country. It continues."
On response to the crisis, he said: "I've signed emergency declarations for Texas, Louisiana, Arkansas, and Mississippi. FEMA is on the ground.
"I've spoken to all the governors, and we've worked everything out for the federal government to be very, very efficient and be very aggressive in getting everything back and going, and going as it should."
He is due to visit affected areas over the weekend, having said: "We'll probably be going on Saturday or Sunday, and we'll be heading to Texas and Louisiana, and maybe an additional stop."
Trump also previously issued an emergency declaration for Kansas previously.
A statement from White House Press Secretary Kayleigh McEnany on Thursday also outlined that the president was committed to offering federal resources for support.
"President Trump is committed to deploying the full resources of the Federal Government to rescue those in distress, support those in the region affected, and restore disruptions to our communities and infrastructure," she said.
Footage and photos from affected areas so far have shown trails of destruction left in Laura's wake.
Newsweek has contacted the White House and the Trump campaign for comment.