UPDATED-- Hurricane Maria slammed into Puerto Rico on Wednesday, destroying hundreds of homes, knocking out power to the entire island and causing massive damage across the U.S. territory. At least nine people are dead after the storm swept the Caribbean.
"The island is destroyed," Puerto Rico's Emergency Management director told ABC News.
The Category 4 storm— the first to directly hit the U.S. territory since 1932—brought "life-threatening hazards" to the island after killing seven causing "widespread devastation" to Dominica. Hurricane Maria follows two other powerful hurricanes, Irma and Jose, that struck the region in recent weeks.
Puerto Rico Governor Ricardo Rosselló told residents before the storm that 500 shelters would be available across the island. More than 11,000 individuals fleed their homes and remain in shelters. Officials warned residents early that power would go out and asked them to "keep calm" through the anticipated storm surge and flooding.
"Resist Puerto Rico - God is with us; We are stronger than any hurricane. Together we will rise," said Rosselló on Twitter.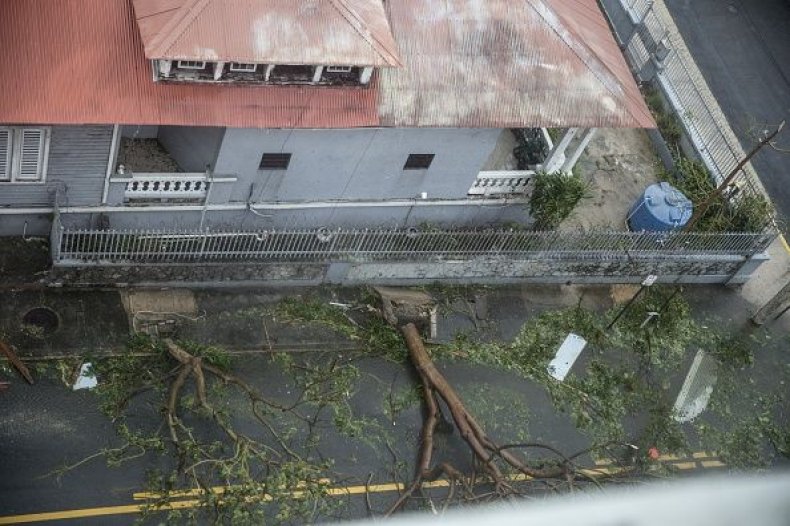 Debris blocks roads in Puerto Rico
From the Ciqala hotel in the Miramar neighborhood, fallen trees are visible, demonstrating the extent of the wind damage and giving an indication of what residents will be dealing with as Puerto Rico recovers. In other areas, parking lots and roads are severely flooded.
How much damage has hurricane Maria caused?
Governor Rosselló said officials were bracing for the "worst hurricane in modern history in Puerto Rico." The federal government offered some support for the expected damage in advance, saying that FEMA would be authorized to provide the equipment and resources necessary to alleviate the impact of the emergency. President Trump said debris removal and emergency protective measures, would be federally funded at 75 percent.
The island is millions of dollars in debt, raising questions about its ability to rebuild after the storm strikes. Most of the impact is still unknown, but San Juan Mayor Carmen Yulin Cruz told CNN that "we are going to be hit hard."
Photos and videos of Hurricane Maria damage
Hurricane Maria has visibly stripped palm trees, thrown branches and debris to the ground and begun its devastating impact. There are severe winds and rain across the Caribbean island, and water is flooding the streets.
CNN reported that Puerto Rico's first responders were unable to answer calls for rescue because it was "too dangerous to go out." The Federal Emergency Management Agency deployed emergency teams to the island to inspect critical infrastructure and board up buildings in preparation for the storm conditions, and regional FEMA teams are preparing for around-the-clock calls. All flights out of the city were canceled before the storm hit.
Hurricane Maria's path from space
The International Space Station captured dramatic views of Hurricane Maria from space as it moved across the Caribbean toward Puerto Rico.