Hurricanes Fueled by Climate Change Are Threatening to Wipe Out These Endangered Species in the U.S.
Human-driven climate change is predicted to make the impacts of hurricanes worse, which could have fatal consequences for coastal endangered species—as well as people—a report has warned.
The paper published by environmental advocacy group the Center for Biological Diversity (CBD) identified 10 endangered species already on the brink of extinction in the U.S. which are particularly vulnerable as hurricanes become more intense, produce more rainfall and generate higher storm surges.
"The climate crisis is feeding monster hurricanes that bring suffering and death to some of our nation's most vulnerable wildlife," author of the report, Shaye Wolf, said in a statement.
"With each superstorm, coastal species already near extinction are blown away by brutal winds, drowned by floodwaters or left with decimated habitats. It'll only get worse until we get serious about curbing climate pollution," she said.
In order to determine which species were most at risk from climate change-fuelled hurricanes, the authors of the report examined data from the U.S. Fish and Wildlife Service, National Marine Fisheries Service, and various scientific studies. This enabled them to identify the species that are most at risk—many of which now survive only in small, isolated populations.
Over the course of evolution, many coastal species and ecosystems have developed adaptations which help them deal with powerful storms. However, because hurricanes are becoming more destructive, the risks they pose to wildlife are increasing, according to the report.
The storm surges, flooding, strong winds, and debris that hurricanes bring can kill or injure animals and plants, as well as causing severe damage to habitats. Research has shown that after powerful storms, species tend to suffer higher death rates, population declines, habitat loss and localized extinctions.
The situation is not helped by the fact that the resilience of coastal ecosystems to storms has been weakened by rampant human development and pollution.
While the effects of hurricanes on wildlife are overwhelmingly negative, the report notes that one group of animals does benefit from them: invasive species. This is because hurricanes can help to spread them.
Below are the 10 endangered species identified in the report which are most at risk from hurricanes:
1. Puerto Rican parrot (Puerto Rico / Fewer than 100 in the wild)
Hurricanes can reduce the amount of food available to these birds by toppling over trees, and blowing away fruits, seeds and leaves. Half of the wild population was killed by hurricanes Irma and Maria in 2017.
2. Attwater's praire chicken (Texas / Fewer than 100 in the wild)
These chickens are particularly susceptible to flooding given that they live in just two coastal sites.
3. Black-capped petrel (Gulf Stream waters from Florida to North Carolina / 500 to 1,000 breeding pairs)
Hurricane winds can force these seabirds inland, far away from their natural habitat. This often leads to death, as occurred with Hurricane Fran 1996—which killed at least 26 of the birds.
4. Florida Key deer (Florida Keys / Around 800)
This deer is vulnerable to storm surges and flooding because the vast majority of their habitat lies less than three feet above water.
5. Perdido Key beach mouse (Alabama, Florida / Around 400 to 800)
These mice live in sand dunes which are easily destroyed by hurricanes. The species was nearly wiped out by Hurricane Opal in 1995, as well as the 2004 and 2005 storm seasons.
6. Florida manatee (Florida / Around 8,800)
Hurricanes can push manatees far out to sea or leave them stranded on land.
7. Frosted flatwoods salamander (Florida, Georgia, South Carolina / 90 percent loss in population since 2000)
These salamanders breed in freshwater ponds which can be flooded after hurricanes, reducing the number of young that are born.
8. Green sea turtle (Nesting beaches in Florida, North Carolina, South Carolina, Georgia, Texas, Puerto Rico, U.S. Virgin Islands / Around 8,500 nesting in Florida)
These turtles are particularly vulnerable because their nesting season when they appear on the nation's shorelines also coincides with the hurricane season. Hurricane-induced storm surges can flood turtle nests, drowning hatchlings, while also stranding the animals dangerously far inland.
9. Elkhorn coral (Florida, Puerto Rico, U.S. Virgin Islands / Three percent of former abundance)
Hurricane storm surges can damage corals, which are already facing severe threats from increasing ocean temperatures and ocean acidification. The 2005 hurricane season, for example, led to a huge reduction in coral cover in the Florida Keys.
10. Schaus swallowtail butterfly (Florida Keys / About 40 to 300 adults)
These insects are split into just two remaining populations, which are both vulnerable to strong winds and flooding resulting from storm surges. One of these populations in Biscayne National Park was almost completely wiped out by Hurricane Andrew in 1992.
Why are hurricanes becoming more destructive?
As the world warms, ocean temperatures will also increase—a process which, scientists say, is leading to an increase in the intensity of hurricanes. The warmer the temperature of the sea surface that a hurricane moves over, the stronger the storm can become, because heat energy in the water acts almost like a fuel.
In the past four years, five storms have intensified to Category 5 on the Saffir-Simpson Hurricane Wind Scale—Dorian (2019,) Michael (2018,) Maria (2017,) Irma (2017) and Matthew (2016.) This is the most consecutive years on record where at least one hurricane clocked Category 5 wind speeds.
Aside from wind speeds, global sea level rises—which are being driven by climate change—are making coastal hurricanes more destructive due to the increased risk of storm surges, as we saw with Katrina in 2005. Large storm surges which can lead to severe flooding have already increased in frequency twofold and are only expected to become more common as the world warms.
The damage that these events cause will only be exacerbated by the fact that climate change is expected to increase the amount of rainfall that hurricanes produce given that warmer air holds more moisture. Scientists say that the destructive and record-breaking rainfall generated by Hurricane Harvey—which reached 60 inches in some areas—was 3.5 times more likely because of climate change, according to the report.
What can be done?
So what can be done to reduce the threat from climate change-fuelled hurricanes to the species listed above? The CBD says that firstly, urgent and transformative action is needed to reduce greenhouse gas emissions.
"The Intergovernmental Panel on Climate Change warned that global greenhouse emissions must be cut by half in the next decade and nearly eliminated by 2050 to avoid catastrophic climate harms," the authors of the report wrote.
"We must demand that local, state and federal officials confront the climate emergency and curb the single greatest contributor to the climate crisis—fossil fuels—by implementing a plan to rapidly phase out fossil fuel production and speed a just transition to 100 percent clean, renewable energy," they said.
Secondly, more direct measures must be taken to protect coastal ecosystems and the species that live in them, which can boost their resilience to storms.
"Protecting and restoring healthy, intact coastal ecosystems also boosts species' resilience to the climate crisis by increasing habitat connectivity, climate refugia and genetic diversity," the authors wrote. "In return, healthy coastal ecosystems provide important protection from storms by absorbing storm surge, reducing wave energy and wave heights, and slowing erosion."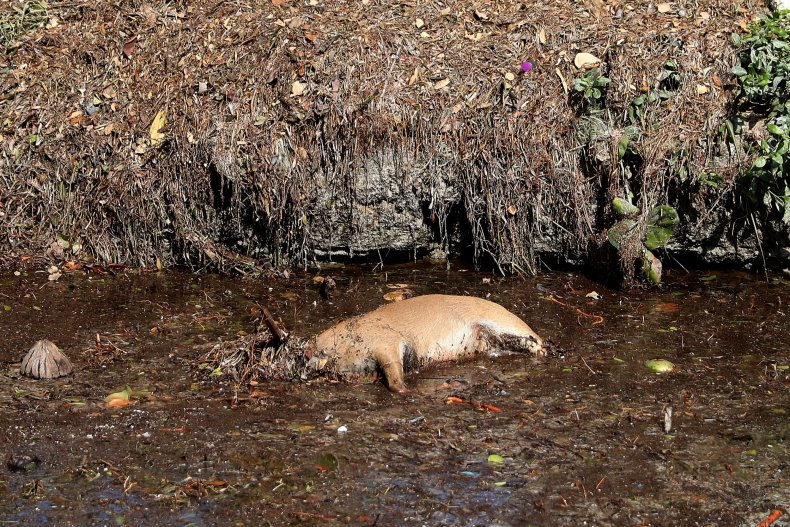 Finally, the CBD says that protecting the Endangered Species Act—which is under attack from the Trump Administration—is critical to saving these species. The act is a key piece of legislation which spared hundreds of species from extinction since being introduced in 1973.
In August, the administration finalized changes to a set of regulations which would diminish the protections afforded to threatened species and undermine the process for designating protected habitats, according to the Animal Welfare Institute (AWI.)
The changes open the door for business to weigh-in on decisions over whether to list a species as endangered and could make it easier for expert voices to be silenced when consultations are held over how industrial and infrastructure projects could affect threatened animals, critics say. All of this leaves species threatened by the effects of climate change more vulnerable.
In response, several environmental groups, including the CBD, have sued the Trump Administration over the recent set of changes.