Hurricanes Will Drive More Migrants to Border, Climate Change and Immigration Experts Say
Two hurricanes that hit Central America in November 2020 contributed to the larger-than-usual wave of immigrants currently seeking asylum at the U.S. southern border, experts say. Experts believe that worsening hurricanes in the future may create even more "climate refugees" seeking better living conditions in the United States.
Hurricanes Eta and Iota—two Category 4 hurricanes that hit Nicaragua, Honduras and Guatemala within two weeks during November 2020—left an estimated 5.3 million people in the region without homes, possessions, jobs or access to water and social services. These estimates were provided to Vox by Laurent Duvillier, a spokesperson for the Latin America and Caribbean regional office of the United Nations International Children's Emergency Fund (UNICEF), an organization which provides humanitarian and developmental aid to children worldwide.
"Many families have nothing to go back to and are now left with little options to survive," Duvillier said. "Unless more humanitarian support is provided to Central American countries affected by these tropical storms, unless conditions are created in communities for people to be able to stay, it is expected that more families will migrate north in search for a better future for their children."
Hurricanes and tropical storms are expected to become more frequent and powerful, according to projections released in September 2020 by the National Oceanic and Atmospheric Administration. Duvillier considers it unfair that countries that contribute the least to climate change will suffer such heavy burdens for its effects.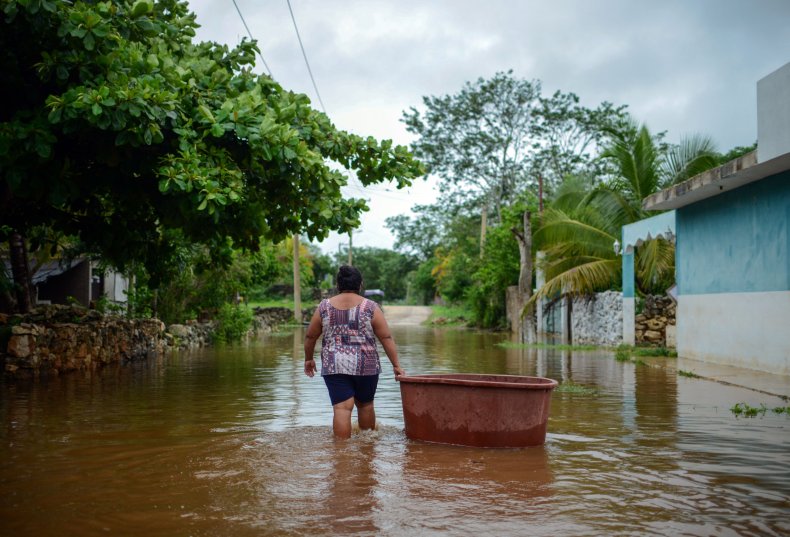 The U.S. has released more carbon dioxide into the atmosphere than any other country, according to a December 2019 report published by the Global Carbon Project (GCP). The GCP is an organization that seeks to quantify global greenhouse gas emissions and their causes.
Current U.S. policy doesn't count environmental devastation as a reason for accepting refugees. It only accepts those who have been persecuted for their race, religion, nationality, politics or membership within certain social groups.
At the end of 2018, the United Nations finalized the Global Compact on Refugees, a non-legally binding argreement to accept climate refugees. At the behest of then-President Donald Trump, the U.S. didn't sign on to the agreement.
Climate change has also contributed to drought in the aforementioned Central American countries. As a result, farmers and other citizens migrate elsewhere as they face resulting massive crop losses and food shortages.
The effects of climate change have contributed to the recent increase of immigrants at the southern U.S. border, according to a 2019 report from the U.S. Customs and Border Protection (CBP).
After an 18-year decline of attempted border crossers, CBP reported a significant increase, particularly in ones from Honduras, Guatemala and El Salvador. The number of immigrants apprehended or deemed inadmissible at the U.S. border in May 2019 doubled the numbers from 2018 and septupled the numbers from 2017, CBP reported.
By the year 2050, as many as 1.5 billion people around the world could be displaced as a result of climate change, according to the International Organization for Migration.
Newsweek contacted the White House for comment.