By the year 2050, as many as 1.5 billion people around the world could be displaced as a result of climate change, according to the International Organization for Migration.
Yet despite that stark prediction, the global community has yet to acknowledge or enshrine protections for climate refugees in international law.
"This is an issue that we need to tackle with urgency," Oscar A. Chacón, the co-founder and executive director of Alianza Americas (a coalition of immigration advocacy organizations based in the U.S.) tells Newsweek.
"In humanitarian protection protocols, climate change is nowhere to be found," he says. So, "in terms of how we have structured the rules of the game, so to speak, climate refugees still only exist in academic and advocacy circles, but they're nowhere to be found in terms of any legal integration of these concepts."
Already, Chacón says, the international community is too late in moving to address that error of omission. Around the world, every day, people are being forced to leave their homes due to the effects of climate change, whether they realize it or not.
In Central America, climate change is believed to be pushing communities across the region to the U.S. border—yet Chacón, who grew up in El Salvador and has spent much of his life working as an advocate across the region, says many do not yet know the name of the "culprit" behind so much of their misfortune.
"Central American countries are located in what world experts consider to be one of the highest areas of risk," he says. "We are just moments away from experiencing major climate-related catastrophes, including major storms powerful in their destroying capacity."
Yet, part of the problem, he says, is that because of the lack of global awareness around climate change, many communities have not yet identified "climate-related events... as the perpetrators of their misery."
'Everything dies'
In parts of the so-called "Dry Corridor," which runs across Guatemala, Honduras, El Salvador and Nicaragua, for example, farmers have faced significant crop losses due to drought.
"When I was a kid, it was absolutely certain that starting in the month of April, we would enter the rainy season... People went to plant in the fields precisely at that time and then in July, you would see that everything would be green and we would be able to harvest fairly reliably," Chacón says. "Even small-scale farmers who only farmed for survival, growing fields for their own consumption, they could plan exactly how things were going to play out."
Now, however, farmers across the region have been hit by prolonged droughts that "go as late into July... and then when the rain comes, it doesn't come in a way that helps. It comes in the form of six or seven days of continuous rain resulting in flooding, so everything dies."
The World Food Programme (WFP) warned last September that poor harvests caused by drought in parts of Central America could leave more than 2 million people hungry, with lower than average rainfall in June and July leading to significant crop losses, particularly for smaller-scale maize and bean farmers in the Dry Corridor.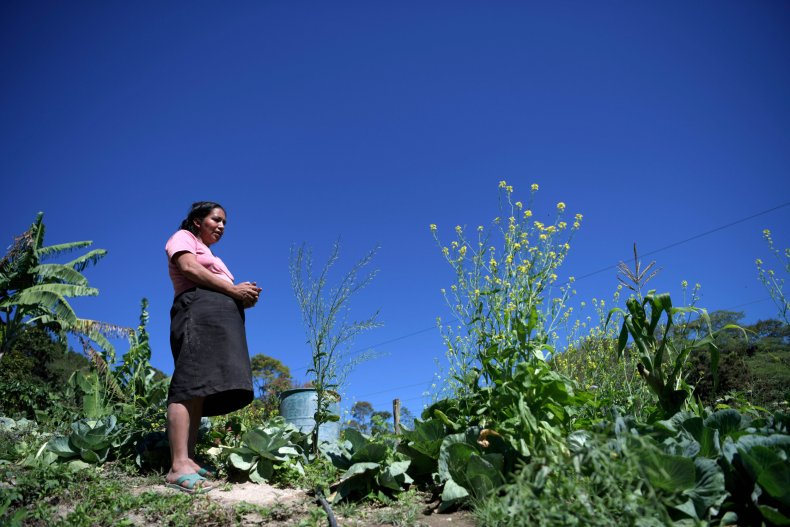 Struggling to feed their families and generate an income, families hit by drought often feel compelled to leave, first to major cities where they often struggle to find jobs and then to other countries. This leads thousands of people to the U.S. border, Chacón says, and many "don't know who the culprit is."
While climate change, he says, is not the only reason Central Americans are making their way to the U.S. border—with a melange of issues, including gang violence, political instability and economic insecurity, driving many to flee—"people would probably fare better if they understood what it was that they are victims of."
'There is a political agenda here'
However, the widespread denial of the effects of climate change documented by the scientific community is preventing the spread of critical information from reaching the communities increasingly impacted by them, he said.
And few countries bear more responsibility, Chacón suggested, than the U.S.
On Monday, President Donald Trump is expected to miss key climate summit talks at the U.N., with the U.S. leader expected to chair his own meeting on religious freedom instead.
Fresh on the heels of climate protests in the U.S. and around the world, Trump's anticipated absence from the climate talks, which are expected to attract 60 representatives from around the world, is yet another mark on the president's poor record when it comes to addressing the impacts of climate change.
Rather than address global concerns around the fate of humanity as the scientific community continues to sound the alarm on the impacts of our contributions to driving changes in the Earth's climate system, much of Trump's focus throughout his first term as president has been on deterring migrants, asylum seekers and refugees alike from making their way to the U.S. border.
"The perception being created is that migrants are invading the country," Chacón says. "But, if you review the official data from the U.S. Customs and Border Protection agency [CBP], you will find that we have not been experiencing super high numbers [of people migrating to the U.S.]"
Of course, in fiscal year 2019, CBP has seen a significant surge in arrivals at the U.S. border, particularly of Central American families fleeing the Northern Triangle, which is comprised of Honduras, Guatemala and El Salvador. More than 144,000 people were either apprehended or deemed inadmissible at the U.S. border in May—more than double the numbers seen in 2018 and more than seven times those seen in 2017.
Arrivals for May were at their highest in over a decade. However, they have steadily been on the decline since.
Meanwhile, from a wider scope, until the U.S. saw a surge in arrivals this past spring, overall there had been a clear decline in the numbers of people arrested at the border over the last 18 years.
The Trump administration's all-encompassing focus on the border, Chacón says, is not in proportion to the overall trend.
"People fail to see that there is a political agenda here that is more related to how fear feeding into this hysteria that we are being taken over serves in countries like the U.S., a president like Donald Trump...as a way to basically feed his most fanatical supporters," he says.
There are people within the Trump administration, however, who know better, the Alianza Americas head says.
Among them is none other than Acting Secretary of the Department of Homeland Security, Kevin McAleenan.
Indeed, McAleenan appeared to demonstrate a well-versed understanding of the impacts of climate change on Central Americans living in the Dry Corridor back in December during a discussion on the push and pull factors causing residents of the region to flee to the U.S.
"Over the last several years," McAleenan—then CBP commissioner—said at the time, the U.S. had made note of the "really changing demographic coming from Central America," with asylum seekers "not arriving from the big cities, but primarily, now...from Guatemala and Honduras, folks from rural areas."
In particular, McAleenan said, significant challenges with food security as a result of drought were "affecting the ability of families to provide for themselves."
"These areas are facing significant challenges with food insecurity," he said, noting that the WFP and the International Organization for Migration "have all written very astute studies about drought, about the coffee price decline and how that's affecting the ability of families to provide for themselves."
"We're seeing that directly translate into who's arriving at our border," McAleenan said. "So, really, the hunger concern has become a real prevalent push factor from our analysis and perspective."
While McAleenan may not have directly named climate change as a driving factor behind the drought, he demonstrated a clear understanding of the impacts that weather changes were having on farming communities in the Dry Corridor.
That should not come as a surprise, however, as it recently came to light that an internal report compiled one year ago by CBP had also pointed to crop shortages due to drought as a driving factor pushing asylum seekers to the U.S. border, according to NBC News, which obtained the study.
Despite the agency's findings, however, the contents of the report appeared to go largely ignored if the Trump administration's decision to ramp up efforts to deter Central Americans from reaching the U.S. border, while also moving to pull aid from their countries, can be considered any indication.
"Part of the problem within the U.S. government is that you have people who are, let's call them career diplomats, if you want, who, up until recently were fairly decent in the way that they understood, from an intellectual point of view, why it is that people have been leaving [Central America,] Chacón says. "But, now, they are working in the only government they can work in, which is now driven by people who could not care less about science or about humanitarian considerations."
"This is an administration led, especially when it comes to the merits of human mobility across borders, by ideologues," he says. "People who don't need any explanation for how they decide everything except their ideologies."
Meanwhile, he says, "the more educated people who, up until recently, were able to speak fairly smartly about these issues have decided to remain quiet."
"Some might be hoping that there may be a change in government in 2020 and that we'll go back to a more enlightened moment in the history of the country," he says. "But that is a big 'if'."
Meanwhile, he says, the U.S.'s leadership on two of the biggest issues in the world—climate change and migration—and the many ways in which they currently intersect and are likely to only continue to do so in the future is feeding into an "incredibly toxic" narrative around the world.
"How can we afford to not take into account science, facts and evidence?" Chacón says. "But, sadly, science, facts and evidence are exactly the victims of the current toxic political narrative that is so dominant."