Husband Backed For Doing Nothing as Security Escorted Wife From His Office
A husband revealed in a now-viral post that his wife was forcibly removed from his place of work after barging in to yell at him.
Posting in Reddit's "Am I The A**hole" (AITA) forum under a throwaway account, the husband said his wife has made a habit of visiting his workplace to "berate" him. The post has garnered more than 12,000 upvotes and nearly 3,500 comments from disturbed Redditors who called the wife's behavior emotionally "abusive" and encouraged the man to file for a divorce.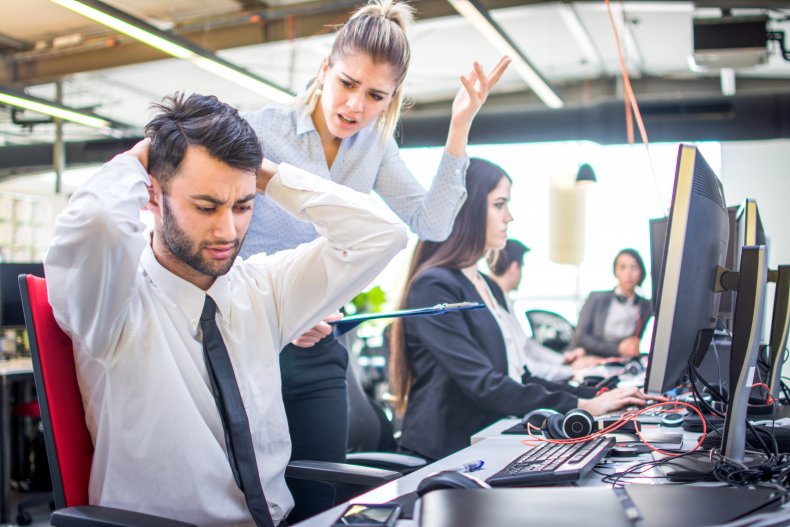 What is Emotional Abuse?
According to Tikvah Lake, an addiction treatment center in Florida, some research suggests that anywhere between 50 and 80 percent of adults may experience emotional abuse in their lifetime.
"Emotional abuse involves attempts to frighten, control, or isolate you," defined Healthline. "It's characterized by a person's words, actions, and the consistency of these behaviors. Abuse may start gradually, but it happens again and again."
Healthline went on to say that name-calling, yelling and public embarrassment are just some of the tactics an abuser may use to "undermine" a victim's self-esteem.
'It's Embarrassing and Humiliating'
Unfortunately, the man said in his post that his wife frequently embarrasses him by yelling at him in front of his co-workers.
"Recently she's been coming to my workplace to berate me...it's embarrassing and humiliating and has been affecting my job," he wrote, adding that he's received multiple warnings about his wife's behavior.
Last week, while he was in the middle of a meeting, his wife purportedly "barged" into his office and yelled at him for having his phone turned off.
"I was stunned because my superior and co-workers AND potential clients were there," he wrote. "I didn't even move, my superior dealt with it and called security to get her out."
His wife told security to "back off," but she was eventually removed from the office.
"I just watched as security escorted her out," the man said. "I [was] told she's no longer allowed [at the office] and that this was going to be my final, last warning."
When he arrived home later that day, his wife again started yelling at him for not defending her, causing her husband to "snap."
"[I] said she was over the line [for making] a scene that risked my job over [a] few missed calls," he wrote.
Upset, his wife left and spent the night at her mom's place.
'Am I The A**hole?'
"AITA for watching and not doing anything while my wife was being kicked out of my company?" he asked.
Many commenters said the man did nothing wrong. Instead, they accused his wife of being "abusive" and encouraged him to consider a divorce.
"NTA [not the a**hole] and you need to leave. This is abuse, emotional abuse," wrote u/No-Mechanic-3048.
"NTA. Let her stay at her mom's while you work on getting divorce papers served," said u/Comprehensive_Meat57.
Redditor u/Obvious-Results6853 added: "NTA. This is a form of abuse and I would take this with a strong understanding that things are getting worse. You never show up to a spouse's place of work like that."
Newsweek has reached out to the husband for comment.
Other Redditors to go viral for chronicling their relationship woes include a woman whose husband "secretly" invited his mother on their couple's trip, a woman who left her boyfriend after he had a "psychotic break" during an argument about folding laundry, and a woman whose boyfriend asked her to sell her car because it was a gift from her ex-boyfriend.