Unvaccinated 23-Year-Old Mom Intubated, Thought COVID Would Be 'Like a Cold'
The husband of a 23-year-old unvaccinated woman who is fighting for her life after contracting COVID has urged people to get the shot as the highly contagious Delta variant drives a surge in infections.
Jeffrey Tatum, the husband of Alyssa Tatum from the city of Medford in Oregon, told local TV station KTVL that his wife was in hospital on a ventilator after being admitted to the ICU.
He said his wife fell ill with COVID more than a week ago and was placed on a ventilator just four hours after being admitted to the ICU following a trip to the emergency room.
"After being eight solid days at home in quarantine, doing everything we are supposed to—separated for the first time ever as a family—doing everything we can, but the doctors were saying she just wasn't getting better," Jeffrey Tatum told KTVL, speaking over Zoom as he held the couple's six-month-old daughter.
He confirmed that he and his wife had not yet been vaccinated against COVID, adding: "We weren't sure of the what-ifs or what was going to happen as far as what could happen to our baby long term, or what can happen to us or what risks would be involved. We made that decision to maybe wait it out and see how this pandemic is going to pass."
He said the couple thought COVID was going to "be like a cold" for young people, before adding: "Well, it's only like that for people that are vaccinated at this point."
According to the U.S. Centers for Disease Control and Prevention, women who are pregnant or breastfeeding can receive the vaccine. Recent reports have shown that vaccinated mothers have "antibodies in their breastmilk, which could help protect their babies," the CDC added.
Before Alyssa Tatum was admitted to the ICU, she told her husband to urge other people to get vaccinated so they did not have to suffer as she was.
Jeffrey Tatum told the TV station: "The night of day eight, she was really just wanting to express that everyone needs to be vaccinated because there is no worse side effect that we could possibly ever imagine besides dying—and she was really scared that it was coming to that."
His wife now "seems to be getting better," he said, adding that he had been posting on social media urging friends and family to get the vaccine. According to figures published in The Oregonian, around 30 percent of the state's adult residents have not been vaccinated.
The graphic below, provided by Statista on August 10, shows that the state closest to full vaccination is Vermont at just under 68 percent. The lowest vaccination rate is in Alabama at around 34 percent.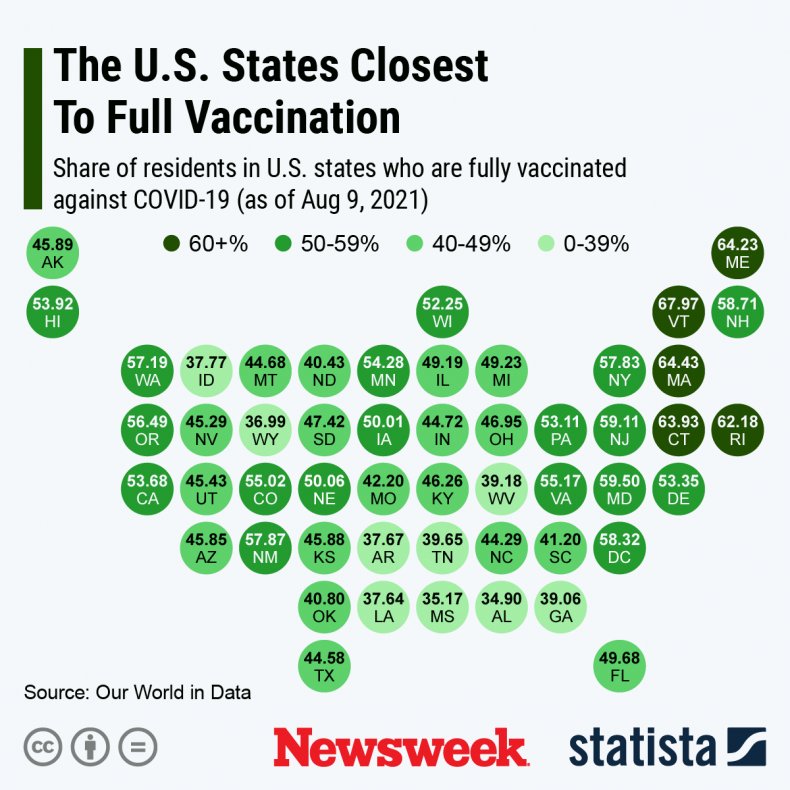 Several reports about the deaths of unvaccinated Americans have been published in recent days, with many of the seriously ill patients saying they regretted their decision.
A conservative radio host from Florida, Dick Farrel, had previously posted critical comments about the vaccine and Dr. Anthony Fauci on Facebook. Before his death on Friday, he recanted a number of statements and called on people to get the vaccine.
A 28-year-old man from Atlanta, who did not get vaccinated after reading conspiracy theories online, also urged others not to make the same mistake before he died of COVID over the weekend.