Vaccine-Hesitant Couple Dies of COVID Within Hours of Each Other After Scheduling Shot
An unvaccinated couple scheduled to get their vaccine in Georgia died within a few hours of each other after contracting COVID, with their family now urging people to get the shot and avoid a similar fate.
Martin and Trina Daniel, high-school sweethearts from the city of Hampton, Georgia, died within hours of each other on July 6 after several members of their family contracted COVID amid the surge of the highly contagious Delta variant across the U.S.
The couple leave behind a 15-year-old daughter, Marina, and their 18-year-old son, Myles, with the latter telling local station WXIA that several family members were taken to hospital in early July suffering from severe symptoms after contracting the virus.
Initially, the couple, who had been married for 22 years, thought that they were ill with the common cold and took over-the-counter medication before they were transported to a local hospital.
Myles told WXIA that the family did not think they would be as badly affected as they were, explaining that "we didn't think it was going to get worse, but it happened. Now we're here.
"We're not really sure how it even happened. I remember our dad started feeling sick one day. He said he had a sore throat and headache. Everything spiraled down from there."
Dr. Cornelius Daniel, Martin Daniel's nephew and now the legal guardian of Myles and Marina, confirmed that his uncle died first, before his wife then passed away a few hours later.
"In a matter of hours, in a span of moments really, we lost two of our loved ones," he said. "So we had to relive the moment twice. It's been one hell of a month to be quite frank about it."
Martin Daniel's brother, Homer Daniel, told Fox 5 Atlanta that he spoke to Trina Daniel just before her husband's death, but was shocked to receive another phone call hours later informing him that she had also passed away.
Cornelius Daniel confirmed that the couple were initially hesitant to get the vaccine, due to fears surrounding a repeat of the Tuskegee experiment.
However, he said that they were later scheduled to get the vaccine, but had not been able to receive the shot before they contracted the virus.
The family is now urging people to get the COVID vaccine, with Cornelius Daniel telling WXIA: "I encourage everybody to go get vaccinated," before adding: "In this fight, the only bullets we have is the vaccine. I don't want another family to have to endure this."
Homer Daniel told Fox 5 Atlanta: "If any way possible you need to take that shot," and Martin Daniel's niece said: "We are very happy that we did make the decision to get vaccinated because our chances vaccinated versus not are drastic."
There is still a long way to go for the country to have full vaccinated the population, as vaccination rates in several U.S. states are still below 40 percent.
The graphic below, provided by Statista, shows that the highest figure is in Vermont at just under 68 percent, while the lowest vaccination rate is in Alabama at around 34 percent.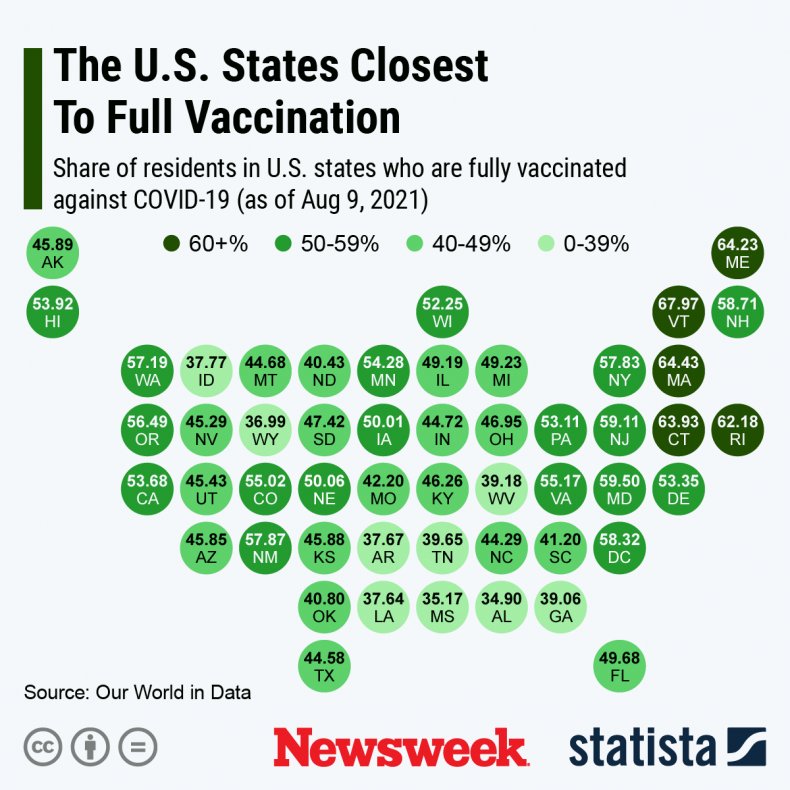 Several unvaccinated people have been reported to have died in the U.S. in recent days, with many of them urging people to get the shot while receiving treatment before their deaths.
Conservative commentator Dick Farrel, of West Palm Beach, Florida, made a number of comments on Facebook regarding Dr. Anthony Fauci and the COVID-19 vaccine, but recanted a number of statements and urged people to get the vaccine after being hospitalized shortly before his death on Friday.
Meanwhile, a 28-year-old man from Atlanta, who did not get vaccinated after reading conspiracy theories online, also urged others not to make the same mistake he did before he died of COVID over the weekend.