'I Can't Believe I Chose This': Husband Fat-Shaming 145Ib Wife Sparks Anger
A husband has been blasted online as "controlling and abusive" after it emerged he has been fat-shaming his wife after she gained weight during lockdown.
According to the National Eating Disorder Association, a study conducted by Eric Stice and Cara Bohon found between 0.9 and 2.0 percent of women will develop anorexia in their lifetime.
By contrast, 0.1 to 0.3 percent of men will develop the same eating disorder. The stark difference in the data may stem from the fact women feel more pressure in society to be thin.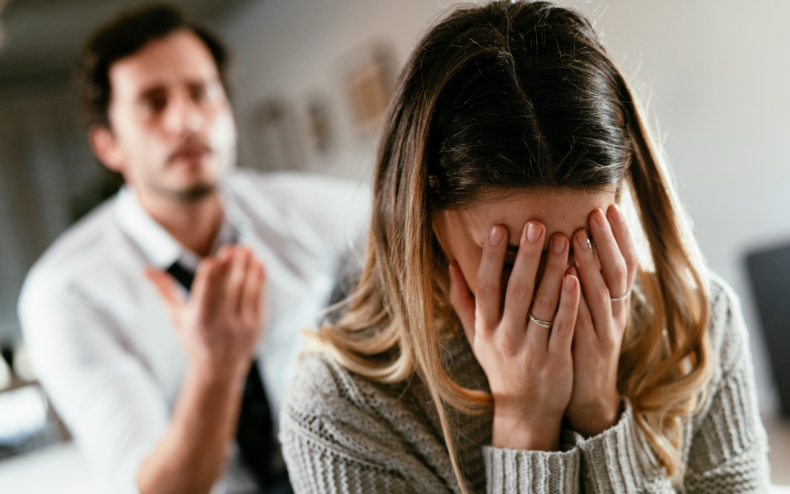 Research by the Cleveland Clinic's Department of Psychiatry and Psychology concluded that women in the U.S., in particular, feel intense pressure to be thin from the media, family and also their peers.
However, for one woman writing on Reddit, that pressure is coming from a source even closer to home. Writing under the handle brazil384 in a post that has racked up over 10,000 interactions, the woman explained that due to the COVID-19 lockdown she has "gained some weight over the past 2 years."
To put that in perspective, the woman explained that she is 5'6" and has gone from 120 pounds to 145 pounds. According to a Body Mass Index calculator created by the Rush University System for Health, her weight is "considered normal" for someone of her height.
However, as the post explains, her husband has started to think otherwise and has even taken to calling her "fat" and making remarks like "I can't believe I chose this" when she walks into the room.
"I don't feel like I'm overweight, I'm just not as skinny as I used to be," she wrote. "I've asked him to stop but he thinks I'm just joking."
According to the woman, her husband now "constantly jokes about finding a younger and prettier girl than me unless I lose weight" and it is getting to the point where she is "starting to think he's being serious."
The woman said she doesn't want to "get angry" but the constant comments are starting to upset her "more and more."
But while she appeared eager to avoid conflict with her partner, many on social media felt it was time for her to confront him over his fat-shaming remarks.
Broadsharp commented: "Time to stand up for your dignity. Let him know exactly how hurtful his words and actions are. Be direct."
FunnyAccomplished652, meanwhile, urged the woman to call her husband's bluff. "Tell him that he's free to find anyone slimmer as you're free to find anyone who truly loves you for what you are and cares for you," they wrote.
MegamanEeXx agreed, writing: "You deserve to be treated with respect, and valued by someone that has the privilege of spending the rest of their life with you. Never forget that."
For others, the remarks were a clear red flag.
Tourmelion felt his treatment of her was "controlling and abusive," with Fagonetta writing: "I couldn't fathom waking up every day to someone who goes out of their way to belittle me."
"What you're going through is emotionally abusive on his side and you don't need to put up with it," TA-12345678910 said. "Let him know that you will not tolerate his verbal and emotional abuse one more time, and that if he wants to leave, he's free to do so."
SoupySoupsSoup concluded: "Personally if my boyfriend was doing that to me I would probably just end the relationship, it's definitely not worth the time to feel worse about yourself over someone else's opinions."
Newsweek has contacted brazil384 for comment.