Woman Claims Bride Demoted Her From Maid of Honor for Weight in Viral TikTok
A TikTok user posted a video showing text messages she claimed were from her cousin demoting her from maid of honor duties due to her weight.
"You don't have any control over yourself to go on a diet," one of the texts read.
In the video posted by @liainlouisiana, the woman eats a fast-food sandwich while scrolling text messages allegedly sent by her cousin. "Chick-fil-A after this text exchange with my cousin," read the on-screen text. The video has amassed over 108,000 views since being posted four days ago.
The texts behind the woman read, "You know the bridesmaid group is not a therapy group." The woman in the video replied, "Are you embarrassed?" and the bride replied, "of what, of telling you to go on a diet...no. It's my wedding."
The woman replied to her cousin and said, "Alejandra, you demoted me from maid of honor because I'm fat."
That's when her cousin wrote back that the woman had no control over her diet and that she "liked people with discipline." She continued that the woman was still a bridesmaid and ended the conversation and said she was going to sleep.
In a follow-up video, @liainlouisiana showed off more texts she claimed were from her cousin saying "no whore shoes" after she told her she wanted to wear sparkly shoes.
In another video, the Tiktoker said she was uninvited from the wedding after her cousin found out she posted their private texts publicly.
"Coming to you with more wedding drama because what is a wedding without bridesmaid drama?" the Tiktoker said in the video. "I am not going to the wedding."
She said she was officially uninvited from attending the wedding and that she was returning her bridesmaid's dress. "I have cried all afternoon," she said in the video. "You guys said that I should respect myself and not let people treat me like trash. Trying here, I am trying. I am doing my best."
Many of the commenters came to the Tiktoker's defense saying there is never any justification for fat-shaming anyone and that she shouldn't even consider attending the wedding. Many also said she needed to learn to stand up for herself.
"I see how understanding & compassionate you are in the comments but i am begging you to see that she has no respect for you & not to just take it," wrote one user.
"Tell her she can user her dog for a bridesmaid if she wants to treat you like that," another joked in the comments.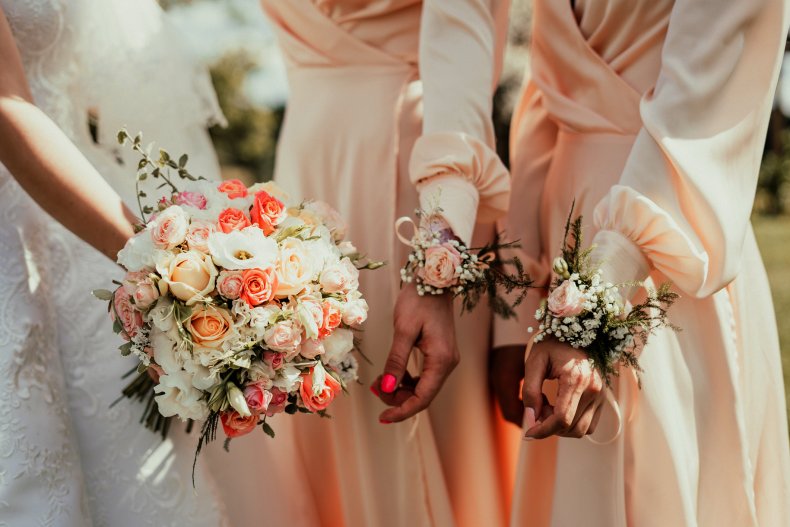 In August, Newsweek reported about a bridesmaid who sued the bride after she was kicked out of the bridal party for a haircut. The bridesmaid sparked a viral conversation after she posted her story to Reddit's "Am I the A**hole," forum.
The woman claimed that three days before the wedding, the bride told her the timing for her haircut was "upsetting." The woman said she got the haircut after her hair began to fall out due to health reasons. The bride then asked the woman to step down from the bridal party.
According to Shelley Brown, the senior fashion and beauty editor at The Knot, "Ignoring your bridesmaids' health concerns, expecting them to spend exorbitant amounts of money or disinviting them to your wedding if they won't comply with your demands are all big no-nos."
She told Newsweek that creating irreparable damage to relationships in your life over one day is not worth it. While a bridesmaid's main duty is to make sure the bride is happy, that doesn't mean a bride can expect too much from them. Asking a maid of honor to lose weight is definitely not okay, and neither is uninviting them from the wedding.