Husband-To-Be and Groomsmen Flaunt Concealed Guns in Wedding Ceremony Skit
A South Carolina deputy sheriff and his groomsmen found a unique way to entertain guests during his wedding this September using their collection of guns.
In a video shared to TikTok by bride and fellow Chesterfield County deputy sheriff Brittany T. Robinson, her now-husband, Mike, and a group of his closest friends can be seen entertaining guests with a skit centered around a familiar section of any nuptials.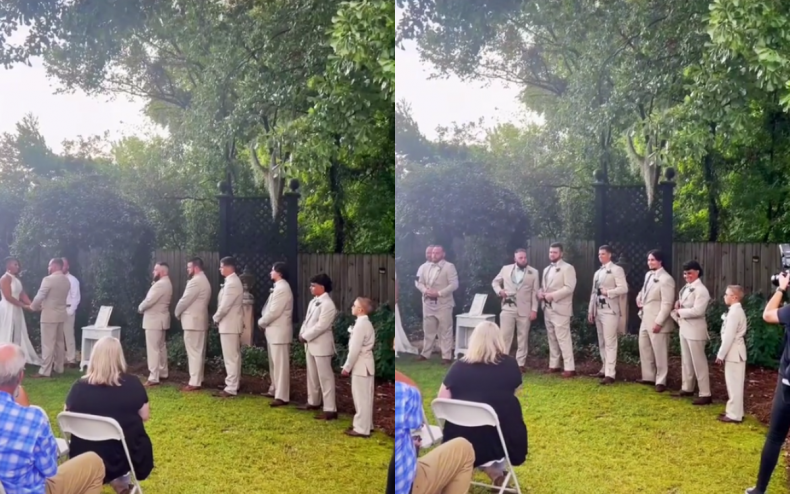 According to wedding planner Jeannette Tavares, couples are always trying to create unique ceremonies that serve as a reflection of their personality. "When we plan a celebration, we always try to incorporate an element of surprise or awe that is focused on the couple and their likes," she told Inside Weddings magazine.
The surprise organized by Mike could not have been more apt as they both work in law enforcement. In the video, which has gone viral with more than 2.8 million views, the couple can be seen at the altar, in front of their guests, midway through the wedding ceremony itself.
The clip begins as the preacher says: "Before continuing with the ceremony, I must ask if there is anyone who objects today to this wedding, speak now or forever hold your peace."
As the preacher finishes the sentence, Mike and the groomsmen lined up alongside him, turn to the seated guests and, lifting up their suit jackets, each reveal they are carrying a gun (or a Nerf gun or mock police badge, in the case of the young members of the group.)
Designed as a play on the word "peace" or "piece," the reveal made the guests laugh, and the video has received similar responses on social media. "Brilliant! Safest wedding to be at," one TikToker wrote, with another commenting: "we did this at my wedding too."
Brittany told Newsweek she had "absolutely no idea" Mike was planning the skit. "When we talked to the preacher, we told him to leave that part out, just because we felt it was old-fashioned," she said. "I found out after that my husband went to him before the wedding with this idea and it was brought to life."
Brittany said once she realized what they were doing, she thought it was "hilarious," especially as Mike snuck it in without her knowing. "Everyone loved it. As you can imagine the majority of our attendees are/were in law enforcement," she said. "It was a nice touch and broke that awkwardness some weddings have during the ceremony."
But while the bit appeared to go down well with many online, some expressed concern at the appearance of guns at a wedding. "This is disgusting," one user wrote. "Poor kids," while another commented: "Nothing says love like intimidation of violence!"
Addressing the critics, Brittany, a school resource officer while Mike works patrol, defended their right to bear arms. "Right now, we are living in a world where guns are the enemy, as well as anyone in law enforcement. My husband and I both try our best to do what's right in life, as well as uphold the oath we took when getting into law enforcement," she said.
"I understand the controversy with people not approving of guns, but the right to bear arms is our constitutional right, as well as a part of our day-to-day life with our careers."
Brittany said: "Mike protects our community, and I have hundreds of precious lives to protect everyday at school. I'd hate to know that I had to protect those lives without a gun if my school was met with an armed intruder."
Brittany also said that, once the ceremony was over, all of the guns that appeared in the video were removed and placed in a safe space.
"At the end of the day, it was our wedding. It was perfect, it was our twist on things, and it clearly was a hit with our attendees as well as followers on TikTok," she said.