Husky Howls Along With Cartoon Dogs From 'Favorite Movie' In Adorable Video
A husky by the name of Zeus is delighting dog lovers on social media thanks to a video showcasing his attempts at communicating with an animated canine.
Footage of the four-legged film lover watching the 2016 Disney favorite Zootopia went viral after being shared to TikTok by his owner posting under the handle zeusthehuskyy1.
According to the caption accompanying the post, Zootopia is Zeus' "favorite film" for reasons that quickly become apparent.
In the clip he can be seen standing in front of the television watching events in the movie unfold. A particular set of characters appear to have caught his eye though, characters of the decidedly canine variety.
In a flash, the computer animated dogs on screen begin howling and Zeus is apparently only too happy to reciprocate, prompting something akin to a howl-along in his owner's house.
"Wanted to see if my dog would howl during the howling scene in Zootopia," an onscreen caption read.
Zeus did not disappoint.
The reasons why dogs like huskies howl is still something of a debate among dog experts. According to the American Kennel Club: "One theory is that the dog that howls for long periods of time is either bored or lonely." There are alternative theories though.
"Another suggests they are searching for another canine or providing a location to a far away pack member," the Club notes.
"The howl is considered to be a long distance doggie telephone call since the long drawn-out sound can travel for distances of several miles thus alerting other dogs to their location or needs."
In the case of Zeus, it appears that the husky is merely trying to communicate with his cartoon friends or, at least, respond to their howls like someone responding to a stranger in the street saying "hello."
Whatever the truth, Zeus's vocal stylings evidently struck a chord with dog fans. At the time of writing, the video showcasing his antics has been viewed over 12 million times.
"Bro sounds like Chewbacca," hky brush joked with another fan, kieranvh95, commenting: "he turned into an air raid siren."
Zeus's howls seemed to be having a far-reaching effect on the canine community too with Alexis Laws claiming "my dog dropped his toy and turned his head when he heard this."
Hiroko_chan2 concurred, writing: "My dog has never howled in her life but she watched the video with great interest."
Elsewhere, other viewers were simply swept up in the adorable nature of it all.
"Awwwwww that's so cute," mysticapril wrote with rob.uk agreeing it was all just. "Too cute."
Newsweek has contacted zeusthehuskyy1 for comment.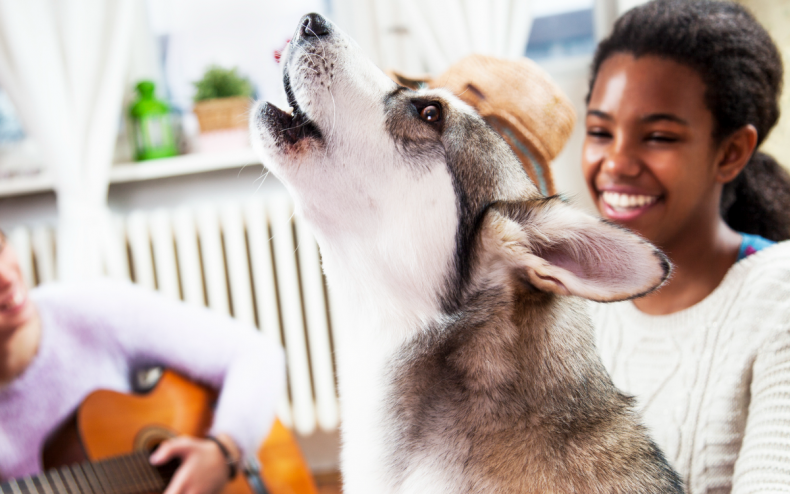 Do you have funny and adorable videos or pictures of your pet you want to share? We want to see the best ones! Send them in to life@newsweek.com and they could appear on our site.