Among many horrific stories emerging from the Ukraine-Russia conflict, some small moments of joy have taken place.
The heartwarming story of a dog in Ukraine being reunited with his owners has delighted people around the world.
In a Facebook post on April 10, Ukrainian serviceman Andriy Smirnov shared pictures of a Siberian Husky dog, appealing for help finding the pooch's owners. The post received more than 6,000 shares and was liked 1,500 times. In the pictures, Smirnov was seen cuddling up with the dog in the car and on the street in Bucha, Ukraine.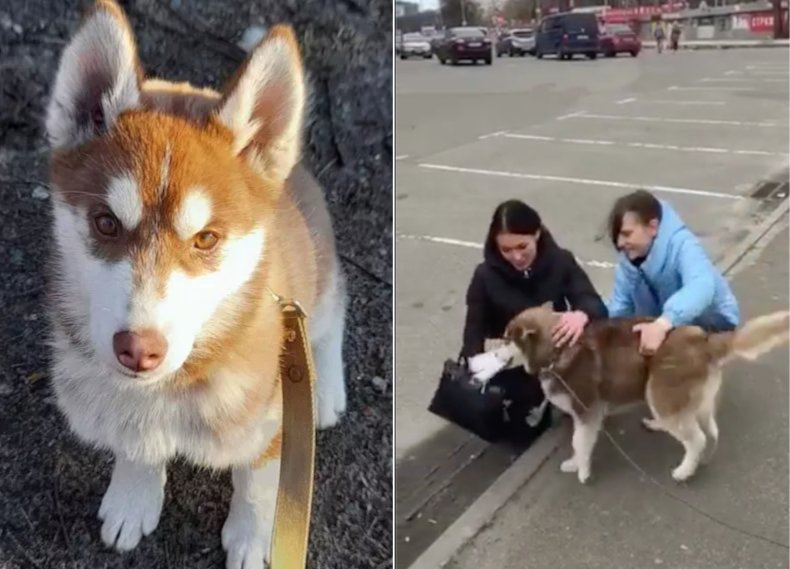 ​​Bucha, a city in Ukraine's Kyiv Oblast, has been at the center of news this week after officials in the city were able to identify more than 160 residents allegedly killed by Russian forces. The mayor said: "Every day we find more and more bodies of the dead, in different parts of our city—in vegetable gardens, in park areas, in playgrounds."
Before too long, one commenter on the post wrote: "This is our Yukki!!" We were looking for him for a long time, but couldn't find him anywhere. The children cry about him all the time."
The comment was posted by Marina, who lived in Bucha until the war started with her three children and their dog Yukki.
"We were very happy, but then the war started," Marina told Newsweek: "When the shelling began, our beloved pet dog Yukki got spooked and ran away. We looked for him, but to no avail."
Marina and her children had to leave the city for their own safety, but she said that every day they were heartbroken about their missing pet.
"But we didn't lose hope," she explained: "We stayed in touch with our neighbor, and one day he said that Yukki came back home but the house had burned down after it was hit by a rocket."
Yukki stayed with the neighbor, but when shelling resumed in Bucha, he ran away again.
"Then a miracle happened," said Marina. "He was found by a soldier called Andriy Smirnov. He is with him now and is taken care of. We are waiting for a call from Andriy who will let us know when it is safe to come back and return Yukki to our family."
"You are a super nice person," wrote one commenter on the Facebook post. Another said: "Thank you for helping this sweet lost baby, and thank you for your bravery and courage!"
"We will pray for Andriy every day for saving our dog's life," said Marina. "He will remain a hero for us for the rest of his life."
As Ukrainian President Volodymyr Zelensky outlines what a victory would look like following Russia's invasion, the latest data from the UN reports that over 4.5 million refugees have fled Ukraine since the conflict began. As of April 10, the Office of the UN High Commissioner for Human Rights (OHCHR) has recorded 4,232 civilian casualties in the country, with 1,793 killed and 2,439 injured.
Newsweek has reached out to Andriy Smirnov for comment.
UPDATE 04/12/22 at 10:24 a.m. EDT: This article was updated with a new image and a video of Yukki being reunited with his owners.