Hydroxychloroquine No Better at Treating Coronavirus Than Conventional Care, Study Suggests
The antimalarial drug hydroxychloroquine offers no additional benefit to coronavirus patients already being treated with current methods, including bed rest and antiviral drugs, say authors of a pilot study into the drug's effectiveness for COVID-19.
The study, published in the Journal of Zhejiang University and first reported by Bloomberg, involved 30 patients diagnosed with COVID-19, who were randomly split into two groups. Both received five-days of conventional treatments, including bed rest, oxygen inhalation and antiviral drugs, but one group was also administered 400 milligrams of hydroxychloroquine—a derivative of chloroquine used in the treatment of malaria and arthritis.
According to the study, there was no statistical difference between the two treatment plans after seven days. In fact, the recovery of patients in the hydroxychloroquine group fared marginally worse than the controls. Fourteen of the non-hydroxychloroquine group tested negative for COVID-19 at the end of the experiment, versus 13 of the people treated with hydroxychloroquine.
Differences between the two groups in terms of the time it took for body temperature to return to normal and the length of hospital stay were also negligible.
The study's authors conclude the prognosis for most patients is "good," adding more research involving a greater number of patients is needed to really determine the various effects of hydroxychloroquine in the treatment of the new coronavirus.
The study was small and preliminary, involving just 30 patients. According to Bloomberg, the authors say more research is needed to establish whether hydroxychloroquine can be used to treat COVID-19.
Vineet Menachery, Assistant Professor in the Department of Microbiology & Immunology at the University of Texas Medical Branch, who was not involved in the research, told Newsweek that while the numbers reported in the paper are too small to say for sure, the results suggest hydroxychloroquine may not be the wonder drug some have hoped for.
"Like the papers to date on hydroxychloroquine and chloroquine, there isn't much concrete data," he said. But while it does not show clear improvement, the drug does not appear to make the disease worse—though there are other concerns with chloroquine treatment, he added, including side effects.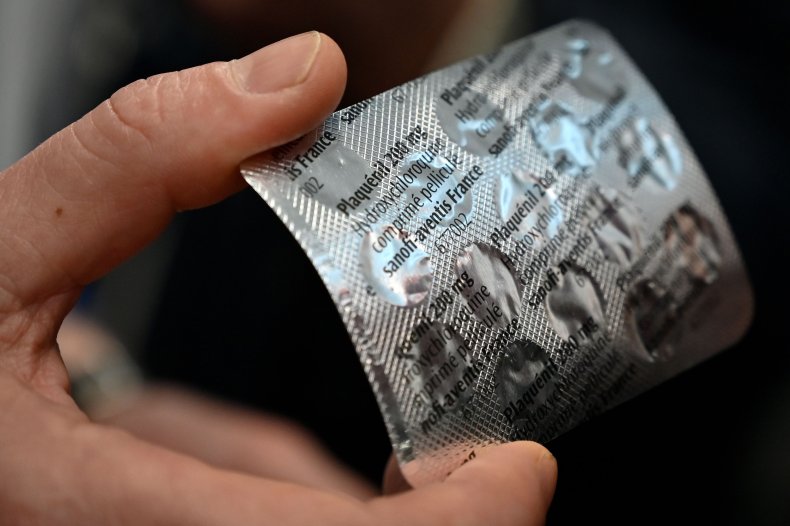 Hydroxychloroquine received a lot of attention after President Donald Trump claimed it had been approved for the treatment of COVID-19 by the Food and Drug Administration (FDA). At a press conference last week, Trump said the drug had shown "very very encouraging early results" and would be made available "almost immediately."
This was quickly dismissed by the FDA commissioner Stephan Hahn, who clarified that it has been approved for the treatment of arthritis and malaria, but not COVID-19. Hahn explained the FDA needed to gather more information on hydroxychloroquine to "answer that question that needs to be asked and answered," adding he could not specify a timeline at this stage.
"We want to make sure that this is done well and right for the American people," he said.
A handful of studies have looked into hydroxychloroquine as a potential COVID-19 treatment.
One paper from France had more promising results than the latest findings from China. Didier Raoult, a physcian and microbiologists at Aix-Marseille University in France, and colleagues found a dramatic drop in viral load among COVID patients who had taken the drug—an effect reinforced by the drug azithromycin, an antibiotic used to treat bacterial infections. However, according to Bloomberg, this study was criticized by experts who questioned the way it was designed.
Menachery says case-control studies are needed—and are already underway—to test its effectiveness in treating the disease. Even then there are many factors to consider, from levels of the virus in the body to demographics like age and underlying health conditions.
"Large numbers will help overcome this, but it requires a large number of people to be enrolled," he said.
But while the effectiveness of hydroxychloroquine in the treatment of COVID-19 is still being investigated, people are being asked not to self-medicate. This follows news that an Arizona man died, his wife placed in critical care, after the couple took chloroquine phosphate—a chemical is frequently used clean out fish tanks.
"Here's the thing about those drugs: there is 'may' and there is 'actually does,'" Surgeon General Jerome Adams told Fox News after a TV doctor recommended the drug on the show.
"So, these may be promising and we'd try to make them as available as possible to people across the country, but we have to verify through studies across the country that they actually work."
The article has been updated to include comments from Vineet Menachery.
Below is a graph from Statista showing the number of COVID-19 cases in the U.S. as of March 25, 2020 at 6 a.m. EST.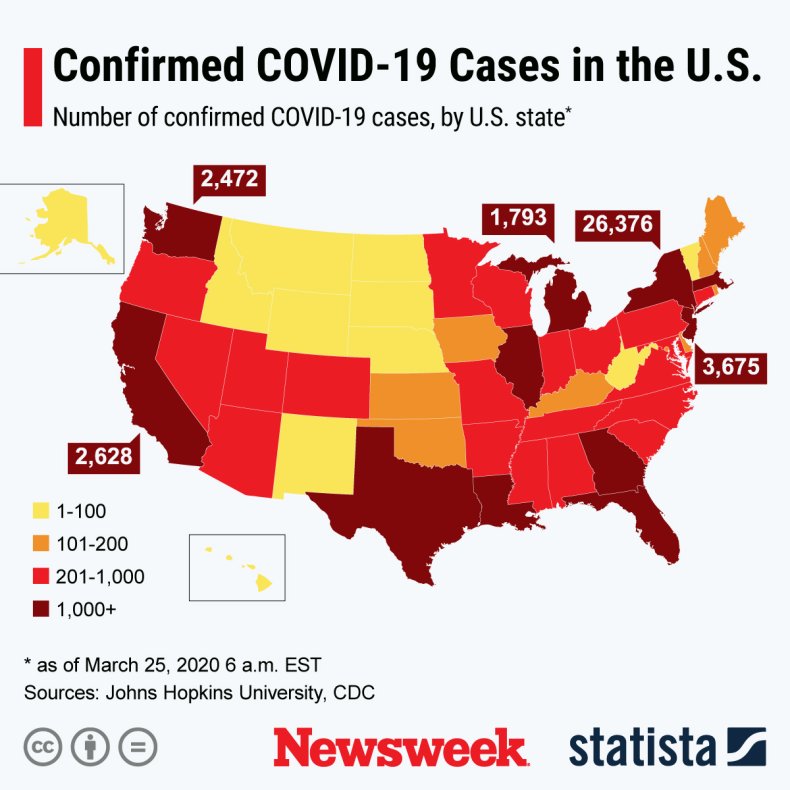 World Health Organization advice for avoiding spread of coronavirus disease (COVID-19)
Hygiene advice
Clean hands frequently with soap and water, or alcohol-based hand rub.
Wash hands after coughing or sneezing; when caring for the sick; before, during and after food preparation; before eating; after using the toilet; when hands are visibly dirty; and after handling animals or waste.
Maintain at least 1 meter (3 feet) distance from anyone who is coughing or sneezing.
Avoid touching your hands, nose and mouth. Do not spit in public.
Cover your mouth and nose with a tissue or bent elbow when coughing or sneezing. Discard the tissue immediately and clean your hands.
Medical advice
If you feel unwell (fever, cough, difficulty breathing) seek medical care early and call local health authorities in advance.
Stay up to date on COVID-19 developments issued by health authorities and follow their guidance.
Mask usage
Healthy individuals only need to wear a mask if taking care of a sick person.
Wear a mask if you are coughing or sneezing.
Masks are effective when used in combination with frequent hand cleaning.
Do not touch the mask while wearing it. Clean hands if you touch the mask.
Learn how to properly put on, remove and dispose of masks. Clean hands after disposing of mask.
Do not reuse single-use masks.