I first heard about George Floyd the morning after it happened. A reporter called me, and when I learned the details of how he died, I had an immediate lump in my throat and jolting pain in my heart.
It brought me back to July 17, 2014, the day the police put my son, Eric Garner, in a chokehold and ultimately caused his death.
Tears rushed to my eyes. It felt like what happened to Eric had happened all over again. It was such an eerie feeling when I found out the young man said, "I can't breathe," the same way Eric did. And when I learned why he couldn't breathe, everything came flooding back to me.
The police refused to release George Floyd, pinning a knee into his throat as he lied in the street, handcuffed, while officers stood around watching. While he was begging for help right in front of them, just as Eric did. Even though I had seen and heard it before, it was hard to even fathom.
All I could do is pour my heart out to the Floyd family and tell them how sorry I was and give them my deepest condolences. I knew what they were feeling, as I went through it only six years ago. I wish I could have put my arms around them right then. They're dealing with so much grief, hurt and anger.
I told the Floyd family that they must fight. It's not going to be easy, but I know they're not going to give up. Neither am I.
Although I understand why reporters and other people are looking for my reaction now, you have to understand there are so many other murders that are not recorded. The names that make headlines and lead to protests—from George Floyd, to Ahmaud Arbery, to Breonna Taylor, to Sandra Bland, to Philando Castile, to Eric Garner, to Trayvon Martin and others—are only a few of the cases. There have been plenty more, but no one could prove it and no one publicized it.
I and other African American mothers deal with this trauma daily. Our children are being attacked. Our children are being hunted. Our children are being killed. The stress manifests in our bodies, hearts and souls. This trauma in Minneapolis, fortunately, was caught on camera. There are so many others that are not.
So we have to stay vigilant. We have to keep on it, no matter how hard the fight is. Because they are coming into our neighborhoods, they're killing us, they're terrorizing and brutalizing us, and most of the time it gets swept under the rug. But if we stick together, if we let them know that we are not going away, they will eventually pay attention.
Real change has to come from the top. The police chief, the mayor and commanding officers—all are complicit. Anytime one of these incidents happens—a killing or attack on an unarmed person who's doing absolutely nothing to warrant such violence—the officials in power must immediately fire all the aggressors, no questions asked.
I commend Minneapolis officials for taking action. All four officers at the scene were fired and arrested, and the cop who placed his knee on George Floyd's neck for nearly nine minutes has been charged with murder and manslaughter.
But this is not enough. The four officers being arrested is a small step toward justice. However, not until they all are convicted and sentenced to serve prison time will we get the justice we are demanding.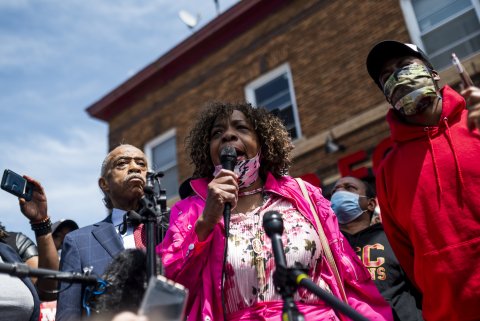 We have to keep pushing. We have to stand up and say, "We're not taking this anymore. You're going to respect us as human beings. You're going to stop coming into our neighborhoods and terrorizing us. You're going to stop murdering our young men and women." Without full accountability, there is no justice.
Gwen Carr is an activist and the mother of Eric Garner. She is also the author of This Stops Today. The documentary Ballad of a Black Mother, which chronicles her journey and that of other African American mothers, is directed by Brad Bailey and due out this summer. Her friend and publicist, Nadia Fischer, contributed to this article.
The views expressed in this article are the author's own. This article as been updated to reflect the fact that all four of the officers at the scene have now been arrested.