I Ate a 14-Course Meal Inspired by J Dilla's Long-Lost Album, 'The Diary'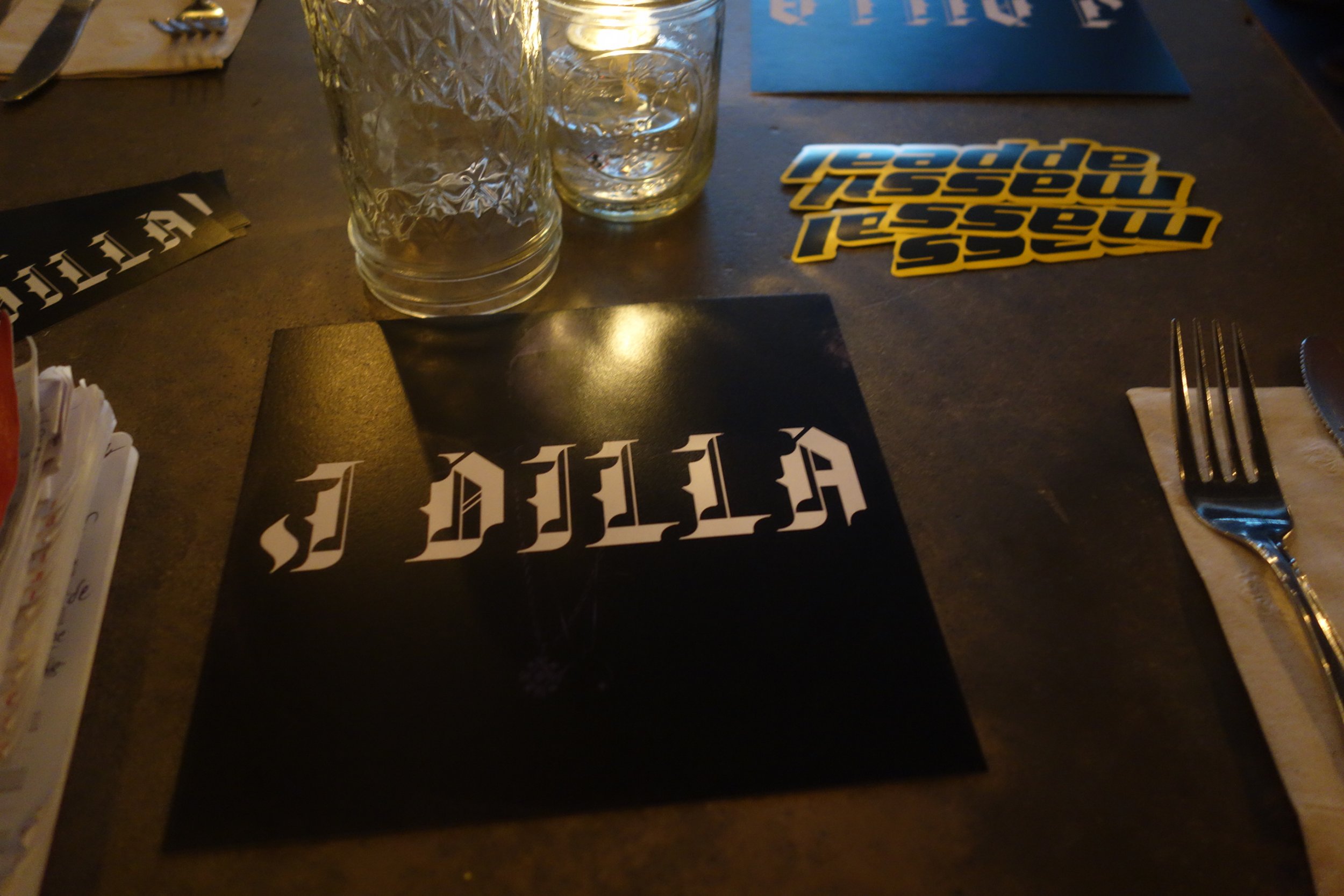 Hip-hop fans sporting De La Soul T-shirts and J Dilla hoodies excitedly streamed into Sweet Chick, a Lower East Side eatery and cocktail joint, Wednesday evening.
They weren't there for the food, though it was good—rustic cuisine, creatively prepared, "with a Southern accent."
Instead, they were there to get a sneak preview of The Diary, the long-awaited vocal album from late hip-hop producer J Dilla. So was I. The album comes out Friday after much delay, and the chefs at Sweet Chick had prepared a particularly delicious listening party: a 14-course selection of dishes and cocktails designed to coincide with the album track by track.
J Dilla has been gone for just over 10 years, though a casual fan might not have noticed. He's been nearly as prolific in death as he was in life, when he crafted soulful, head-spinning beats for the likes of Common, the Roots and De La Soul—several of the artists on the playlist when I entered Sweet Chick.
The Diary is his sixth posthumous release.
It's not what you think. This isn't Harper Lee–style exploitation: Dilla wanted this material to see the light of day after his death.
"I'll never forget the afternoon when, in a particularly spirited discussion on a particularly good day in his room at Los Angeles's Cedars-Sinai Hospital, Dilla outlined his archival projects worth releasing," Eothen Alapatt, the creative director of the estate and then–general manager of Stones Throw, recalls in the album's liner notes. "There was the very slim possibility that the vocal album that he'd begun working on at the millennium's turn...might surface."
The recordings dated all the way back to 2001 and 2002, before Dilla became sick. (Alapatt recalls the album suffered its first setback when the September 11 attacks deterred producer Madlib from flying to Detroit to record.) After Dilla's 2006 death—from thrombotic thrombocytopenic purpura, an incurable blood disease—the priority went to projects that were much closer to completion. Donuts, the masterful instrumental record he'd worked on from a hospital bed in 2005, was released during the final week of his life. The Shining, a posthumous solo release, appeared six months later.
The Diary, which is frequently described as "long-lost," as though it were discovered in an attic or hiding beneath rubble, was not so easy to finish. It was originally scheduled for release in 2013, but headaches included "unpacking the files, finding the software that [Dilla] used, getting it again, because at that point it was already archaic, unpacking the files so that we can actually look at them," as Alapatt chronicled to Rolling Stone. "This record was a pain in the fucking ass."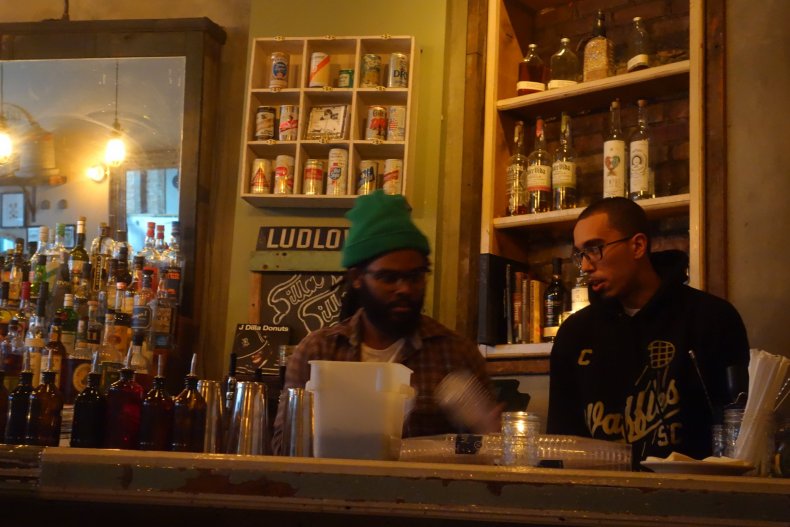 The meal, thankfully, was not quite so tortured.
As Dilla's family took a seat at a head table in the back, excitement filled the dimly lit dining room. At our tables were menus that doubled as a track listing and Dilla-themed stickers. Over the speakers came a tense, cinematic synth line and an aggressive rap verse referencing A Tribe Called Quest's "Excursions" ("You could find Dilla listening to Abstract/My pops used to say it reminded him of jazz cats").
This was the "Introduction," which was paired with delicate duck confit spring rolls. (Being a vegetarian, I was served a kale salad instead—not the most hip-hop meal, but it tasted good.) As Frank n Dank's nimble rhymes on "The Anthem" bounced from the stereo, I sipped a delicious, fruity cocktail finished off with a spiced lemon wheel. The tracks were brief, so most of them were played twice or three times to give us time to enjoy the corresponding course.
Pairing music with food is a great creative undertaking, albeit a challenging one. Several years ago, a Detroit chef created a ritzy 10-course meal accompanying Radiohead's Kid A. The trouble with The Diary is that 14 courses is significantly more than 10, so things tended to blend into each other, much like Dilla's music.
Here's a blurry (sorry) shot of the menu. Each dish or drink corresponds to a track title: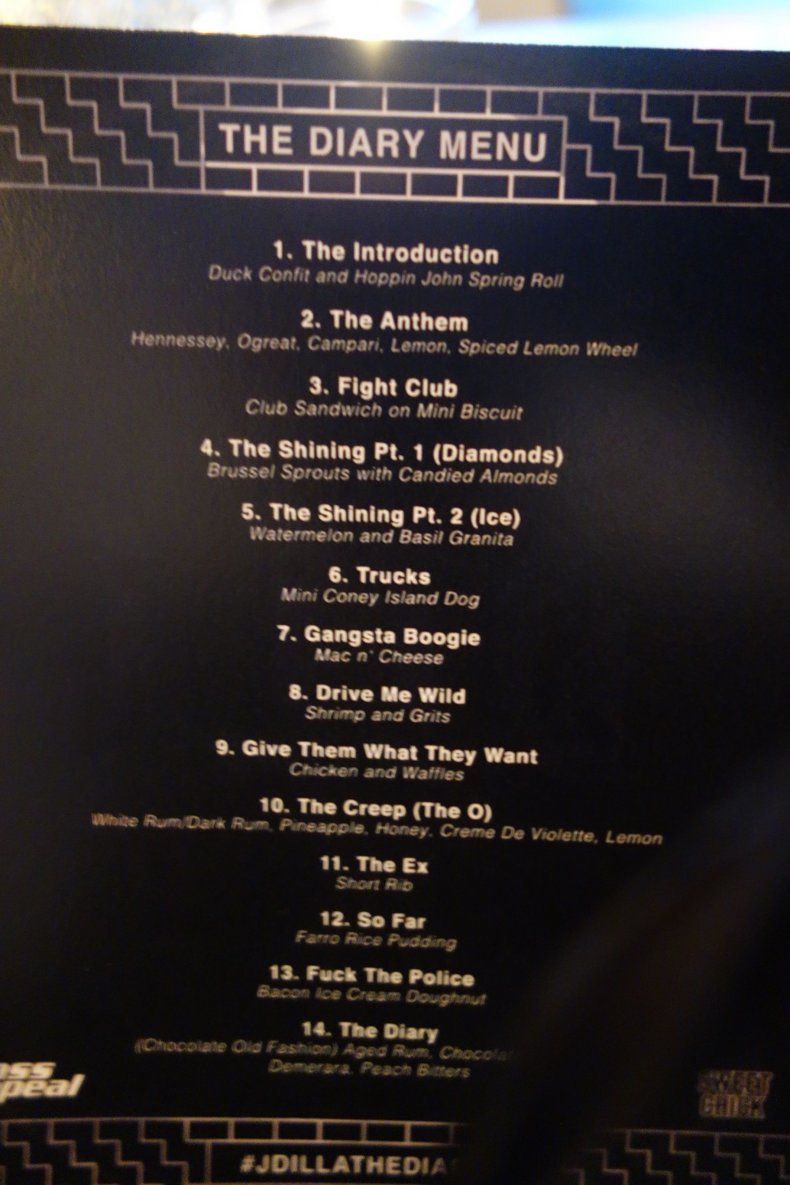 The music sounded great—spirited rhymes and woozy beats that had that unique J Dilla "swing," the slightest hint of syncopation between the bass and clap. (Great for relaxing, bad for dancing.) It sounds like nothing on the radio then or now, though Dilla's penchant for dusty, old soul samples has obviously inspired Kanye West.
As the sped-up Seals and Crofts sample of "The Shining Pt. 1 (Diamonds)" filled my ears, I ate perfectly seasoned Brussels sprouts out of a small, white carton. Dilla cheekily extols the virtues of diamonds ("Bling bling!/You with the whole team, get the pearls on the ding ding"), a reminder that gangsta rap still dominated the airwaves back in 2002. This track, like anything having to do with J Dilla, feels like an echo from a long-gone hip-hop era.
For the track's counterpart, "The Shining Pt. 2 (Ice)," we nibbled on actual ice—the edible kind—flavored with watermelon and bits. Meanwhile, my tablemates broke out into an impassioned discussion of BuzzFeed's exploding watermelon live stream and the Future of Media. I don't know if there's any subject Dilla's music is less interested in exploring than BuzzFeed and the Future of Media.
For "Trucks," a funky, synth-heavy tribute to "big-ass trucks with big-ass rims" with a hook that echoes Gary Numan's "Cars," we were served Coney Island–style hot dogs. That makes some thematic sense, I guess—who hasn't eaten hot dogs while driving around in a big-ass truck? I, along with the other vegetarian at my table, skipped this course (sorry, Dilla).
Snoop Dogg makes an appearance on "Gangsta Boogie" (paired with creamy mac and cheese), with a reference to President Barack Obama that's momentarily disorienting in the context of the album's early-2000s pedigree. On "Drive Me Wild," I picked at grits to the tune of the funkiest organ line this side of DJ Shadow's "Organ Donor."
My tablemates, some of whom work at Dilla's now-label, Mass Appeal, told me about the archival videos they'd found of the producer working on the album 15 years ago. They'd heard the album already. "I wake up some mornings with that beat in my head," one Mass Appeal staffer said of "So Far."
The remainder of the meal was a blur. The wait staff sped things up and let the album play out. There was vegetarian fried "chicken," white rum cocktails, falsetto-smooth hooks ("The Creep"), still more cocktails (shout-out to chocolate bourbon) and a frenzied cut bemoaning police brutality that could have been written in the wake of Michael Brown and Freddie Gray ("Fuck the Police").
Walking out of Sweet Chick two and a half hours after I arrived, I felt sated, buzzed and a little overwhelmed. My head swam with competing cocktails and sounds. The world looked woozy, but nice.
It was a little like the way you feel after listening to J Dilla.