'The Life of Pablo' Is Kanye West's Scattered, Unfinished Masterpiece (Review)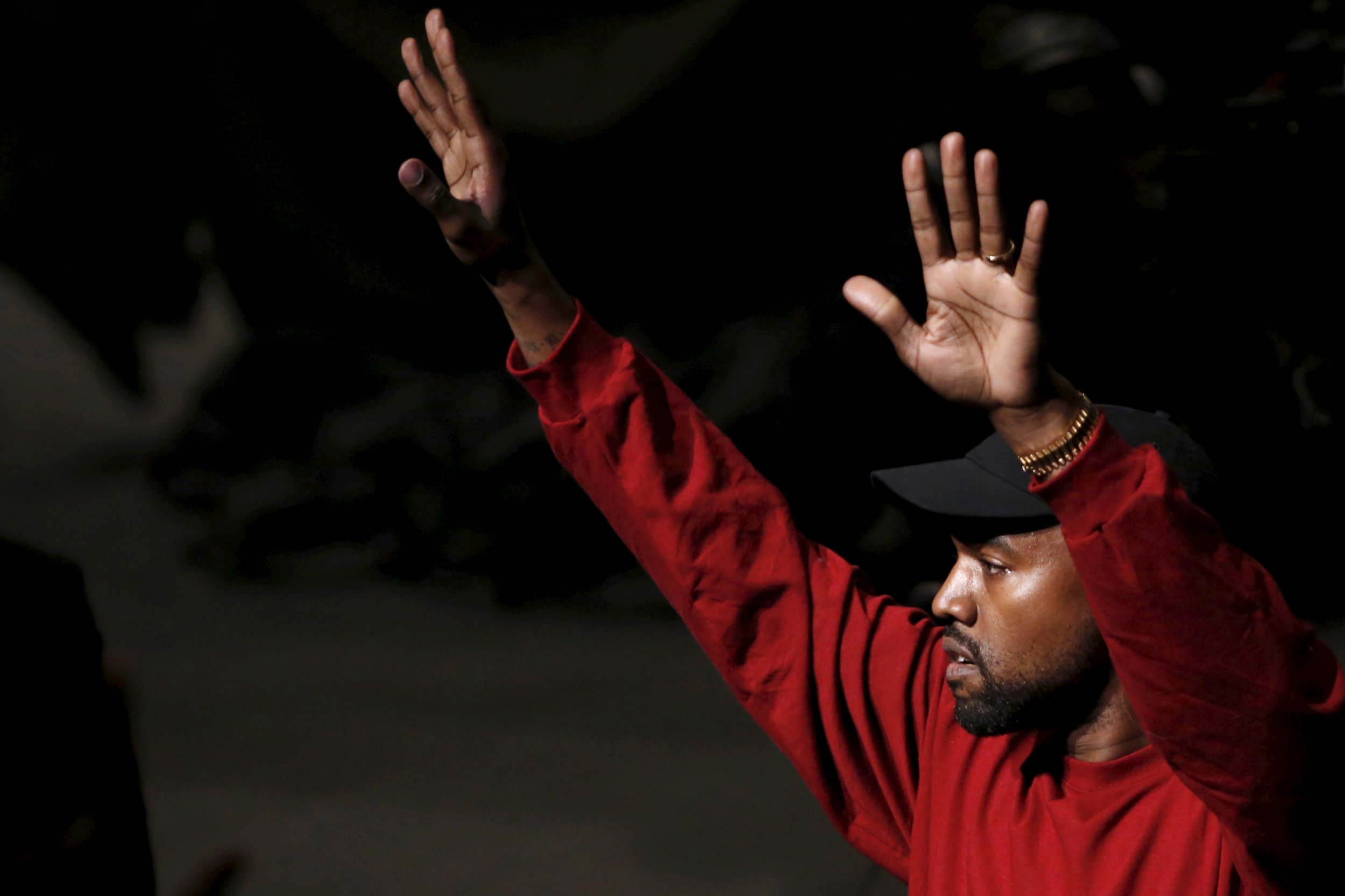 Kanye West, who rose to fame 12 years ago on the strength of a church-inspired gospel march called "Jesus Walks," is trying to keep his faith.
"Deliver us serenity / Deliver us peace," he sings on "Ultralight Beam," an opening cut so remarkable that it's striking to think it wasn't initially intended to appear on the album. West's voice is relatively unadorned—no distortion, no 808s & Heartbreak manipulations—while the surrounding track is a pause-and-release cavalcade of gospel voices, silky trumpet figures and snippets of prayer (the final of which is delivered by legendary gospel artist Kirk Franklin). In one of the album's most rousing verses, 22-year-old Chance the Rapper hops from Arthur (the '90s PBS cartoon) to "This Little Light of Mine," the civil rights–era anthem inspired by biblical passages.
The song, in all its expansive generosity, is the direct inverse of "On Sight," the bracing Yeezus opener that drew the reluctant admiration of Lou Reed. It's an achievement. It's the reason many of us put up with West in the first place—the misogyny, the puzzling tweetstorms, the abandoned album titles and endless delays. Kanye West doesn't release albums these days so much as he manufactures massive cultural moments. It's why 20,000 fans will pack into Madison Square Garden to hear him press play on a laptop containing an unmastered album stream. And it's why you'll remember where you were the first time you heard that choir kick in on "Ultralight Beam."
The Life of Pablo—named after Pablo Picasso or Paul the Apostle, depending on whom you believe—lives up to this outsized hype in its own sprawling, scattershot way. It's as messy as its (frankly still confounding) rollout, as wide-ranging as the portfolio of collaborators who surface here, as maddening and rife with contradictions as Kanye West himself. On Pablo, West skids from harsh, Yeezus-style beats ("Feedback") to sparse and soulful reflection ("FML") with disorienting ease. He boasts about bedding a model with a bleached asshole and reaches out for divine liberation, sometimes within the same song. Not since Prince's mid-'80s run has a major pop star so frankly combined the sacred with the profane.
References to religious redemption pass through Pablo like a thread. "Lowlights" comes in the form of a spoken testimony to Christ, while "Father Stretch My Hands" takes its name from an old gospel recording by Pastor T.L. Barrett. West's pleas contain multitudes. The rapper seems preoccupied with the trappings and temptations of fame, but he alternates between vowing "to die for those I love" ("FML") and lashing out at "gossiping, no-pussy-getting bloggers" ("Feedback"). Here, his vulnerability strikes a nerve. The defensive gestures feel more perfunctory.
Though frequently pegged as an insatiable egomaniac, West is also an impressive curator—he handpicks an enviable stable of guest stars and, on Pablo, knows when to step aside and let them take the lead. West's solo career is filled with these career-making guest spots: Lupe Fiasco's emergence via "Touch the Sky," Nicki Minaj's "Monster" boost. Here, the directive seems to be "Go big or get off my album." So Rihanna nails down a Nina Simone hook on the Swift-baiting "Famous," The Weeknd delivers one of the record's most vulnerable parts on the brooding and great "FML," and Kendrick Lamar proves the best possible counterpart to Madlib's dusty funk samples ("No More Parties in L.A."). Even André 3000 emerges from a post-Outkast cocoon to purr along with a sublime Arthur Russell on "30 Hours." West is bold as ever in his sampling choices—what other big-event rap album samples experimental cellist Arthur Russell?—and his crate-digging fluency with old soul hooks, which serve as fascinating track codas.
"30 Hours" refers to the 30-hour drives West used to take between Los Angeles and Chicago (where longtime girlfriend Sumeke Rainey lived) when he was still knocking on record label doors. Back then, West's hopes were simple enough. "If I could just get one beat on Hova," he rhymed on 2005's "Gone," "we could get up off this cheap-ass sofa." He wanted success, he wanted money, he wanted to be the best rapper in the game: "When I'm older, you ain't gotta work no more," he promised his mom on "Hey Mama," "and I'ma get that mansion that we couldn't afford." Now he has the mansion and the fame; his mother is gone, and he's lost in the world. He's no longer aspiring to take over rap; he's aspiring to be a fashion mogul, he's trying to keep his faith, he's trying to change the world and secure a billion-dollar investment in "Kanye West ideas" and build a video game showing his mother ascending to heaven.
One of the most telling anecdotes from the Yeezus sessions involved executive producer/Def Jam guy Rick Rubin being pulled in two weeks before deadline to help West comb through hours of recordings. West was desperate to finish the 2013 album. "Instead of adding stuff," he instructed the producer, "try taking stuff away." Rubin assented—that skeletal, thumping "Black Skinhead" beat speaks for itself—and he wound up convincing West to cut the album down from 16 tracks to 10, by far the rapper's most concise LP.
Rubin was involved with Pablo, but it's fairly clear the Yeezus follow-up didn't get that treatment. At 18 tracks, the album soaks in its indulgences. West's libido and attitude towards women undercuts his triumphs. Pablo might have used a strong editor to encourage West to cut the more gratuitous asides (for consideration: "Freestyle 4," a fever dream that finds a sex-crazed West whipping his dick out at a Vogue party) or let him know that the cringey and sophomoric Taylor Swift dig on "Famous" undermines that track's dazzling sample touches. (That over-looped snippet of dance hall DJ Sister Nancy's "Bam Bam" really is something.) "Facts," a Nike diss track first unveiled on West's Twitter over New Year's Eve, feels particularly misplaced.
Given the frenzied release, Twitter-teased rollout and hyper-current references ("Facts" references the Steve Harvey flub, "30 Hours" the Madison Square Garden event)—plus West's insistence that it won't be sold outside of Tidal—the album has the feel of a freewheeling rap mixtape more than an album proper. It's both exhilarating and flawed in this design, adjectives that have hardly been incompatible in conversations about Kanye West.
West has long wanted to redefine hip-hop—a feat he's accomplished once, arguably twice. The Life of Pablo arrives at a different frontier: the redefinition of the album release itself. Pablo was premiered at Madison Square Garden before it was finished. It's not for sale. It's not exactly clear where the "official" album stops and the bonus tracks begin. Its release process has been a disorienting headache. It's not even guaranteed that what's on Tidal really is the final album, given West's endless title changes and post-release promise to "fix wolves."
So The Life of Pablo is fascinating and devilishly unpredictable and yet feels somehow unfinished. On "Feedback," West challenges his detractors: "Name one genius that ain't crazy." There, he's not wrong.