The Wrong Miss Universe and Other Pageant Flubs, Falls and Fails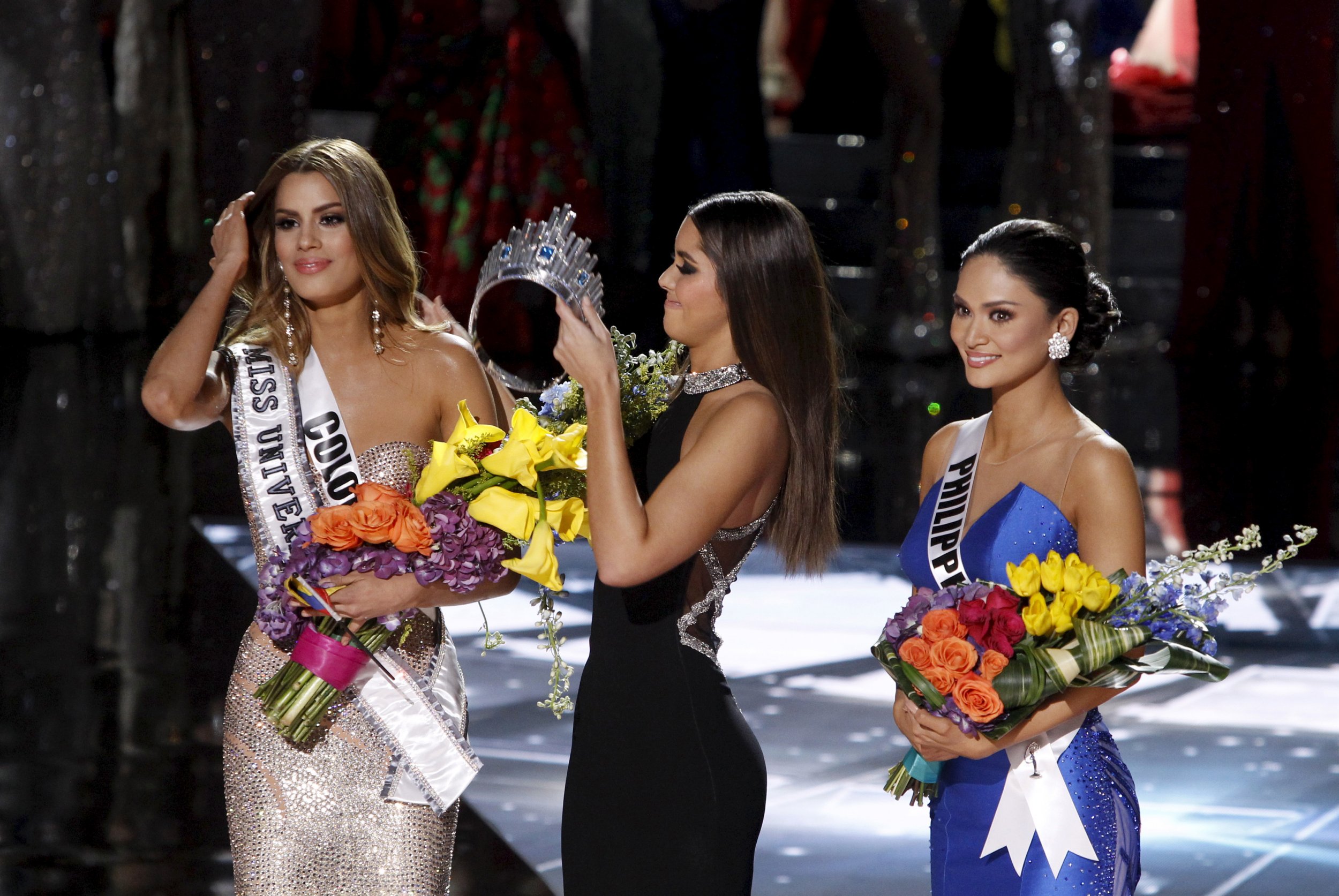 Crowning the wrong Miss Universe and then taking it back—literally—to put the sparkling tiara on her competitor's head is certainly a gaffe to be remembered (and rehashed with videos and memes). Steve Harvey, we're looking at you. But is it the worst error in pageant history?
To help readers try to answer that question, Newsweek has compiled a list of pageant flubs, falls and fails. It's by no means comprehensive, but includes more than enough cringe-worthy moments—from wardrobe malfunctions to flustered ramblings and elusive definitions—for one sitting.
Pageants—built around the judging of contestants' bodies, talents and responses to interview questions posed on live television—make participants vulnerable by design. And in recent years, one fall or bad answer can live on in Internet infamy, a recurring nightmare that comes back with every tweet and YouTube view.
Warning: This might be painful, for former contestants and readers alike. Just ask Anderson Cooper.
Here's Your Crown, Whoops!
When one Venezuelan winner of Miss Universe had to crown her successor in 2009, also from Venezuela, it didn't quite stick.
Pint-Sized Prostitute?
The TLC show Toddlers & Tiaras featured a 3-year-old dressed as Vivian Ward, a prostitute played by Julia Roberts in the 1990 movie Pretty Woman. The outfit—a white and blue dress with cutouts at the waist, thigh-high black boots and a blond wig—triggered an onslaught of criticism, even from fellow pageant moms. But the mom responsible didn't seem to understand the big fuss at the time, or even months later. Ouch.
Pageant Pit-Falls
One might imagine that falling onstage would be a pageant contestant's worst nightmare, and there are too many examples of those fears coming true to include them all on this list. But here are a few.
During the 2007 Miss Universe pageant , Miss USA Rachel Smith slipped and fell as she walked downstage in her evening gown.
The following year, the next Miss USA, Crystle Stewart, also fell during the same portion of the competition. But it's not always the contestants who take a tumble as they navigate gowns and high heels, sometimes it's the host falling right off the stage.
The Un-Swimsuit Portion?
Speaking of worst nightmares, this extreme wardrobe malfunction might be the all-time most horrifying—more excruciatingly humiliating than even the worst fall. In 2008, this contestant accidentally untied her bikini bottom along with the coverup she was trying to remove.
Seeing Is Believing
When Joanlia Lising, a contestant in the 2013 Miss Philippines USA pageant, was asked which of the five senses she would choose if she could only have one, she said sight. A solid answer (considering it is in fact one of the five senses and a very useful one). But her explanation was a little less solid.
From Sea to Shining Sea…of Hawaii
Miss Hawaii started off OK, describing why she was proud to be a first-generation American at the 1992 Miss World America pageant. But she got a little flustered in the middle and ended with, "We are truly the land of the great, from the rocky shores of Hawaii to the beautiful sandy beaches of Hawaii, America is our home."
The best part might be host Alan Thicke saying (rather smoothly, we think), as he took back the microphone, "That's a wonderfully versatile state you have there."
"Miss Perfect"
William Baldwin asked Miss Philippines Maria Venus Raj about a big mistake she'd made in her life during the 2010 Miss Universe pageant. She told judges and audiences she hadn't made any.
Affirmative What?
Some of the most agonizing pageant flubs occur during interview questions, when contestants are asked to speak about a word or concept they don't fully understand. At the 1995 Miss USA pageant, Miss Minnesota got a question about affirmative action (click to 2:45).
The Euthanasia Vaccine
Miss California 2012, Leah Cecil, admitted in an interview practice that she wasn't "very educated on" euthanasia and would have to look up the definition of the word. Her honesty might have saved her if she'd just stopped there. The clip aired on the 20/20 special "Pageant Confidential."
The Ones That Caused Anderson Cooper Pain
If it caused Anderson Cooper pain, it's worth a spot on our list. During a "Ridiculist" segment, Cooper discussed the 2013 Miss USA pageant. That year, Nene Leakes asked Miss Utah what it says about American society that women continue to earn less than men. In response, Marissa Powell said a lot of words, but listeners would find it difficult to pick out any coherent sentences. Cooper particularly liked her phrase, "create education better."
"U.S.-Americans"
In the same segment, Anderson Cooper said Miss Utah's garbled answer brought to mind "one of the all time best pageant moments." With more than 64.2 million views on YouTube, it seems others agree. He was talking about none other than Miss South Carolina's answer about maps during the Miss Teen USA pageant in 2007, a fitting way to round out this list of flubs, falls and fails.