'I Don't Have a Gambling Problem': Calvin Ridley Fires Back at Accusations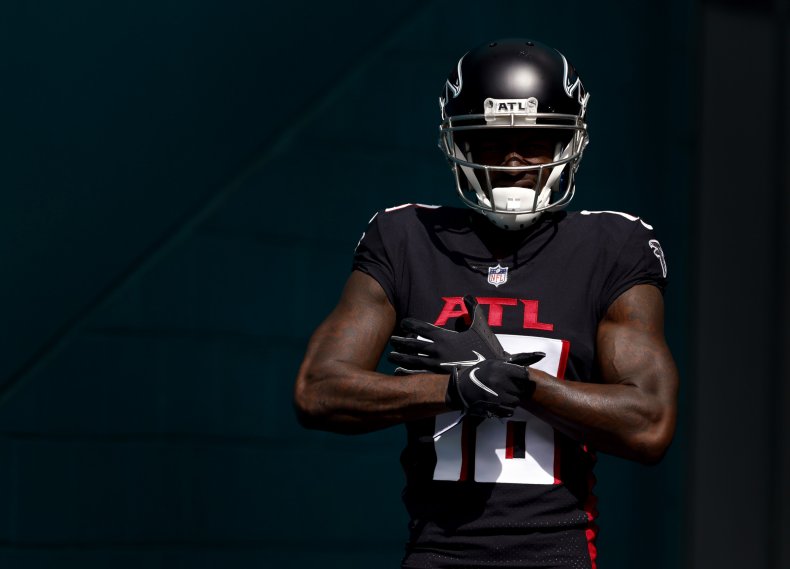 NFL player Calvin Ridley has insisted that he does not "have a gambling problem" after being suspended for allegedly betting on games.
The league suspended Ridley, a wide receiver for the Atlanta Falcons, through at least the entire 2022 season on Monday after an investigation reportedly found he had placed bets on multiple games last November. Ridley shot back at the suspension in a series of tweets a short time later, insisting that his gambling was a minor issue and that he had only bet a tiny portion of his multimillion-dollar salary.
"I bet 1500 total I don't have a gambling problem," Ridley tweeted before adding that he "couldn't even watch football at that point," likely because the betting took place after he had taken time away from the NFL to focus on his mental health in October 2021.
"Just gone be more healthy when I come back," he continued. "I know I was wrong But I'm getting 1 year lol... If you know me you know my character."
The suspension comes at a heavy price for Ridley, who will miss out on the $11.1 million salary he was set to earn this year. Ridley will be eligible to apply for reinstatement on February 15, 2023. He also has the option of appealing his suspension within three days.
Ridley placed parlay bets on games that included the Falcons, wagering that his team would win the games, according to ESPN NFL reporter Adam Schefter. The bets were placed in Florida using the Hard Rock Sportsbook app, which has since been shut down due to a decision by the state's Supreme Court, according to USA Today.
Ridley is not facing any criminal charges. His suspension was based on violating NFL policy.
In a statement obtained by Newsweek, the NFL said that the investigation had "uncovered no evidence indicating any inside information was used or that any game was compromised in any way." In addition, no "coaches, staff, teammates, or other players" were aware of Ridley's betting activity.
"There is nothing more fundamental to the NFL's success - and to the reputation of everyone associated with our league - than upholding the integrity of the game," NFL Commissioner Roger Goodell wrote to Ridley in a message informing him of the suspension.
"Your actions put the integrity of the game at risk, threatened to damage public confidence in professional football, and potentially undermined the reputations of your fellow players throughout the NFL," he added. "I acknowledge and commend you for your promptly reporting for an interview, and for admitting your actions."
The Atlanta Falcons issued a statement saying that they "cooperated fully with the investigation since receiving notice" that it was taking place on February 9. The team said that they support "the league's findings and actions" and would be "moving forward in the 2022 season with the decision that was made."