Katie Peters "felt something shatter" inside of her when she read a comment on a local community Facebook page that insulted teachers by questioning their work ethic.
"It's nice the teachers have decided to work again," the Facebook comment said.
Peters is a 10th and 12th grade English teacher from Toledo, Ohio, who in 2012 was honored as Northwest Ohio's Teacher of the Year. She currently works in Washington Local Schools.
She told Newsweek that the negative comment was not the only one, but "it struck a nerve"—so much so that she created a TikTok video to give people a sense of the things she does on a daily basis, as both a teacher and an educator.
Peters' video came prior to results of a new poll being released that found that 78 percent of 1,308 public school parents surveyed are pleased with how the pandemic has been handled nationally at schools.
The video, which was posted under her @kpintoledo account, has been viewed 2.5 million times and "liked" 336,000 times. She talks about a day's work, which doesn't end when the final bell rings.
"Today, I taught for six periods and subbed on my planning," she said. "I helped a young man find safe housing. I found a winter coat for a girl who didn't have one.
"I located a student's missing backpack and arranged for a replacement Chromebook for that student. I gave a student a little bit of cash for a haircut, and made sure another student had enough food to last them through the weekend," she continued.
And that wasn't all. Peters continues to talk about how she listened to one student talk about a puppy or listened to a male student discuss his first heartbreak. Another young girl was dealing with cramps and Peters kept her company.
Peters walked a new student to class so she wouldn't feel alone, and then she wrote a card to a student who was struggling.
"After that school was over," Peters said. "I ran to a meeting. I then tutored a student and rushed back to my classroom to write a letter of recommendation for college for a student who asked me for it today and the deadline is tomorrow."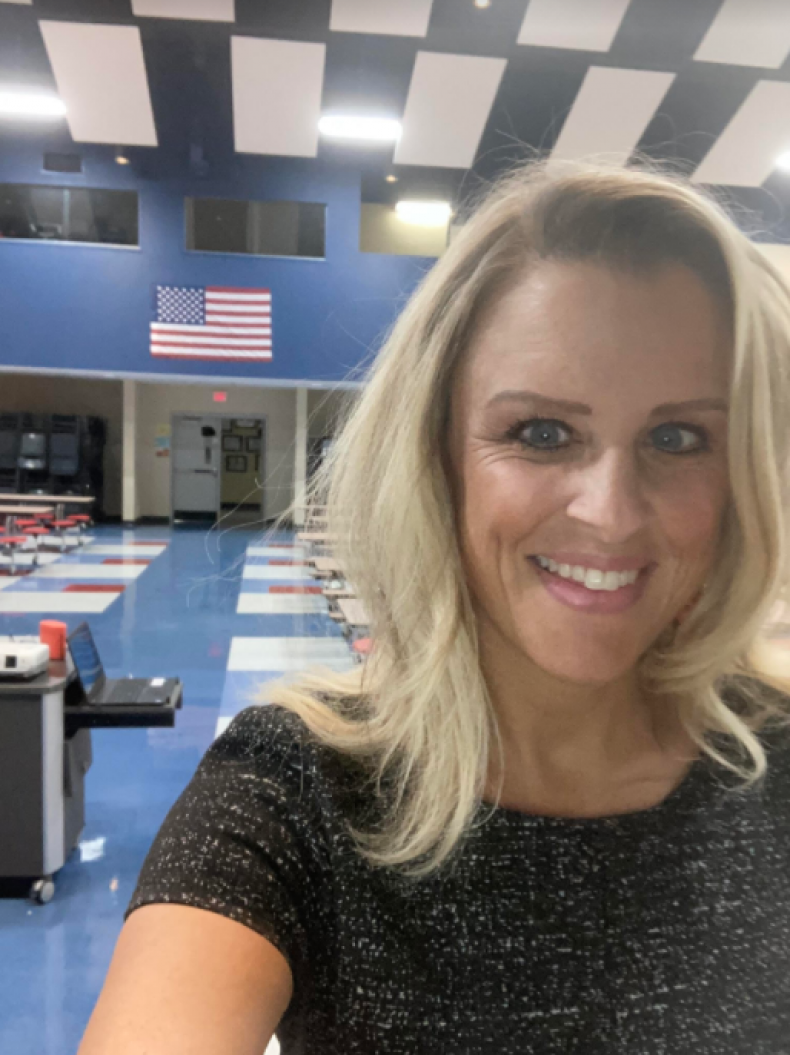 When Peters came home, she lesson-planned for another four hours—plans "that could, at the drop of a hat, go virtual without any warning."
"I don't want a single accolade," she said. "No teacher I know wants a pat on the back or gratitude. What they do need is grace.
"I want you to know [that] in your child's school, 30 to 50 teachers and support staff did that today and will do it again tomorrow. It's what we signed up for; it's what we love; it's what makes us fulfilled."
That was when she discussed the community forum comment that provoked her video. She implored others that do not recognize the work done by teachers and education staff done the past two years that ugliness does not lead to motivation.
"Loving kids is the purest form of beauty that exists," she said in conclusion. "And it's always going to beat your ugly."
"I just wanted people to remember how far compassion goes, in motivating and uplifting people," Peters told Newsweek. "I was so happy to see that it struck a nerve because that means other people are also craving this kindness.
"I think there is a perception among some, not all, that teachers work less than other professions and nothing could be further from the truth. In addition to the daily academic work, the emotional labor of this calling [and it is very much a calling] is a time-consuming, heavy-extra job. I also don't know when working levels became a competition. It's a pandemic. Can't we just agree that we're all working hard in a bad situation?"
Her video was met with kindness from most, including many comments related to the tireless work conducted by teachers—as well as remarks about teacher salaries not being high enough.
"Not all heroes wear capes," one woman commented.
"My wife is a teacher," a man commented. "Watching her work through the pandemic showed me that your profession is the most underpaid unappreciated job in America."
"I teach. I have for 31 yrs," one woman said. "This made me cry. I hurt like l never have before. I love my kids [8th grade] Every part of me hurts. This is our every day."
Others suggested that parents and legislators walk a mile in a teacher's shoes, with one person equating it to "jury duty" for those who must endure what teachers endure daily. Others referred to it as a form of "job shadowing."
Peters, whose website touts her efforts on the speaking circuit, continually mentions kindness, authenticity and an uplifting spirit as part of her endeavors.
Her efforts have proved to be fruitful, as one former student said in response to her video.
"I always loved how you made school fun and genuinely cared for your students," said a female student from Peters' class of 2018. "I hope you and family are doing good!"
Peters told Newsweek that the solution to most of society's problems is connectivity.
"We have to stop believing we are more different than alike," she said. "The truth is, we're all in this together and the sooner we accept it, the easier this life can be for all of us. Teachers love your babies in your absence. Who could ask for anything more?"