I Fought in Afghanistan. The War on Coronavirus Isn't So Different | Opinion
Like most Americans, I am spending most of the spring inside my home—working, cooking, taking video calls and helping my children with their schoolwork. We are all sacrificing aspects of our typical lives to deter the spread of a deadly virus.
I don't mind. I am happy to do my part, perhaps because I've done it before.
Sixteen years ago, I was on a plane to Afghanistan. On my way to combat, I felt uncertainty, anxiety and trepidation. I was a 25-year-old platoon leader in charge of two dozen soldiers, five Black Hawk helicopters and daily combat missions. Over time, I established a battle rhythm: plan, fly, debrief, eat, sleep, repeat. It was never normal, but it became familiar. I couldn't lose sight of the fact that my soldiers and I were often in mortal danger, but I didn't dwell on the existential nature of our situation. We consistently looked out for one another, maintaining watch over the mental, physical and spiritual wellbeing of every soldier in our unit. And through it all, I found solace in doing my part to contribute to the greater mission.
Today, the frontlines of the battle against a pandemic are held by health care workers, first responders, grocery clerks, bus drivers and other essential workers. Staying at home may seem like the opposite of fighting to protect your country, but in every war, there is a home front. And as a veteran, I would like to say to everyone following social distancing guidelines to save American lives in this war against an invisible virus, thank you.
There are many strong similarities between fighting a pandemic and fighting a war. And how we behave in this moment will be crucial to the long-term health of our nation. A key component of that is acting responsibly around firearms.
In combat, we were constantly aware of the potentially deadly combination of stress and firearms. All soldiers had at least one service-issued weapon, and we took every precaution to avoid non-combat-related injuries. In between missions, my unit stored our M4 carbines and M60 machine guns in a secured arms room, cleaned and separate from ammunition.
Looking at the lines of people outside of gun stores in the past couple of months, you'd think that Americans were preparing for combat. The number of firearms background checks conducted this March was 41 percent higher than last March, and the FBI's background check system is swamped. A loophole in federal law allows gun dealers to make a sale without a completed background check if the FBI's response is delayed longer than three business days. In contrast, military recruits spend weeks marching with rifles, memorizing parts and learning how to handle a weapon before they are ever allowed to shoot—and even that occurs under strict supervision.
Because of the pandemic, our country now has more guns inside households where kids are at home all day. There are more guns in the hands of first-time owners who are unfamiliar with the proper way to securely store their guns. And most alarmingly, more guns have been sold to felons, domestic abusers and other dangerous people because a loophole allowed them to evade a background check they would not have otherwise passed.
In war, everyday confrontations can become deadly in an instant. A routine traffic stop can quickly turn into a gunfight. Normal avenues of de-escalation become infinitely more difficult when firearms are involved. This month, a security guard at a discount store in Flint, Michigan, was shot and killed after asking a customer to put on a mask. The city of Houston saw a 20 percent jump in calls to domestic violence hotlines between February and March. In stressful times, conflicts arise, tempers boil and too often physical violence results. Typical avenues of escape for domestic violence victims are not as readily available, and abusers with firearms are five times more likely to kill their victims.
War can also take a toll after the fact. Veterans are one-and-a-half times more likely to die by suicide than non-veterans, whether they served in combat or not. Firearms are the method in about 70 percent of veteran deaths by suicide. Veterans know all too well that access to firearms is a decisive factor in whether or not a person in crisis dies by suicide.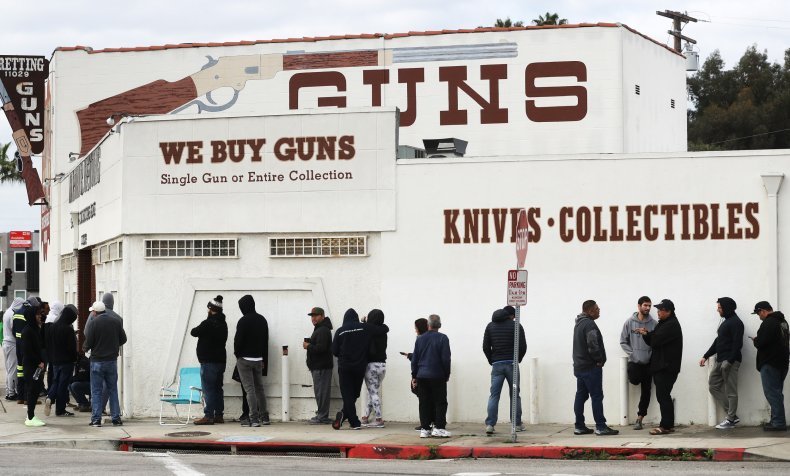 As stay-at-home orders are lifted around the country, we are not out of the woods. We will face the aftermath of a pandemic—joblessness, stressed relationships and the loss of loved ones to the virus.These will be triggers for those who might harm to themselves. Experts expect death by suicide to increase during this period, and this will only be exacerbated by the proliferation of firearms in homes.
During our quarantine, as in combat, we must check on each other. Ask loved ones explicitly about physical, mental and spiritual health. If you feel they might be in danger of harming themselves or their family, encourage them to contact suicide or domestic violence hotlines. Remind them to lock up their guns, unloaded and separate from ammunition—the way we stored them in combat.
We are in the midst of a pandemic that has already taken more than 80,000 lives across the country and seen countless more destroyed in the economic crisis. Veterans have experience with trauma, both in combat and beyond. Because we have witnessed the devastation of war, isolation and fear, we feel compelled to speak up during this fight.
Let's all take the steps we need now to get through the pandemic. Ensure the safety and wellbeing of ourselves and those around us by following guidelines from health officials, checking on loved ones and securely storing all firearms.
Chris Marvin is the principal of Marvin Strategies. He is a veteran of the war in Afghanistan and a member of the Everytown Veteran Advisory Council.
The views expressed in this article are the writer's own.