'I Never Said Clinton Email Investigation Shouldn't Go Too Far,' Says Ex-Attorney General Loretta Lynch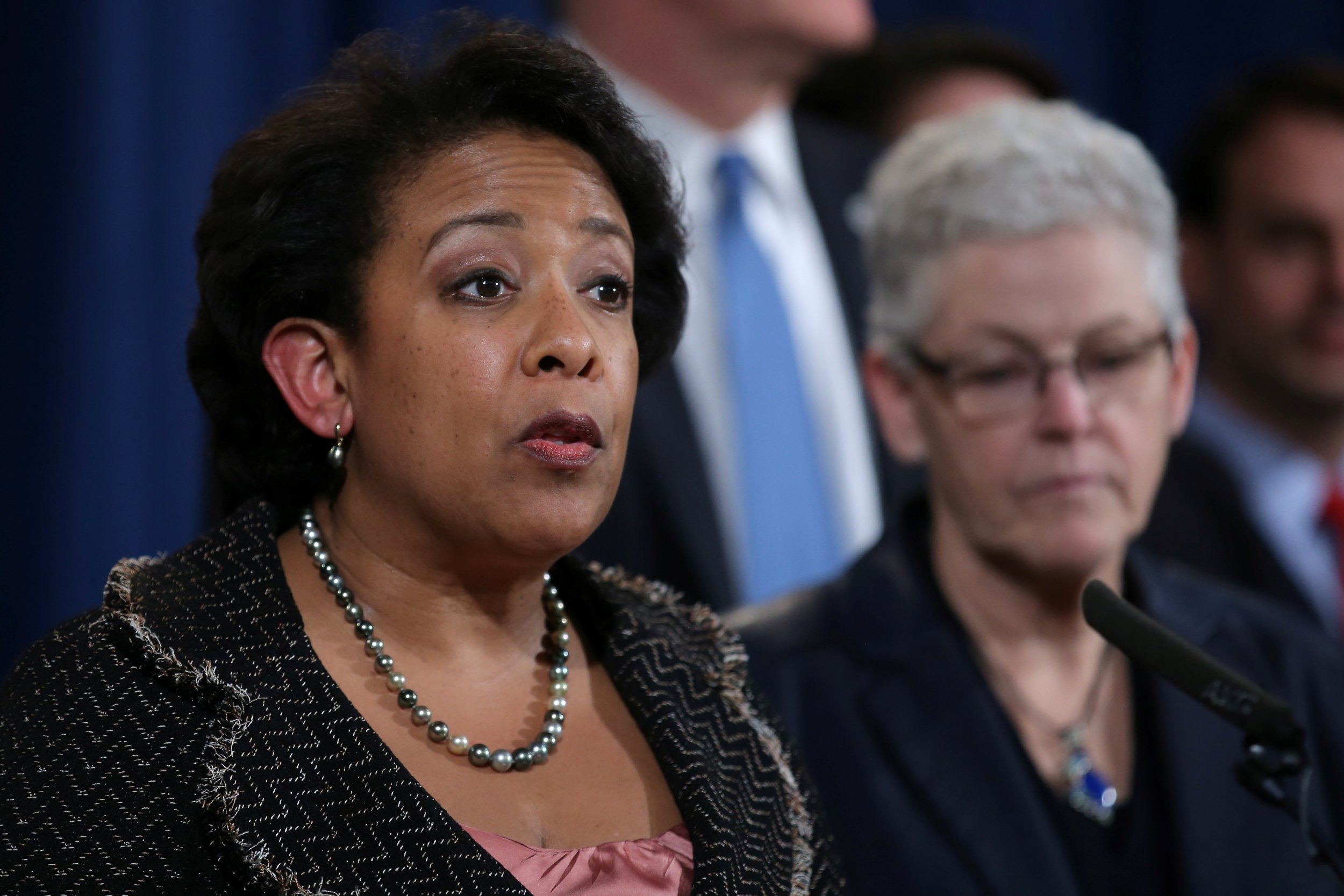 Former Attorney General Loretta Lynch says she will cooperate fully with a Senate committee probing whether she told presidential candidate Hillary Clinton's campaign that she wouldn't let an FBI investigation into Clinton's emails "go too far."
Lynch called into question the accuracy of a dubious Russian intelligence memo in a letter from her lawyer, Robert Raben, to the Senate Judiciary Committee's leaders Thursday.
The FBI received the memo in the midst of the 2016 election. The intelligence described (but did not contain) an alleged email sent by former Democratic National Committee Chairwoman Debbie Wasserman Schultz stating Lynch told Clinton campaign aide Amanda Renteria that she would curtail an investigation into Clinton's emails.
The probe was investigating whether Clinton criminally mishandled classified information while using a private email server to conduct government business while working as Secretary of State.
"To the best of her knowledge and recollection, neither Ms. Lynch nor any representative of the Office of the Attorney General discussed the Clinton email investigation with Ms. Renteria, Representative Wasserman Schultz or her staff, or any DNC official," the letter from Raben said.
"Ms. Lynch does not know Ms. Renteria, did not discuss the Clinton email investigation with Ms. Renteria, and did not communicate to Ms. Renteria, either in words or in substance, that 'she would not let the FBI investigation into Clinton go too far,'" Raben wrote.
Read more: Loretta Lynch defends decision not to charge Hillary Clinton over emails
According to the FBI, the Russian document was bad intelligence and potentially a fake.
But the document prompted former FBI Director James Comey to come forward last July to state the agency's investigation into Clinton's use of the private serve was over. Comey said that while Clinton was careless that her mishandling of intelligence, it did not rise to a criminal offense.
The Senate, FBI and other American government agencies are investigating Russia's campaign to interfere in the 2016 election. In January, America's intelligence agencies concluded that Russia engaged in hacking and a massive misinformation campaign to sway the election in favor of Donald Trump.
Lynch has been heavily criticized for meeting with Clinton's husband, former President Bill Clinton, while the FBI's investigation into his wife's emails was ongoing.
Lynch has expressed regret for the meeting and how it was perceived. She has said the investigation was not discussed. "I certainly wouldn't do it again," Lynch said last July of the meeting, noting that it "cast a shadow" on the investigation of Clinton's emails in the public mind.
Last month Senate Judiciary Chairman Chuck Grassley of Iowa and other committee members sent letters to Lynch, former Clinton campaign staffer Renteria, and Leonard Benardo and Gail Scovell of the Open Society Foundations, a foundation supported by Democratic donor George Soros, seeking more details on their communications.
The letter to Lynch asks that she disclose any conversations with Hillary Clinton's campaign and the DNC about the FBI's investigation of Clintton. Lynch said through her lawyer that she "intends to cooperate fully" with the Senate probe.