Midway through the presentation I was giving to 200 third graders in Forsyth County, Georgia, the principal handed me a note:
"Please only share the appropriate parts of the story for our elementary students."
Translation: "Don't say 'gay.'"
I'd already said it earlier that morning to fifth graders at the same school—and during hundreds of other assemblies over the past decade. No one had imploded. The ground hadn't split. Locusts hadn't swarmed. Yet the principal attended this second talk in panic mode. He was there in service not to those kids but rather a loud minority of intolerant parents.
One word uttered one time was about to cause an uproar that would lead to an ultimatum that would make national news.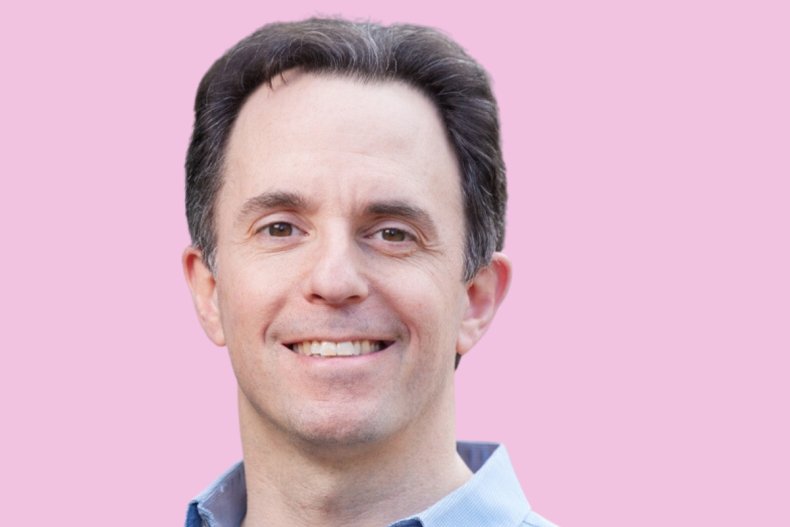 As an author for young readers, I've had the privilege of speaking to audiences of all ages at schools in about 30 states and almost 20 countries. My presentation focuses on one of my nonfiction books, Bill the Boy Wonder, in which I reveal the tragic, twist-filled story behind one of the most successful characters of all time: Batman.
The Dark Knight was created in 1939 by writer Bill Finger and artist Bob Kane—but Kane manipulated the contract negotiation so that only he got credit. Finger anonymously wrote Batman stories for 25 years, during which time he also penned the debuts of other icons including Robin, the Joker, and Catwoman—and nicknamed Batman "the Dark Knight."
Kane became wealthy. Finger died poor and alone, in 1974. No obituary, no funeral, no gravestone...no kidding.
When I set out to write the first biography of Finger, I read that only a descendant could legally challenge a credit line. On day one of the project, I learned three facts that would prove vital: Bill had only one known child, a son named Fred; Fred was gay; and Fred died in 1992.
At first, Fred's sexual orientation misdirected my thinking. A gay person would not have been allowed to adopt in Fred's era...but it didn't immediately occur to me that he could have had a biological child.
Imagine the record scratch when I learned that Fred was once married to a woman...and they had a daughter named Athena. That meant Bill Finger had a granddaughter...therefore Batman had an heir.
Uncovering this bombshell was the critical turning point in my mission to correct a high-profile cultural injustice that had persisted for more than 70 years.
That's why I say "gay."
At least that's why I originally said it.
Now I say it for a second reason: To help normalize it.
Give kids credit.
They're fine with it.
And they're positively ecstatic when I announce that I found Athena, who became the hero her grandfather deserved by fighting for his legacy.
Finally, in 2015, DC Comics added Bill Finger's name to the Batman credit line.
I was scheduled to speak at three Forsyth County elementary schools—one school per day, three talks per school, one grade (third, fourth, fifth) per talk.
The note-passing happened at the first school. Because I did not want to further disrupt the assembly in progress, I omitted "gay" in that second talk. In a misguided effort to remain a respectful guest, I also omitted it during the final talk of the day—while silently scolding myself.
That night, the principal from the second school called to ask me to do the same for him. I explained why I couldn't. He said I'd cooperated at the first school. I felt trapped, and though it sickened me, I obliged.
The morning of the third school visit, I saw online that the principal of the first school had apologized to his fifth grade families that I said "gay."
Apologized. As if I'd hurt people.
People were hurt, but not the kids who heard an unprovocative word many of them are already familiar with—if not from their families, then from Netflix or TikTok. (More than a few 9-year-olds wearing Deadpool T-shirts have told me that they've watched the R-rated movie. Where's the outrage over the inappropriateness of that?)
No, the people who were hurt are those who identify as LGBTQ. The principal's message (to quote the Forsyth Coalition for Education) conveys that "your very existence as a gay person warrants apology and...no discussion of your existence will be allowed."
The superintendent issued a statement supporting...the principal.
Boiling, I recommitted to delivering my final three talks intact.
Upon arriving at the third school, the principal said they booked me to excite kids about writing and research. I assured that's precisely what I do, as she knew from the other schools.
Then she asked me to adhere to their curriculum standards.
I said: "You mean don't say 'gay'?"
Perhaps even Forsyth administrators—even when exclusively among adults—couldn't say it.
Others that week had already tried the "standards" defense. It doesn't track. In my presentations, I mention Bill's wives multiple times and received no pushback.
The education leaders of this community know that sexual orientation is not the same as sex...but to them, that distinction is applicable only to heterosexuals.
They hide behind standards to deflect that prohibiting the word "gay" is discriminatory—and they ignore that it's dangerous. As reported by outlets including CBS News, a 2022 Trevor Project survey found that LGBTQ youth "who live in an accepting community reported significantly lower rates of attempting suicide compared to those who do not. Nearly two in five LGBTQ youth reported living in communities that are either somewhat or very unaccepting of LGBTQ people."
Though I didn't agree to ixnay "gay," I was allowed to proceed. The kids at the first assembly cheered and applauded thunderously throughout.
Again, I said Fred was gay—without incident.
Yet again, afterward, both the principal and the chief communications officer of the county urged me to stick to the standards.
And again, I refused—this time without budging.
When the chief communications officer likened saying "gay" in front of third graders to telling kindergartners about the Holocaust, I asked her not to compare a kind of love to mass murder.
I said I couldn't do the last two assemblies unless I included "gay."
They said they could not allow that. Even though the first group cheered and applauded thunderously.
Both leaving out the word and leaving the school would deprive the kids, but I could choose only one option. I knew I had to go.
They agreed.
After, I emailed the two administrators and three principals involved, appealing to them to take three actions:
Apologize to their community for the principal's apology.
Apologize to their community for censoring an established author who did what he was hired to do: Pump up their kids about reading, writing, and research.
Challenge the standards that stigmatize any mention of LGBTQ people.
Toward the end of my talks, I say: "Every change in history, no matter how big, starts with one person."
Who will be that person in Forsyth County?
Members of this community have tried to defame me. In posts online, they've called me a groomer, villain, pervert, disgusting creep.
But when people who did not hear my talk, read my book, see my film, or meet me are vilifying me for saying "gay" in a country where same-sex marriage is legal, I do not take it personally.
I would like to return to Forsyth schools. I realize some would not welcome me, but am optimistic/naïve enough to believe that others would. I am confident that this hurtful incident can be a springboard to growth, whether or not I'm a part of it.
That's because I've also heard from hundreds of others—gay and straight—who are deeply grateful.
I'd estimate 98 percent of the reactions I'm seeing stand with the LGBTQ community.
And those 98 percent are 100 percent on the right side of history.
Marc Tyler Nobleman is an author of books for young readers including Bill the Boy Wonder: The Secret Co-Creator of Batman, which helped change the Batman credit line and inspired the Hulu documentary Batman & Bill.
All views expressed in this article are the author's own.
Do you have a unique experience or personal story to share? Email the My Turn team at myturn@newsweek.com.