I Will March for Life Before and After the Fall of Roe | Opinion
It has been almost 50 years since the landmark Supreme Court decision Roe v. Wade.
Those 50 years, for pro-lifers, have been a long and difficult road. While the pro-choice movement enjoyed the upper hand due to the sweeping Court decision, pro-life Americans felt as though, no matter how many hearts and minds were changed, they still faced an uphill battle.
Many states passed pro-life legislation and a tide of support for babies grew, but alas, there remained the great obstacle of Roe v. Wade.
Finally, when the Supreme Court decided to revisit this issue last year in the case Dobbs v. Jackson, we saw some light at the end of the tunnel. This may be the last March for Life during which Roe is intact.
That is not to say abortion will be outlawed next year, by any means. If Roe v. Wade is overturned, the issue will merely return to the states. States like New York and California will have radical pro-abortion laws, as they do now, but things will be different for states like Ohio that have passed heartbeat bills, or states like Mississippi that have passed bills limiting abortion after 15 weeks. Those laws will be allowed to stay intact, and will not be struck down post Roe.
In other words, states—and, more importantly, voters—will finally be able to weigh in on this important issue, and not a moment too soon.
Since 1973 there have been radical improvements in medical technology and care. Viability has become possible earlier and earlier, as technology allows babies to survive earlier outside the womb on their own. Medical advancements mean that premature babies can get heart transplants and advanced brain surgery, and babies born without a rectum, uterus or other body parts can have surgery as well.
Dr. Ben Carson has performed brain surgery on babies as young as 25 weeks. In an appearance on The View in 2015, Carson said, "I've spent my entire career trying to preserve life and give people quality of life, even operating on babies in the womb, operating all night long sometimes on premature babies." Carson added, "And I get to meet those people when they're adults." Does it make sense to refer to these babies, who are so similar to us, as mere "clusters of cells?"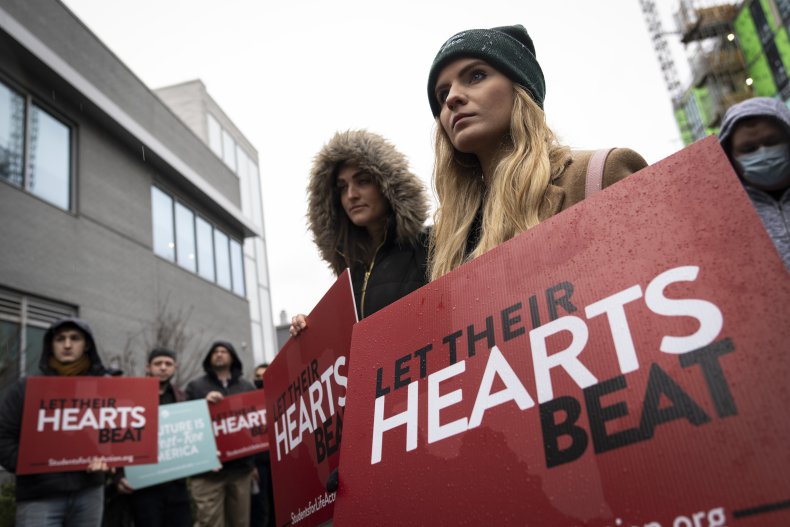 It's become absurd to argue that there isn't human life in the womb during pregnancy. The advancement of ultrasound, which now allows parents to see their baby in the first trimester, has been a game changer. I often see my friends announcing their pregnancy by simply posting a photo of their ultrasound on social media. Often no caption is required—everyone seeing this photo knows exactly what's happening. The photo will receive comments like "I'm so happy for you" and "Congratulations" and "a family of three!" No one asks whether it's a human life. No one calls it a "cluster of cells," an ambiguous form, a rock or a toe. No, this is a human being with his or her own heartbeat, head, DNA and genitalia. We all know we are talking about a baby.
When the Dobbs case was being argued, neither the Justices nor Solicitor General Elizabeth Prelogar, representing the Biden administration, disputed the fact that we are talking about a human life. No one can reasonably argue that a baby in the womb is not a human being.
Justice Harry Blackmun, in his majority opinion for Roe, famously said, "We need not resolve the difficult question of when life begins."
But this question is at the heart of the issue. It should not be sidelined or forgotten, since we are talking about not just life, but human life, the life of the next generation. And today, that question is settled. What is really being debated now is not whether a preborn child is a human, but whether some humans, specifically babies, can be killed. That is the reality of the issue.
While the overturning of Roe v. Wade would be a huge win worthy of celebration, our work will not be over. While pro-choice activists would like us to disappear into the past, that will not happen. Overturning Roe is merely the next step in achieving a pro-life nation.
We must continue to change hearts and minds to transform our culture. We must continue to support crisis pregnancy centers that save babies, and yes, move forward with further legal activism.
Facing such a grave evil as abortion, our next legal goal should be a federal amendment that affords babies in the womb as much protection as minority groups, women and others. It will take time for us to get the majority we need for this to happen. It may take another 50 years. But we will not give up.
I am especially honored to be the master of ceremonies at the 27th annual National Prayer Service before the March for Life, where we will bring together faith leaders from around the nation who have been the most bold and courageous defenders of life.
This is just the beginning. Let us consider the wins that come with every passing year as added fuel in our rocket, as added fire to our spirit, so that we may press on and never lose sight of what is at stake.
Danielle D'Souza Gill is the author of The Choice: The Abortion Divide in America, and the Epoch Times host of Counterculture with Danielle D'Souza Gill.
The views expressed in this article are the writer's own.