'I Wish My Daughter Had Gotten to Meet You,' Says Meghan McCain About Late Grandmother Roberta McCain
Meghan McCain is remembering her one-of-a-kind grandmother Roberta McCain. Roberta died on Monday, October 12, she was 108 years old.
"I love you Nana. You're everything I ever aspired to be. Thank you for teaching us all about living life on your own terms with grit, conviction, intensity and love. There will never be another one like you, you will be missed every day," McCain wrote, adding, "I wish my daughter had gotten to meet you."
Meghan welcomed daughter Liberty Sage McCain Domenech on September 28 with husband Ben Domenech.
The View co-host shared the same picture on Instagram, adding, "Have a drink with Dad for me..."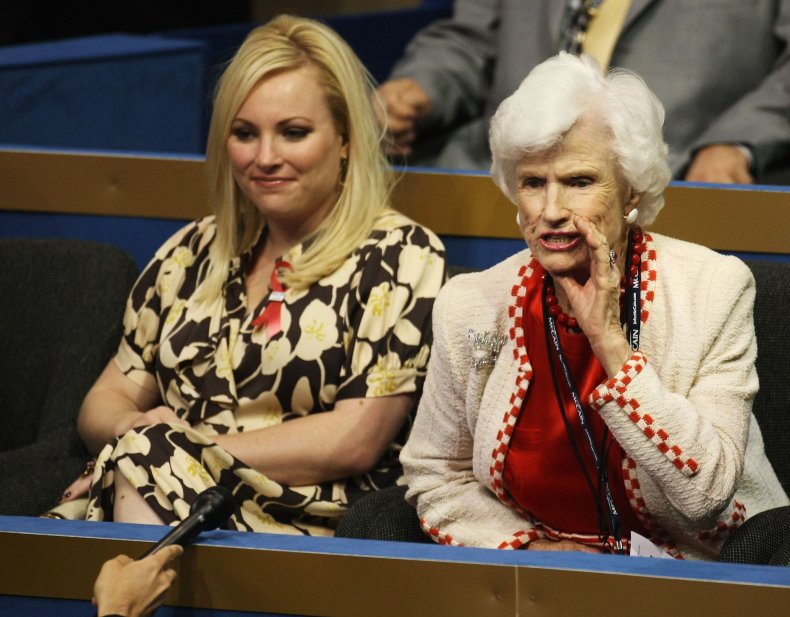 Meghan previously called Roberta the "epitome of strength and grace" and "an American treasure" when tweeting about her casual 107th birthday in 2019. "Thank you for showing me and so many others how to truly live life on your own terms," she wrote at the time.
Additionally, for Roberta's 100th birthday, Meghan wrote about how she and her father late senator John McCain inherited their "maverick gene" from the centenarian in a 2012 article for The Daily Beast.
She recalled her grandmother joining the family on the road while the senator was campaigning to be president in 2008. "When she rode on my father's bus, she had a tendency to grill his advisers on their strategy," Meghan wrote.
"She was really our secret weapon, skillfully charming reporters and putting to rest any questions about what aging looks like in the McCain family."
Meghan's mother, Cindy McCain, announced Roberta's passing earlier on Monday. "It is with great sadness that I announce the death of my wonderful Mother In-law, Roberta McCain. I couldn't have asked for a better role model or a better friend," she wrote. "She joins her husband Jack, her son John and daughter Sandy."
Roberta was born on February 7, 1912 in Muskogee, Oklahoma. She had a twin sister Rowena who died in 2011, and they traveled the world together in their 90s, Entertainment Tonight revealed.
Late senator John called Roberta praised his mother for her impact on him in his 2005 book, Character is Destiny. "My mother was raised to be a strong, determined woman who thoroughly enjoyed life, and always tried to make the most of her opportunities," he wrote. "She was encouraged to accept, graciously and with good humor, the responsibilities and sacrifices her choices have required of her.
"I am grateful to her for the strengths she taught me by example, even if I have not possessed them as well and as comfortably as she does."