'I Won't Be There!': Planned Sarah Sanders Media Farewell Party Sparks Angry Reaction From April Ryan
Veteran White House correspondent April Ryan has told Newsweek she won't be in attendance at the farewell party for White House Press Secretary Sarah Sanders that is being organized by two members of the White House press corps.
"I won't be there!" Ryan told Newsweek about her appearance at the event scheduled for Monday at an upscale D.C. restaurant.
HuffPost first reported on Thursday about the existence of the plans, which were crafted after last week's announcement from President Donald Trump that Sanders would be leaving her post in the coming weeks.
Ryan's comment comes amid a raft of criticism the prospective event has received from journalists online.
Derek Mead, the executive editor of VICE, wondered why the White House press corps "would fete someone who actively eroded trust in and value of your entire industry."
Sarah Jones, a writer for New York Magazine, wrote in a tweet that the idea was "disgraceful."
A former member of the White House Correspondents' Association (WHCA) told Newsweek on the condition of anonymity that "it is absurd that this happened."
Anita Kumar, a White House reporter for Politico and a WHCA board member, organized the event along with her WHCA colleague Francesca Chambers, a reporter with the Daily Mail, according to HuffPost.
In a statement to Newsweek, Kumar said that the gathering is "not an official WHCA event" but an informal get-together for "reporters who have engaged with Sarah Sanders, many of whom have done so for years."
"This type of gathering is quite common, regardless of administration," the statement read. "We have organized similar events for the White [House] press corps in the past. All attendees are responsible for paying their own bill, including Sarah Sanders."
Sanders has famously clashed with reporters in the White House briefing room. When NBC News reporter Hallie Jackson pressed Sanders on potentially contradictory statements put out by the president about a bill that would renew warrantless surveillance powers, Sanders berated Jackson for asking the question.
"I think that the premise of your question is completely ridiculous and shows the lack of knowledge that you have on this process," Sanders said.
The press secretary has notably sparred with CNN reporter Jim Acosta. When Acosta asked Sanders about President Trump's derogatory comments about Christine Blasey Ford, who had accused then-Supreme Court nominee Brett Kavanaugh of sexual assault, Sanders replied that she had no problem defending Trump's comments and no problem telling the truth.
"I don't have any problem stating facts," Sanders said. "I know that's something you probably do have a problem with."
Visibly peeved, Acosta replied that his organization does "state the facts," adding that "there have been many occasions when you don't state the facts."
Ryan, a correspondent for American Urban Radio Networks, has herself tussled with Sanders on multiple occasions. At a June 2018 briefing, Ryan attempted to push Sanders on the president's response to NFL players protesting police brutality by kneeling during the National Anthem, when the press secretary replied: "I let you rudely interrupt me and your colleague."
"I would be happy to answer it if you would stop talking long enough to let me do that," Sanders remarked.
Last week, Ryan went on CNN to react to the news of Sanders' forthcoming exit, saying that "she suffers from lie-abetes."
After delivering her remarks to Newsweek, Ryan confirmed she would not be attending the planned farewell event in a video posted on Twitter, which concluded with her saying the words, "girl, bye."
Sanders has received much criticism for the volume of documented deception that has emanated from the podium during her tenure. When in May 2017 she told reporters that "countless" FBI agents expressed their support for the president's decision to fire then-FBI Director James Comey, the information was used to bolster Trump's justification for the ousting. But when special counsel Robert Mueller's report on the Russia probe's findings was released, it was revealed that Sanders admitted to investigators under oath that her claim was "not founded on anything."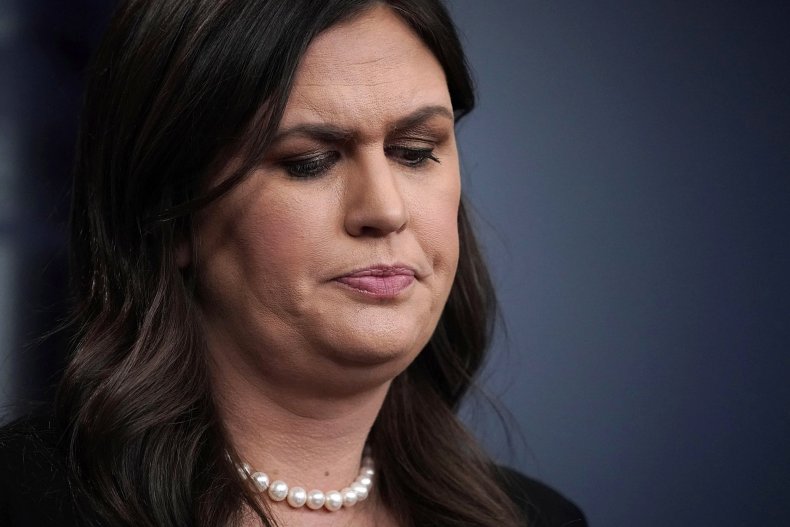 She has also claimed that 4,000 suspected terrorists were detained crossing the southern border; that immigrants coming to the U.S. via the diversity lottery were not vetted; that Trump was not involved in the $130,000 hush-money payment to Stormy Daniels; that the president has never encouraged or promoted violence; and that multiple news outlets reported on President Barack Obama ordering Trump's phones tapped. All those claims were untrue.
Sanders has perhaps most notably abandoned the daily White House press briefing as we know it. This week marked 100 days since the last on-camera briefing, a far cry from her previous record of 42 days.
President Bill Clinton's press secretary wrote in an op-ed for CNN that Sanders "failed in almost every aspect of her job."
"Sarah Sanders said last December that when her role as White House press secretary ends, she hopes to be remembered as 'honest and transparent,'" Joe Lockhart wrote. "I'm afraid she's going to be remembered quite differently because of the actions of her boss, President Donald Trump, and her own failures to live up to the obligations of the office."
Kumar's statement to Newsweek observed that "the challenges between the administration and the White House press corps are well documented and, in some cases, ongoing."
"I generally believe that part of the remedy to those challenges is to engage in conversation rather than to avoid it," she said.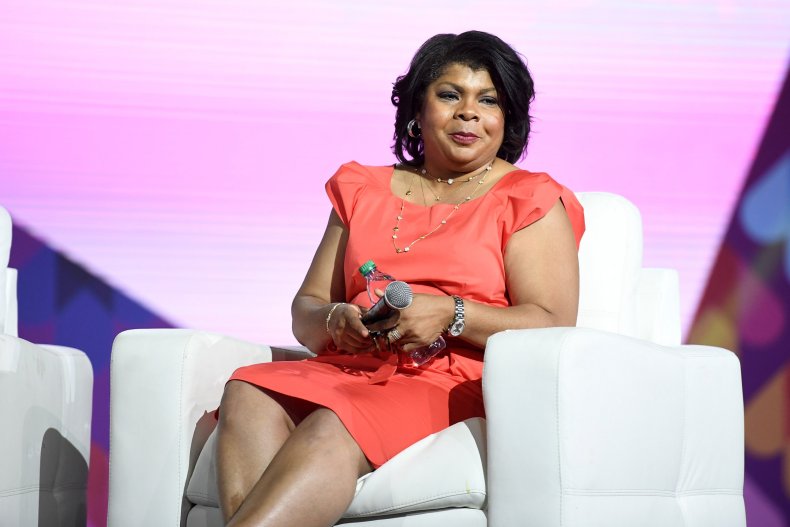 'I Won't Be There!': Planned Sarah Sanders Media Farewell Party Sparks Angry Reaction From April Ryan | Politics