Ian Holm's Best Bilbo Baggins Quotes From 'The Lord of the Rings'
Today, film fans all over the world are remembering the late Ian Holm, who passed away this morning at the age of 88.
The prolific and versatile actor had a decade-spanning career punctuated by iconic and memorable roles.
From playing an evil android in Ridley Scott's Alien all the way back in 1979, to voicing Chef Skinner in beloved Pixar animation, Ratatouille.
It was The Lord of the Rings franchise however that introduced Holms' talent to an entirely new generation as embodied by the beloved hobbit Bilbo Baggins.
Holm went on to reprise the role of Baggins in 2003's The Return Of The King, and played an elder Baggins in The Hobbit: An Unexpected Journey and The Hobbit: The Battle of the Five Armies—in which the younger Baggins was played by Martin Freeman.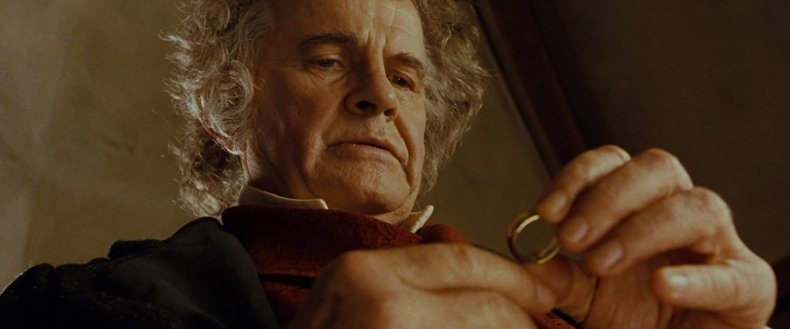 Ian Holm's Best Bilbo Baggins Quotes From The Lord of the Rings:
"I don't know half of you half as well as I should like, and I like less than half of you half as well as you deserve."
"It's a dangerous business, going out your door. You step onto the road, and if you don't keep your feet, there's no telling where you might be swept off to."
"I'm old, Gandalf. I know I don't look it, but I'm beginning to feel it in my heart. I feel... thin. Sort of stretched, like... butter scraped over too much bread. I need a holiday. A very long holiday. And I don't expect I shall return. In fact I mean not to."
"Here's a pretty thing: Mithril. As light as a feather, and as hard as dragon-scales."
"My dear Bagginses and Boffins, Tooks and Brandybucks, Grubbs, Chubbs, Hornblowers, Bolgers, Bracegirdles and Proudfoots!"
"You're a good lad, Frodo. I'm very selfish, you know. Yes, I am. Very selfish. I don't know why I took you in after your mother and father died but it wasn't out of charity. I think it was because... of all my numerous relations, you were the one Baggins that showed real spirit."
"One day I'll remember. Remember everything that happened: the good, the bad, those who survived... and those that did not."
"I am sorry I brought this upon you, my boy. I'm sorry that... you must carry this burden. I'm sorry for everything."
"Gandalf, my old friend, this will be a night to remember."
"I've thought of an ending for my book: 'And he lived happily ever after... to the end of his days.'"