iCarly fans across the world were overjoyed to hear their favorite show as a teen was coming back, nine years after it ended. Better still, the main cast (minus Jenette McCurdy as Sam Puckett) signed up for the reboot, making for the sweetest iCarly reunion ever.
Set in the present day, the iCarly reboot follows Carly Shay (Miranda Cosgrove) at 27, single and recovering from heartbreak.
Nathan Kress also returned as Freddie, who is now a divorced father one, and Jerry Trainor is back as Carly's older brother Spencer, who is just as crazy and as funny as ever.
The iCarly reboot is also very topical, making numerous (and hilarious) cultural references, and does not shy away from introducing LGBTQ+ characters and tackling social issues.
Speaking to Newsweek, showrunner Ali Schouten shared the iCarly reboot felt like a "natural progression", simply picking up the characters from where they left off in 2012 and putting them in the middle of the present day.
"It wasn't so much a question of feeling pressure [to include those themes]. We wanted to reflect where these characters would be at," she said.
"The original was ahead of its time, the jokes were really clever and really forward-thinking, so we have that legacy, but in our eyes it was a natural progression."
As for the fan reaction, Schouten described it as "the best", sharing she had been "joy-scrolling" through Twitter to see people's reactions.
"People have been so kind," she shared. "They can see everything we have been referencing from the original. The fans are really great. We are so lucky to have the fans."
Although the majority of the main cast returned for the reboot, the new series faced a Sam-shaped hole. This was quickly filled by writer and actress Laci Mosley as Carly's new best friend and roommate, Harper who Carly refers to as BFFLAS (best friend for life after Sam).
The inclusion of Harper from the get-go set the tone of the show. iCarly is no longer a teen drama, it is about Carly Shay as an adult and just like in real life, some friendships come and go and friends who you've known for a much shorter period of time end up becoming the ones you cannot live without.
Schouten commented: "I love Harper. Me and Laci met over zoom before she took on the role and we talked about what this character was going to be like and how she was going to portray it. Not that we had big shoes to fill because Harper is a totally different character but to know there was going to be the absence felt with Jennette. Me and Laci worked really closely together and she made that character truly her own. I absolutely love the chemistry between Miranda and Laci."
Thankfully, the second season of iCarly is on the way with the writers room recently opening up in L.A.
As for Season 2, fans will see "more of the same". That said, Schouten teased "we are not looking to explicitly break the mold, but we are going to probably bring the web show into it a bit more."
She added: "It's also going to include a lot more about what it is like to be doing this job because it's a real job."
Its renewal comes as no surprise, considering the show has ranked among Paramount+'s "most-streamed titles" since the series' debut in June 2021.
The second season will no doubt pick up from the season finale cliffhanger, which saw Carly's ex-boyfriend Beau (played by Conor Husting) and her current boyfriend Wes (Josh Plasse) say "I love you" at the exact same time.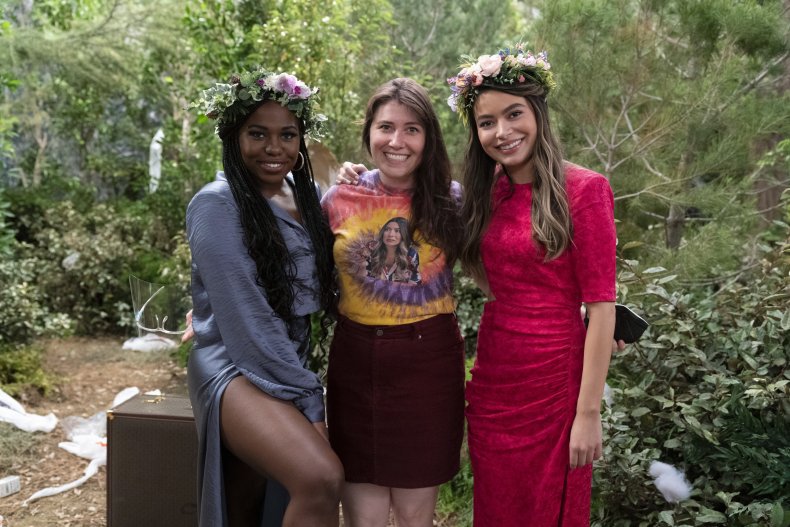 Carly managed to avoid addressing the awkward moment as the long-awaited helicopter landed to save them from the woods of Webicon.
There will also be many more cameos from the original series, but Schouten remained tight-lipped on exactly who fans can expect to see in Season 2.
She did tease: "I can't really say anything but I will say we are very excited to have Mrs. Benson (Mary Scheer) back, it was so fun to see her again. I would love to see more of Nevel (Reed Alexander) and Prunella (Bailey Stender) and for the people, we haven't got to see yet... we have just started writing the season, it has been a week and two days of writing so we haven't quite figured all the episodes out but we are looking forward to bringing people back."
Filming for iCarly Season 2 will begin this fall, but as for a 2021 release date, Schouten joked: "Your guess is as good as mine."
"We ran a very tight production caliber last year so maybe we can [do it again].
iCarly Season 1 is streaming on Paramount+ now.