ICE Agents Detain Woman Despite 'High-Risk' Pregnancy and Deny Her Medication for Days, Immigration Lawyers Say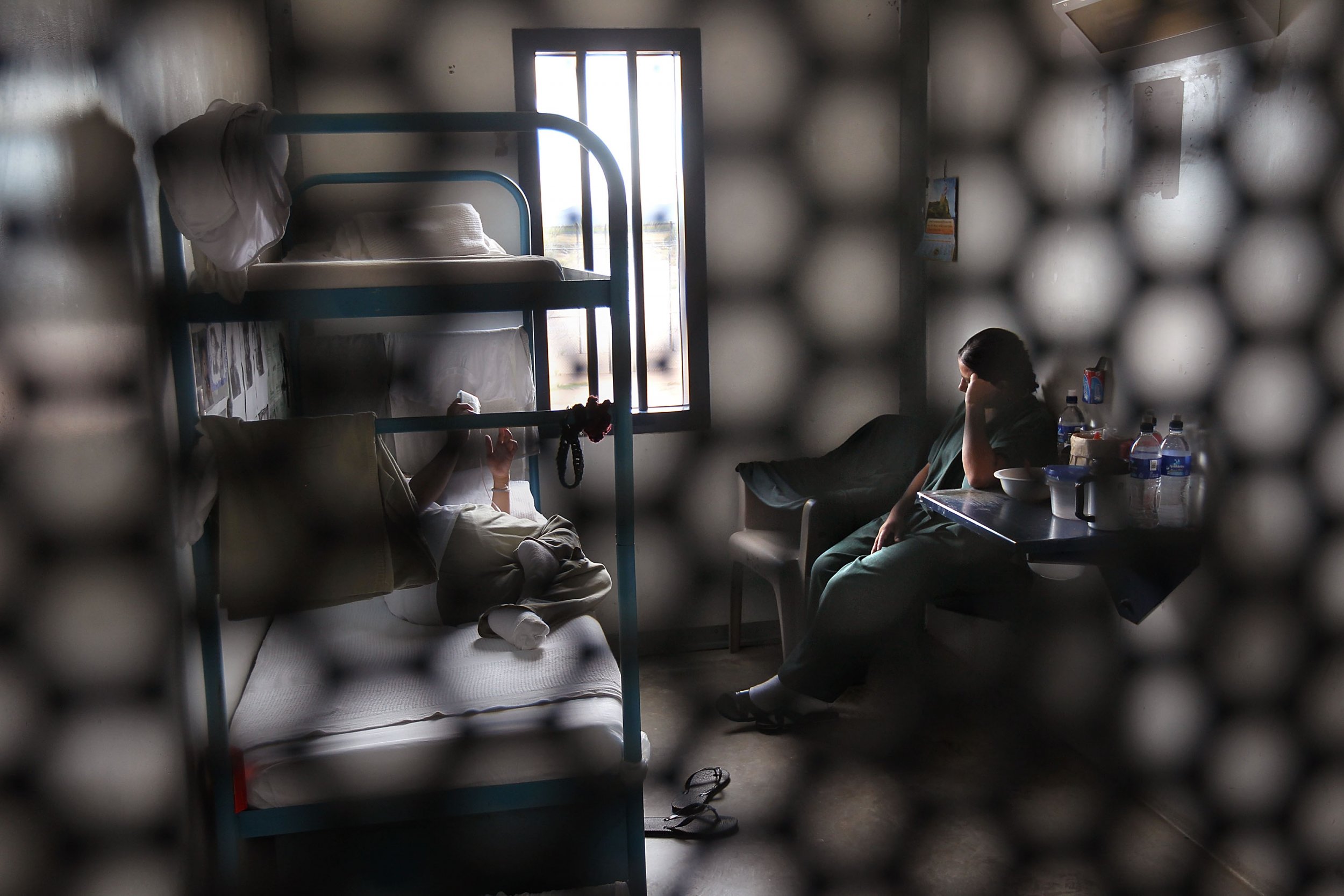 The U.S. Immigration and Customs Enforcement agency (ICE) has come under fire after its agents arrested a woman who was five and a half months into a high-risk pregnancy during a green card interview with her husband, a U.S. citizen, according to immigration lawyers. They then allegedly detained her for days and denied her access to the medication she needed to ensure a safe pregnancy.
Throughout her pregnancy, Carmen Puerto Diaz had been directed by doctors to "avoid stress" and take medication for hypertension every 12 hours, immigration lawyer Greg Siskind told Newsweek.
But on Wednesday, both Puerto Diaz and her unborn baby's health were put at risk, he said, when ICE agents arrested her during what she and her husband Ricardo Loza, thought would be a standard green card interview at a U.S. Citizenship and Immigration Services office in Memphis, Tennessee.
"She found out at that interview that she had an in absentia removal order from years ago," Siskind said, referring to an order for removal issued by an immigration court. "She had moved and never knew about this order so it was a complete surprise to her."
According to Siskind, who has assisted Puerto Diaz's family alongside fellow immigration lawyer Johnna Main Bailey, the pregnant woman's husband had been assured by ICE agents that if he could provide proof of his wife's medical condition, she would be free to go. But when he returned an hour later with the evidence, Loza was informed that his wife would not be released after all.
Instead, Puerto Diaz was transported to an ICE detention facility in Mason, Tennessee, more than an hour away from Memphis, before being forced to switch locations again and being placed on an eight-hour bus ride to ICE's La Salle Detention Center in Jena, Louisiana.
During that time, Siskind said, Puerto Diaz had not been allowed to have access to the medication she was prescribed, despite making her condition clear to ICE agents.
Siskind said that the situation only began to turn around after his law firm called on social media users to put pressure on ICE, flooding the LaSalle Detention Center with phone calls demanding Puerto Diaz's release.
After facing pressure from immigration advocates, as well as from at least one member of Congress, Siskind said ICE finally allowed Puerto Diaz to take her medication late on Friday evening and eventually released her the following day.
"We decided that we needed to put some public pressure on it, because it really was a ridiculous situation and common sense should have told them this was not a good idea," Siskind said.
"We were worried about her health, and we knew that if we wasted time it could have some risky repercussions," Siskind said. "We put together a pretty good advocacy effort in a hurry."
The immigration lawyer said that after the detention center was flooded with calls, he believes ICE "got sick of us" and finally decided to release Puerto Diaz.
Writing on Twitter, fellow immigration lawyer Lily S. Axelrod also suggested that it was thanks to immigration advocates' efforts to put pressure on ICE that Puerto Diaz was released.
"ICE released Carmen in response to YOUR advocacy," Axelrod tweeted.
"Two days without meds for her high-risk pregnancy, four days behind bars separated from her U.S. citizen husband in fear for her child's life. All for daring to 'do it the right way' and apply for her green card," the immigration lawyer added.
While Siskind said Puerto Diaz's release was "very good news," he said she was "not completely out of the woods," with the family still striving to get the expectant mother permanent residency in the U.S. to prevent such an ordeal from ever happening again.
He said that Puerto Diaz's case should also raise questions about ICE's practices around the detention of pregnant women.
"If they don't have an [obstetrician] on staff and if they don't have a maternity ward nearby, then they don't have any business holding pregnant women," Siskind said.
Last year, an investigation by BuzzFeed News revealed that pregnant women in ICE custody had been ignored or suffered abuse under the agency's custody. A number of pregnant women said they had even suffered miscarriages without being offered any medical help from officials while in the care of the embattled agency.
While under the Obama administration, guidance had been in place restricting the detention of pregnant women in ICE, that policy was reversed under the Trump administration in a move that saw widespread backlash from more than 250 civil and human rights organizations.
ICE has not immediately responded to a request for comment for this article.