ICE Agents Arrested a Mother and Son After They Appeared in Court Over Domestic Violence Dispute
The Immigration and Customs Enforcement (ICE) agency has defended its decision to arrest a mother and son outside a courthouse in Mecklenburg County in North Carolina after they arrived for a hearing in a domestic violence case, having faced backlash over the move.
In a statement sent to Newsweek, ICE spokesperson Bryan Cox said the woman, who has not been named to protect the identity of a potential domestic abuse survivor, was arrested by ICE agents at the Mecklenburg County Courthouse on July 9 during a "targeted enforcement action" following her court appearance as a defendant on misdemeanor criminal charges.
"Bottom line: She was there that day as a defendant facing local criminal charges herself," Cox said, adding: "This fact is not in dispute."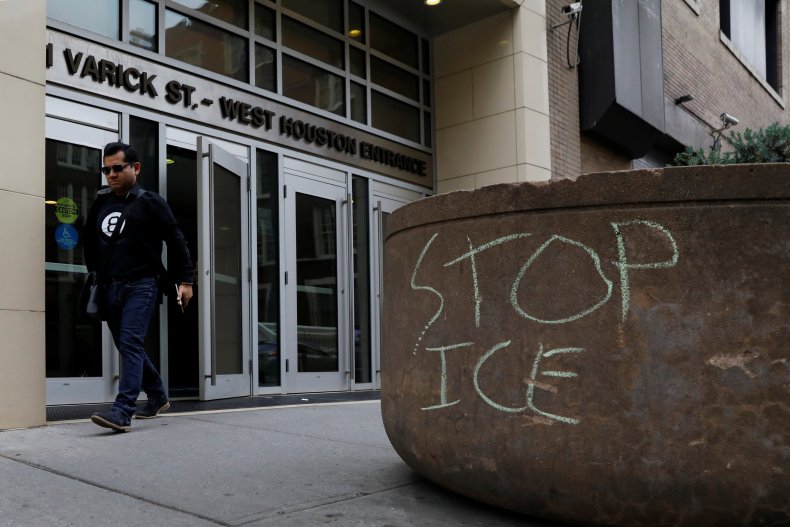 The agency said the woman, a Colombian national, had legally entered the U.S. in August 2016, however she subsequently failed to leave the country as required under the terms of her admission.
"She has been unlawfully present since the expiration of her visa in November 2016," Cox said. "A federal immigration judge will now decide her case."
The ICE spokesperson said the woman was "briefly detained" so she could be served with paperwork placing her into removal proceedings before the federal immigration courts.
She was then released "on her own recognizance that same day," Cox said, adding that she was also provided with transportation back to the courthouse.
Speaking with the Charlotte Observer, the woman described the experience of being led handcuffed from the courthouse as "one of the most humiliating and embarassing experiences" of her life.
Mecklenburg Assistant Public Defender Herman Little acknowledged that the woman had been appearing as a defendant in a misdemeanor criminal complaint filed by her former fiance, but said the case had been preceded by a domestic violence allegation in which her 16-year-old son had accused her former fiance of severely beating him.
Read more: Thousands of Migrants Have Reported Sexual Abuse While in ICE Custody
The woman had claimed her former fiance had pressed charges against her in retaliation, with Little telling the Observer that she had taken out a protective order against the man and had also sought refuge with her family, including a second son who is 2-years-old, at a domestic violence shelter.
The public defender called her arrest by ICE agents a "crazy" incident, expressing concern that the immigration agency's courthouse arrests could discourage both victims and defendants from getting justice out of fear of being detained at court.
"I've never seen anything like it before," Little said. "How in the world is anybody going to get justice if both the victims and the defendants are not going to come to court because they're all afraid of being deported? This is crazy."
The arrest reportedly inspired protests in Charlotte, with more than 30 people gathering in Marshall Park on Friday to protest against ICE's treatment of the mother and son.