ICE Arrested Father Brought to U.S. as Child While He Was Gardening in Backyard in California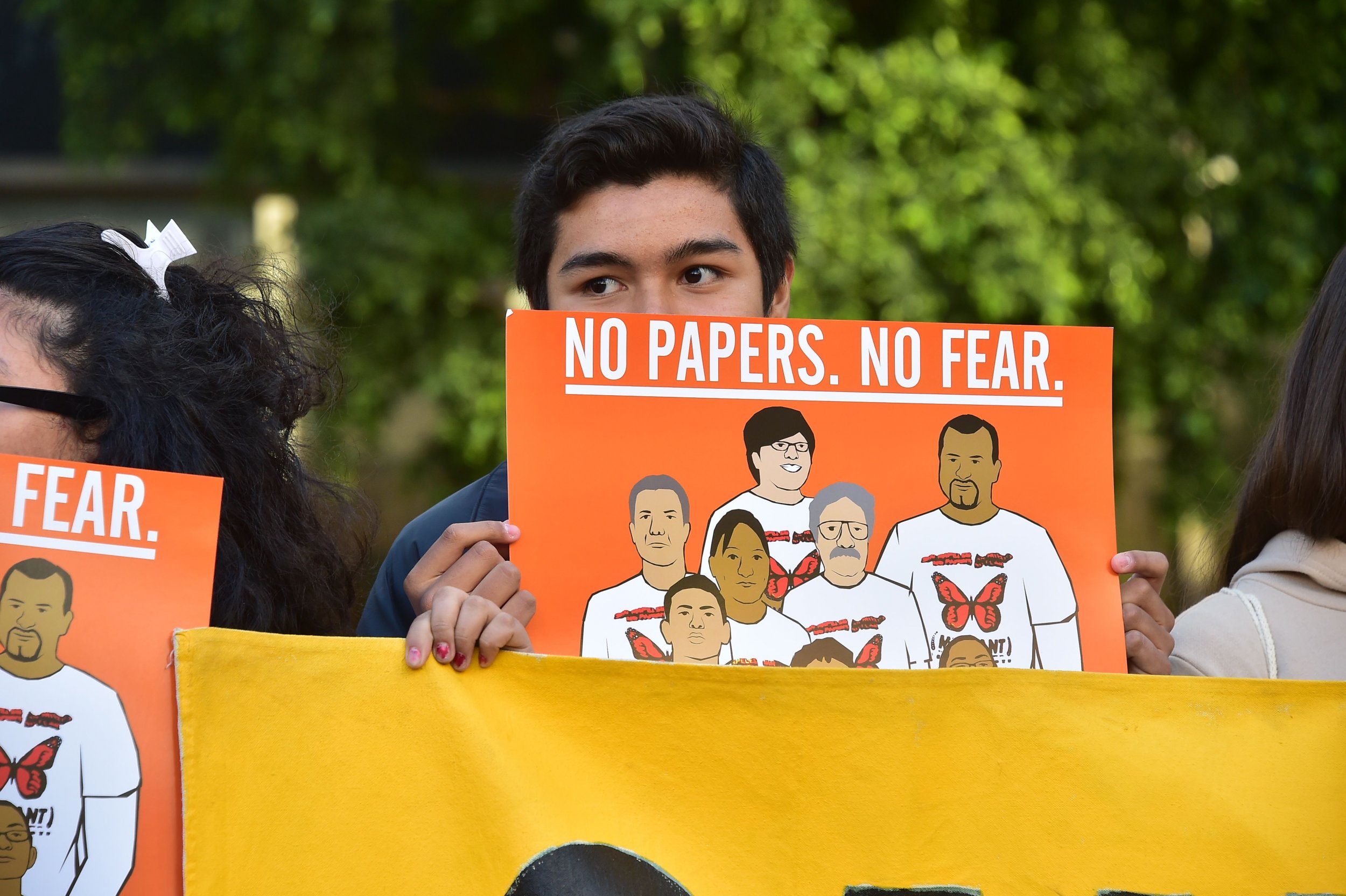 Updated | Immigration and Customs Enforcement (ICE) agents arrested a man who has lived in the U.S. for 35 years while he was gardening in the backyard of his family home in California on Sunday.
Video captured by Helena Ponce shows agents leading her husband, Armando Ponce, away, as another officer can be heard telling her: "If you turn the camera off, we'll tell you where we're gonna take him."
Helena said that ICE agents went into her family's backyard in Napa, California, asked her husband his name and then arrested him on the spot.
She said the couple's daughter watched as agents put him in the back of their vehicle.
She told Newsweek that her husband did have a criminal past, but that he had "not been in prison for 15 years."
"Armando had been part of this community for years , people who know me and our family can vouch for his change in character," Helena said.
"[ICE] failed to mention that they have known of his location for years and never once tried to come get him until this Sunday," she added. "They came with a camera man and in a larger than normal numbers they expected to have him run or resist arrest which he didn't."
Armando, 39, was brought to the U.S. from Mexico when he was four years old, his wife said.
Helena, who also goes by the name Elizabeth, posted a video on Facebook of ICE officers arresting her husband, with the caption: "Immigration is out this Sunday morning splitting hard working families apart. ICE, you got another hard working father off the streets and another daughter crying for her dad."
The arrest was one of several reported during what appeared to be a widespread sweep across California.
The North Bay Rapid Response Network, which describes itself as an emergency action committee for undocumented immigrants in California, said it received reports of at least 11 people being arrested by ICE agents on Monday.
"The conduct and manner of these operations once again provides clear evidence that this administration uses enforcement to terrorize communities of color and bully cities and jurisdictions which have protected due process with 'Sanctuary' policies," a press release from the response network said.
"ICE's tactics continue to undermine trust and cause widespread fear within our communities. We will continue to stand up for our values and respond with power, not panic," it added.
ICE did not immediately respond to a request for comment.
This week's sweep comes days after a California mayor warned that an operation from immigration authorities could be imminent.
Read more: Police who help ICE detain undocumented immigrants could be "violating fourth amendment," experts say
Oakland Mayor Libby Schaaf said in a press release Saturday that she had reason to believe ICE would be conducting an operation this week and said she felt a "moral obligation" to warn and "protect" residents.
"I know that Oakland is a city of law-abiding immigrants and families who deserve to live free from the constant threat of arrest and deportation," she said, adding that immigration authorities have "used activity rumors in the past as a tactic to create fear."
President Donald Trump recently threatened to pull ICE agents out of California, accusing the state of doing a "lousy management job."
Calling California's sanctuary city situation a "disgrace," the president said the state would become a "crime nest" if he eliminated the presence of federal immigration agents.
The threat came amid the Trump administration's efforts to put pressure on sanctuary jurisdictions, with the Justice Department recently threatening to withhold millions of dollars in federal grant money to communities that refuse to cooperate with federal law enforcement.
This story has been updated with more information.