ICE Arrests of Undocumented Immigrants Without Criminal Convictions Surge Under Trump
Immigration officials are increasingly targeting otherwise law-abiding undocumented immigrants under the Trump administration, delivering on the president's pledge to crack down on illegal immigration.
According to new numbers for the 2018 fiscal year, between October 2017 and March 2018, Immigration and Customs Enforcement (ICE) officers arrested 21 percent more immigrants with no criminal convictions to their name, compared to the same period of time the year prior. The rise in such arrests comes as President Donald Trump enforces hard-line rhetoric and policies toward undocumented immigrants, even those whose only crime is entering the country illegally.
"If somebody has violated our immigration laws, they are priorities now," Corey Price, the assistant director for enforcement at ICE, told reporters on a press call this week, according to HuffPost.
The agency's focus on this group of undocumented immigrant populations marks a shift from the priorities of the previous administration. Former President Barack Obama's ICE deported some 2.5 million people during his tenure, but Obama's directive was for immigration enforcement to "increase its focus on identifying, arresting and removing convicted criminals in prisons and jails, and also at-large arrests in the interior."
During Price's call with reporters, he noted that those priorities meant ICE's "scope was significantly narrowed" under Obama.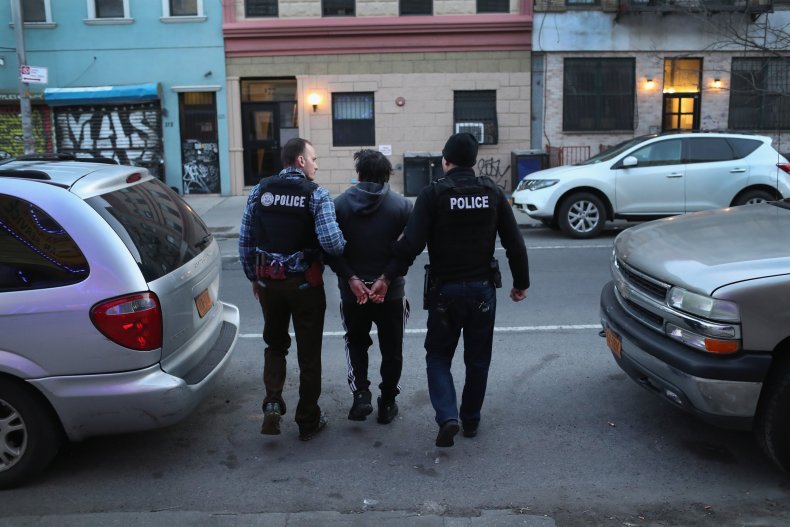 The Trump administration's ICE agency has become known for detaining immigrants in often jarring circumstances. There have been attempts—some successful—to arrest parents dropping their children off at school or day care. ICE agents have sprung arrests on those appearing in the agency's offices for mandatory check-ins, or those presenting immigration officers with the necessary documentation to marry and become legal residents in the United States.
ICE arrests on the whole have surged under Trump. In the same October 2017 to March 2018 window, the agency arrested roughly 80,000 people, whereas the year before, officers had arrested 63,000 in the same stretch of time. The Obama administration had arrested some 54,000 people during those months in the 2016 fiscal year.
In his quest to ultimately deport 3 million undocumented immigrants, Trump has sought to expand the agency, requesting almost $8.8 billion for ICE in the 2019 budget—an increase of almost $1 billion from the previous year—which would go toward hiring an additional 2,000 agents to carry out his administration's vision for a country with far fewer undocumented people.
On the campaign trail, Trump said his aggressive immigration proposal was for the sake of emptying the country of "bad hombres." In practice, though, it is evident that the distinction between groups of undocumented immigrants has become blurred.
"They're bringing drugs," Trump said when he announced his presidential bid nearly three years ago. "They're bringing crime. They're rapists. And some, I assume, are good people."