ICE Detainees Join Nationwide Prison Strike, Many Refusing to Eat: Organizers
Immigrant detainees at a U.S. Immigration and Customs Enforcement (ICE) detention center have joined a nationwide strike taking place in prisons across the country, with many refusing to eat. That's according to organizers.
At least 60 immigrant detainees at the Northwest Detention Center in Tacoma, Washington, have joined inmates in their call for an "end to prison slavery" by launching their own hunger strike, Maru Mora, spokeswoman for immigration advocacy group NWDC Resistance, told Newsweek.
Mora said at least 200 detainees had planned on joining the 19-day protest, which launched on Tuesday and is expected to be taking place across 17 states, but dozens dropped out due to health concerns and fear of retaliation from detention center staff.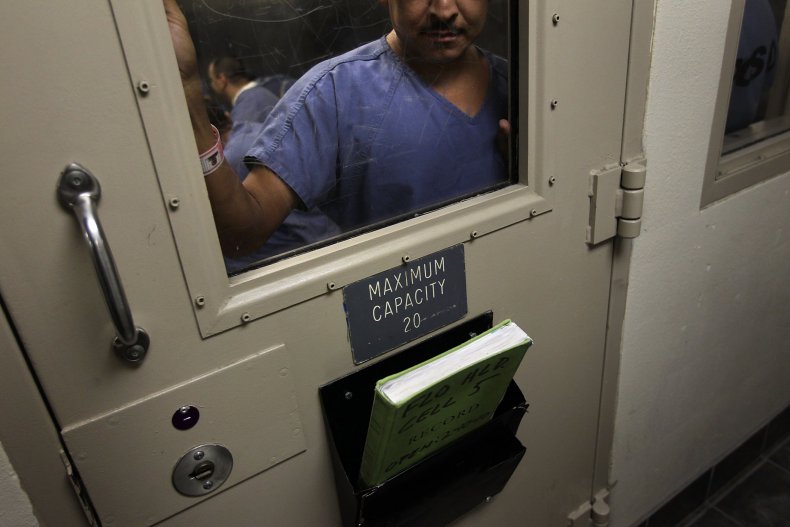 "The retaliation is real," Mora said, asserting that staff at the NWDC have threatened to force-feed detainees who go on hunger strikes "by forcing food through their noses," in addition to segregating detainees.
In other cases, Mora said staff at the detention center have been known to try to bribe detainees with offers of chicken and other snacks.
"We have documented it again and again every time a hunger strike happens," she said.
The NWDC has already been at the center of a number hunger strikes in recent years, with detainees describing forced labor, hunger and long periods of solitary confinement.
A handwritten letter shared by the IWOC and NWDC Resistance, which it says comes from detainees at the NWDC, states: "We are taking part in a hunger strike nationwide demanding change and closure of these detention centers."
"We are acting with solidarity for all those people who are being detained wrongfully and stand together to help support all those women who have been separated from their children, and to stop all the family separations happening today for a lot of us are also being separated and we have U.S. citizen children," the letter said.
The letter claimed that detainees are "still...being coerced into worker programs and treated bad even as volunteers."
"We demand [minimum] wage," the letter states, noting that the detention center is run by a "private corporation" and accusing it of "using slave labor to run its operation to capacity."
In addition to minimum wage, ICE detainees demanded that ICE grant them "approval of contact visits after 180 days," stating "our family and most detainees are not criminals."
"We are simply awaiting proceedings. No reason why we can't hold our children after prolong[ed] detention. It is damaging to our loved ones to not be able to have a contact visit available."
Related: U.S. inmates launch nationwide strike to 'end prison slavery'
ICE spokeswoman Tanya Roman told Newsweek in an emailed statement that "rumors of an ongoing hunger strike by detainees" at the NWDC "are false," explaining that "failure to eat the facility provided meal is not a stand-alone factor in the determination of a detainee's suspected or announced hunger strike action."
Roman noted that "commissary food items remain available for purchase by detainees" and said that "ICE takes the health, safety and welfare of those in our care very seriously."
"The agency is committed to ensuring that they are provided with the nutrients necessary for them to maintain their well-being," she added.
Moru refuted ICE's claim however, and said that the agency has consistently refused to acknowledge hunger strikes by detainees "because they don't recognize a hunger strike until after nine meals have been skipped and even then won't recognize it officially because they say that while people are not eating meals, they are eating from the commissary."
She said that detainees have expressed outrage in the past at that claim and even went as far as to gather the items they had purchased from the commissary in advance and pile them up in front of ICE's cameras to prove no food was being consumed.
"They have to buy their commissary items in advance because they don't get paid each day," Moru explained, adding that detainees are paid $1 a day for labor, including kitchen work, laundry work and cleaning.
Moru said that detainees told her staff at the NWDC approached them on Tuesday, the first day of the protest, to tell them that a hunger strike was "not the way" to have their demands met.
"It's important to know how ICE treats hunger strikes," Moru said. "They know how powerful they are so they intimidate people immediately."
Moru said that while the NWDC Resistance group does not advise detainees to go on hunger strikes out of concerns for their health and safety, she admires those who do for being "really brave."
"It's such a sacrifice, but they are not afraid," she said. "And I think that's what ICE hates the most."