ICE Releases U.S. Army Chaplain's Husband in 'Huge Victory,' But Fight Not Over Yet, Couple Says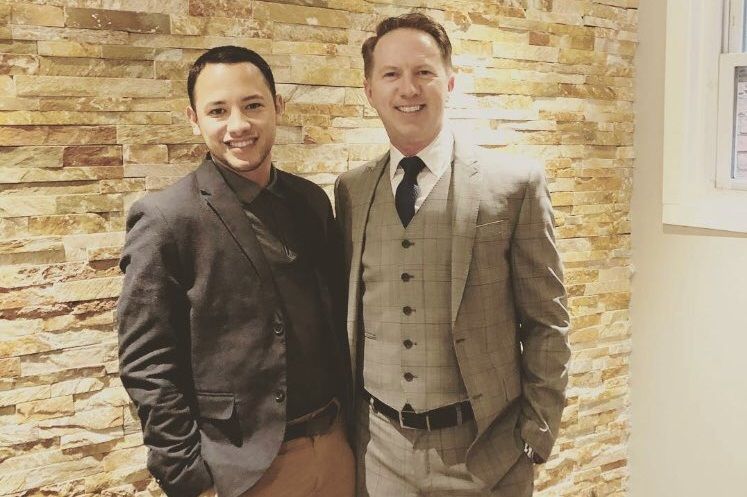 The U.S. Immigration and Customs Enforcement agency has released the husband of an Army chaplain who served two tours in Afghanistan, after the couple filed an appeal to halt an order for his deportation back to Honduras.
Tim Brown, who lives in Sanford, North Carolina, told Newsweek his husband, Sergio Avila Rodriguez had been arrested by ICE agents on Thursday—despite the couple being given assurances by another agent just over a month ago that Avila Rodriguez would not be arrested as he was the spouse of a military officer.
Brown said the couple felt "lied to." He said he believed the ICE agent had told him his husband would not face arrest as a "trap" to get Avila Rodriguez to attend the May 10 immigration meeting where he was arrested.
"It was an absolute trap. It was a trap and a lie," Brown said.
After Avila Rodriguez's release from detention on Monday, Brown said in a statement sent to Newsweek that while he is thankful to be able to bring his husband home, "there is still a long way to go."
"Furthermore, there are countless others who are also in need of our help, your help," Brown said. "While this is a huge victory, it is only the beginning for Sergio and others like him," he added.
Brown told Newsweek his experience dealing with ICE after his husband's arrest has inspired him to help others who are fighting to protect their loved ones from deportation.
"I don't take it personally about me serving [with the Army] and all that kind of stuff. I'm just focused on the fact that this is an inhumane process," he said.
"Imagine this situation where you're at the mercy of a bureaucracy that is massive and an enforcement agency that just goes in and rips families apart and your only recourse is to just sit there," he added.
"I've served 10 years, I've served in two deployments, been to Afghanistan twice. I've done my work," Brown said. "But more than anything, I'm just frustrated we have a system that's so broken."
Read more: U.S. Army chaplain says ICE arrested his husband, despite saying he would be safe from deportation
The Army chaplain said that since his story went public, a number of people have contacted him with similar stories of their loved ones facing deportation. He said he has begun to take down the numbers and information of others who have family members being held in ICE custody, adding that he plans to help them fight to stop their loved ones from being deported.
"ICE has messed with the wrong guy," Brown said. "I am determined and I am an advocate for humanity like they've never dealt with," he added.
"They deal with many people who are impoverished and don't have resources and those people just blend into the scenery," he said. "They don't have a voice. So, I'm telling them give me your information, because it is about Sergio for me, but this is a bigger issue. If we don't continue to speak out about it, nobody is going to do anything."
Brown, a twice-awarded Bronze Star Medal recipient for his two tours in Afghanistan, said he met Avila Rodriguez three years ago and was immediately interested in him.
The couple got married in January 2017 and had been doing "everything" the couple was told to do in order to secure legal status for Avila Rodriguez.
"We did everything that we were told to do. We paid the money, we got the attorneys," Brown said. "I'm an educated man. I have two master's [degrees]; I'm not stupid. I think very carefully about these things and we checked every box."
ICE Southern Region spokesman Bryan D. Cox confirmed to Newsweek that Avila Rodriguez had been released from custody on Monday afternoon after his husband filed an apeal with the immigration courts.
He said ICE would "await the outcome" of the court's decision before determining "future actions" in Avila Rodriguez's case.
Brown, who founded GOal LGBTQ, an organization aiming to provide support to members of the LGBT community, has said he fears for his husband's safety if he is forced to return to Honduras.
"The LGBTQ issue is unbelievably hostile in Honduras," he said. "It's very hostile to the LGBTQ community."
The Army chaplain added that his husband has not been to Honduras since he fled when he was 7 years old, adding that Avila Rodriguez was brought to the U.S. "unwillingly, of no volition of his own, to the U.S. by his uncle."
"And you want to take him out in shackles? It's unbelievable to me," Brown said, adding: "To his mind, this is home."