ICE Does Not 'Have The Resources To Deport' Millions Of Immigrants, Agency Chief Says After Donald Trump Vows To See Millions Arrested
U.S. Immigration and Customs Enforcement Acting Director Mark Morgan has said that his agency does not "have the resources to deport" millions of undocumented immigrants in the near future, despite President Donald Trump's vow to see "millions" arrested by the embattled immigration agency starting next week.
"Clearly, we don't have the resources to deport, you know, 11 million people in a short period of time," Morgan said in an interview with The Hill on Tuesday.
However, while the acting ICE chief said it was not within his agency's immediate capacity to arrest and deport millions, he did appear to commit to deporting as many undocumented immigrants as possible under Trump's latest edict.
"We have and we remove people every single year. And we're going to continue to do that," he said.
Newsweek subscription offers >
Morgan said that while ICE will continue to prioritize targeting criminals in its crackdowns, it will not be returning to past practice of avoiding prosecution of immigrants without criminal records, meaning families would be at risk of being targeted.
"Because then we're sending this message that if you belong to a certain demographic, and you come here illegally, and you stay here illegally, even after you receive due process in order [to be removed], then the message is if you're in that demographic, you will never be touched, what's going to happen?" he explained. "The incentive is so strong, they're going to keep coming."
In a statement to Newsweek, an ICE spokesperson doubled down on Morgan's comments, asserting that "the Border Crisis doesn't start and stop at the border, which is why ICE will continue to conduct interior enforcement without exemption for those who are in violation of federal immigration law."
The spokesperson did not address whether ICE operations would be targeting "millions," but said that the initiative would include "routine targeted enforcement operations, criminals, individuals subject to removal orders, and worksite enforcement."
Newsweek subscription offers >
"This is about addressing the border crisis by upholding the rule of law and maintaining the integrity of the immigration system, as created by Congress," they said.
ICE's renewed commitment to cracking down further on undocumented immigrants comes after Trump vowed in a tweet on Monday that the agency "will begin the process of removing the millions of illegal aliens who have illicitly found their way into the United States."
"They will be removed as fast as they come in," the president said.
The crackdown is believed to be part of the same plan reported to have been hatched by the Trump administration to carry out mass arrests across 10 major U.S. cities, including New York, Los Angeles and Chicago, targeting families that had recently entered the country.
That plan had reportedly been shut down by then-DHS Secretary Kirstjen Nielsen and former acting ICE Director Ronald Vitiello, who have both since departed from the White House, over concerns around a lack of preparation, as well as fears that the raids would spark widespread outrage.
Now, it appears to have been revived, prompting backlash from across the country, including from 2020 Democratic candidates.
Noting that Trump had delivered his warning to immigrants a day before launching his 2020 election campaign in Orlando, Florida, 2020 Democratic presidential candidate Julián Castro said the U.S. leader was kicking off his 2020 bid "the same as his 2016 campaign: spewing racist lies and fear-mongering about immigrants."
"We must fight back to protect our nation from his cruel agenda," Castro said.
Democratic Senator and 2020 candidate Kamala Harris weighed in, saying: "Let's call this what it is: an attempt to remake the demographics of our country by cracking down on immigrants. That this threat is coming from the President of the United States is deeply reprehensible and an affront to our values. We will fight this."
Immigration advocacy group Families Belong Together also hit out at the president, accusing his administration of "terrorizing families instead of trying to solve the real issues plaguing our immigration system."
"This inhumane plan could cause more family separations, traumatizing vulnerable children and families," the organization said.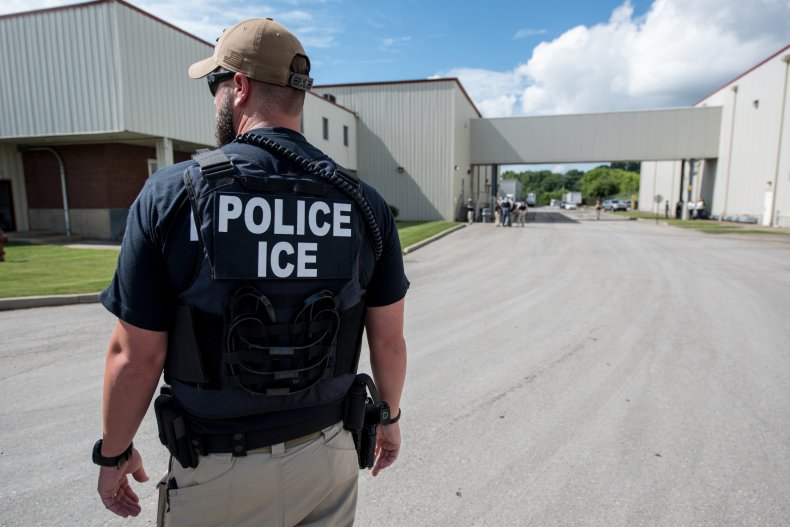 ICE Does Not 'Have The Resources To Deport' Millions Of Immigrants, Agency Chief Says After Donald Trump Vows To See Millions Arrested | U.S.