Updated | The San Francisco spokesman for U.S. Immigration and Customs Enforcement (ICE) has resigned, saying he could no longer do his job after Trump administration officials repeatedly made false public statements about a recent operation in Northern California.
James Schwab said he felt forced to quit his job after government officials, including Attorney General Jeff Sessions, continued to push the narrative that as many as 800 undocumented immigrants had escaped arrest because a California mayor warned the public about plans for targeted ICE raids, even though he told them the information was inaccurate.
In an interview with the San Francisco Chronicle, Schwab said he had asked officials to correct the number, which he understood to be significantly lower, but was instead told to "deflect" questions from the media.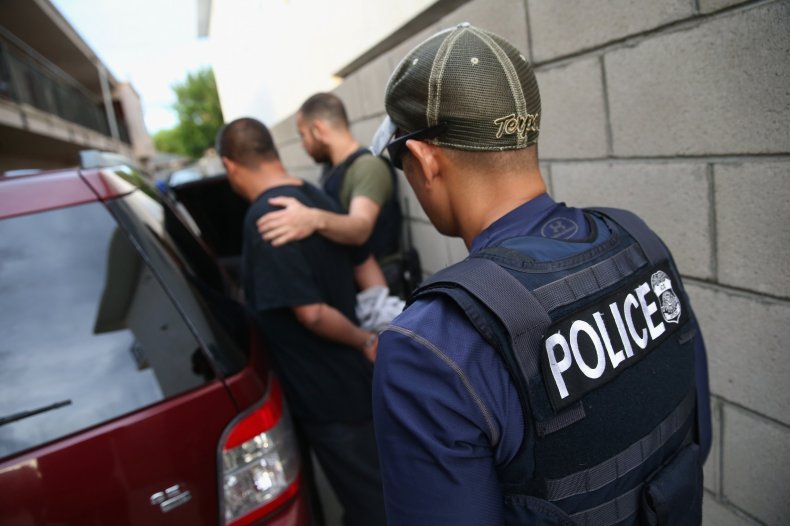 "I quit because I didn't want to perpetuate misleading facts," Schwab, 38, said. "I asked them to change the information. I told them that the information was wrong, they asked me to deflect, and I didn't agree with that. Then I took some time, and I quit."
Schwab, who was hired in August 2015 and left ICE last week, said the Trump administration's statements about immigrants escaping arrest were misleading "because we were not ever going to be able to capture 100 percent of the target list," which reportedly includes roughly 1,000 undocumented immigrants in Northern California alone.
ICE Acting Director Thomas Homan had accused Oakland Mayor Libby Schaaf of "reckless" behavior after she warned residents that she had heard from a number of reliable sources that the immigration agency was planning a "targeted operation."
On the third day of the crackdown, Homan said that "864 criminal aliens and public safety threats remain at large in the community, and I have to believe that some of them were able to elude us thanks to the mayor's irresponsible decision."
Speaking in Sacramento on Wednesday, Sessions said he had learned from Homan that "ICE failed to make 800 arrests that they would have made if the mayor had not acted as she did. Those are 800 wanted aliens that are now at large in that community."
President Donald Trump added to those claims, saying that ICE had expected to arrest "close to 1,000 people" before Schaaf sounded the alarm.
ICE spokesperson Liz Johnson told Newsweek on Tuesday that while the agency could not confirm how many targets avoided arrest, Schaaf's actions had "an impact."
"Even one criminal alien on the street can put public safety at risk and as Director Homan stated, while we can't put a number on how many targets avoided arrest due to the mayor's warning, it clearly had an impact," Johnson said.
"While we disagree with Mr. Schwab on this issue, we appreciate his service and wish him well," she added.
The Oakland mayor has continued to defend her decision to alert residents, previously saying she had a "moral obligation" to "protect" her constituents. "Oakland is a city of law-abiding immigrants and families who deserve to live free from the constant threat of arrest and deportation," Schaaf said.
Schwab said he could not stand behind Trump officials' claim that as many as 800 people had evaded arrest because of Schaaf's actions.
"I didn't feel like fabricating the truth to defend ourselves against [Schaaf's] actions was the way to go about it," he said. "We were never going to pick up that many people. To say that 100 percent are dangerous criminals on the street, or that those people weren't picked up because of the misguided actions of the mayor, is just wrong."
The former spokesman, who has previously worked with the U.S. Department of Defense as a staff coordinator and public affairs specialist, as well as with NASA's Ames Research Center as a public affairs officer, said the lack of transparency at ICE made it impossible for him to continue to do his job.
"It's the job of a public affairs officer to offer transparency for the agency you work for. I felt like we weren't doing that," he said. "I've never been in a situation when I've been asked to ignore the facts because it was more convenient. It was my first time being asked to do that."
Related: ICE agents frustrated by Trump using agency as 'political pawn' to push anti-immigration agenda, former official says
Schaaf said she commends Schwab for "speaking the truth while under intense pressure to lie."
"Our democracy depends on public servants who act with integrity and hold transparency in the highest regard," the Oakland mayor told Newsweek in a statement.
Democratic Senator Kamala Harris also praised Schwab for "refusing to perpetuate misleading information", telling Newsweek in a statement: "This administration has a deeply troubling track record of half-truths, false statements and outright lies aimed at demonizing and scapegoating immigrant families."
The targeted ICE operation, called Keep Safe, was launched February 25 shortly after Trump threatened to pull immigration agents out of California over the state's sanctuary city situation.
ICE said it arrested as many as 232 undocumented immigrants across Northern California in the sweep.
This article has been updated with statements from ICE, Oakland Mayor Libby Schaaf and Senator Kamala Harris.