ICE Union Calls for Criminal Investigation on Portland Mayor for Occupy ICE Protests
The union that represents the Immigration and Customs Enforcement agents in Portland, Oregon, has requested that state and federal authorities investigate Portland Mayor Ted Wheeler over the way he handled Occupy ICE protest over the summer.
The National ICE Council sent letters on Wednesday to state Attorney General Ellen Rosenblum and U.S. Attorney General Jeff Sessions asking for Wheeler to be investigated, the Portland Tribune reported. The union alleged in the letters that during the 38-day protest, Wheeler failed to enforce state and city laws and showed improper political bias when he told police officers not to respond to service calls in front of the ICE field office.
"We believe that Mr. Wheeler has committed the crime of official misconduct," Sean Riddell, a Portland-based attorney representing the union, wrote in the letter to Rosenblum. "Our attemps to compel Mr. Wheeler ot take reasonable action correct and/or cease his criminal activity have been unsuccessful."
The letter to Sessions, signed by the ICE union's president, Chris Crane, stated, "We reasonably believe that Mr. Wheeler has and is currently violating the U.S. Constitution and Equal Protection clause."
The Occupy ICE protest began on June 17 in response to the Trump administration's "zero tolerance" immigration policy, which led to the widespread separation of immigrant children from their parents at the U.S.-Mexico border. The ICE union alleged that Wheeler's political agreement with the protest led him to order the police to stand down.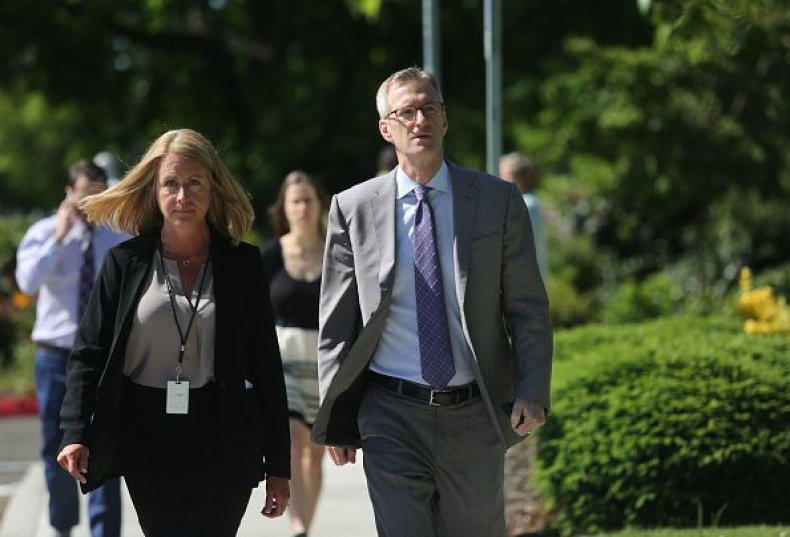 Wheeler is also the police commissioner, and the union demanded that he give up his duties during the requested investigation. "If a rank-and-file police officer was presented with an ongoing crime for 30 days and did not take appropriate action that officer would be placed on administrative leave and subject to an internal investigation," the letter to Rosenblum stated.
There were nearly 60 calls to the police about the protests, but only 16 police reports were written, according to the Tribune. Wheeler described his orders to police officers in a tweet on June 20.
"I drove by the demonstration yesterday, it seemed to be very peaceful and I was pleased to see that. I want to be very clear I do not want the @PortlandPolice to be engaged or sucked into a conflict, particularly from a federal agency that I believe is on the wrong track that has not fully lived American values of inclusion and is also an agency where the former head suggested that people who lead cities that are sanctuary cities like this one should be arrested," Wheeler wrote.
The union claimed that after Wheeler's announcement, the crowd around the ICE field office grew and caused a number of disturbances, such as harassment and blocking entry. Wheeler, according to the union's letter to Rosenblum, has an obligation as police commissioner "to not use the Portland Police Bureau to advance his own political agenda, or use his police powers to harm those he believes possess alternative political beliefs."
"Make no mistake," Wheeler said in a statement Wednesday. "They are coming after me because I am a vocal opponent of the administration's policy of separating kids from their parents. Now we know many of these kids will be permanently orphaned as a result. That is wrong. I'm outraged by it. Previous claims made by Sean Riddell have fallen apart upon further inspection, and these claims, if investigated, will too."