From Cher to Rihanna: The Most Iconic Met Gala Outfits of All-Time
The red carpet at the Met Gala is a guaranteed head-turner as the A-list turn out in the most extravagant outfits for the illustrious event.
After canceling 2020's event due to the pandemic, it's back this year, with a delayed date of September 13.
To celebrate, we're reminiscing on the most iconic looks that graced the event's red carpet.
Princess Diana, 1996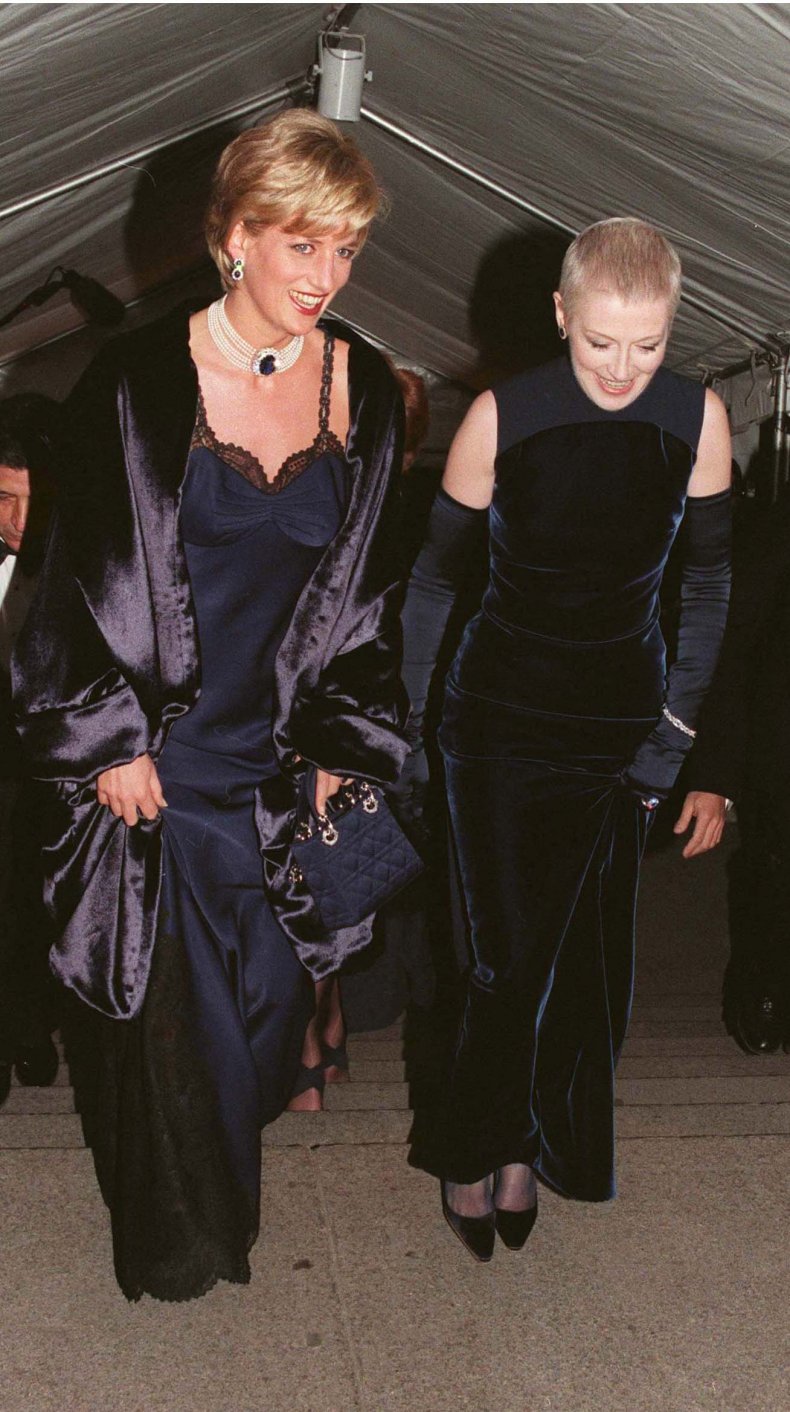 This was the one and only time the late Princess of Wales attended the Met Gala.
The theme for that year was "Christian Dior" and in keeping with established etiquette, the Princess wore a creation by the fashion house.
Coming three months after her divorce from Prince Charles was first announced, this lingerie-inspired gown designed by Dior's creative director at the time, John Galliano, signalled a new direction for the Princess.
Kim Kardashian, 2013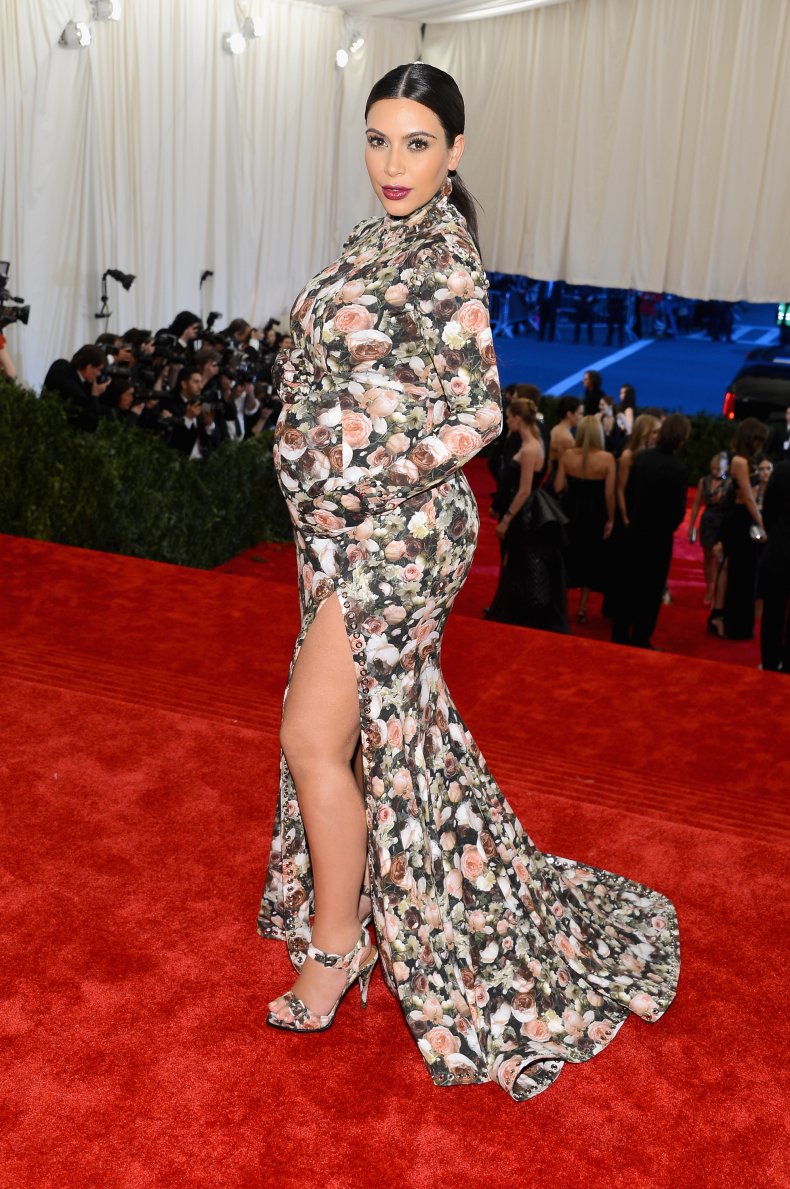 Though she's since become a Met Gala regular, 2013 marked Kim Kardashian's first appearance at the event, attending as Kanye West's plus one.
Posing while pregnant with the couple's first child, North, she wore a figure-hugging floral gown complete with matching gloves by Ricardo Tisci for Givenchy when the theme was "Punk: Chaos to Couture."
While she felt insecure and wanted to opt for an all-black version of his design, she said in a video with Vogue that the floral fabric had been specifically requested by Anna Wintour herself.
Her dress then became the subject of a meme, which saw her compared to a couch and Mrs Doubtfire among other things. Robin Williams himself shared a photo of Kardashian, writing: "I think I wore it better."
After seeing the memes, Kardashian revealed she cried all the way home but her outlook has changed now.
"Now I love it," she said.
She even wore the outfit again for Halloween while pregnant with her second child, Saint.
Rihanna, 2015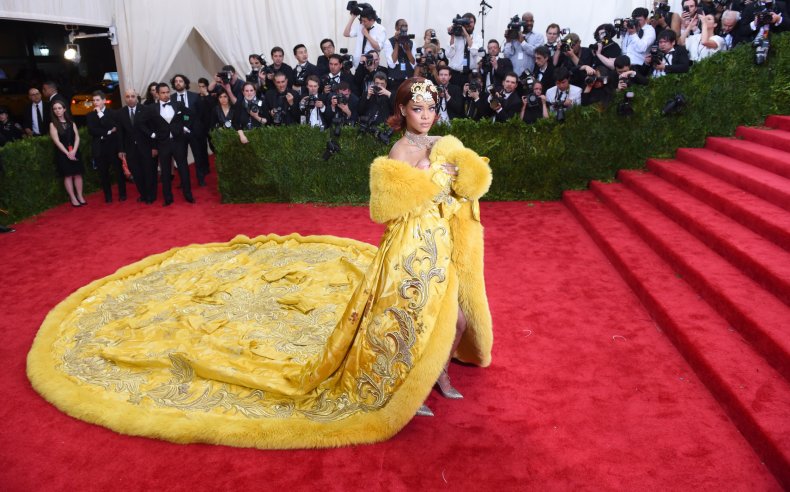 Rihanna is a guaranteed scene-stealer at every Met Gala she attends, always stunning with her bold fashion choices.
For 2015, when the theme was "China: Through the Looking Glass," the singer donned a striking yellow gown by Chinese couturier, Guo Pei.
It comprised a 16-foot train, weighed around 55 pounds and took two years to make.
While it may have been a much-memed-about look at the time, it remains a memorable stand out.
Cardi B, 2019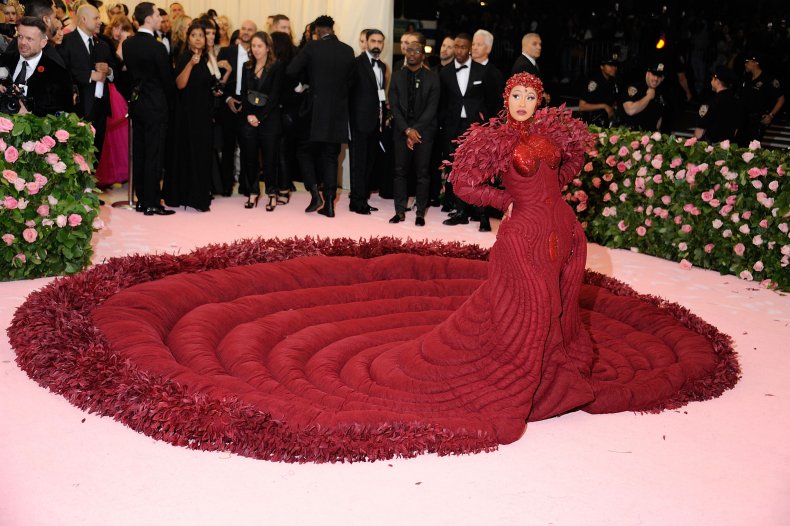 While she may have only attended the event twice, rapper Cardi B has made her mark and can always be expected to nail the theme.
In 2019, she was dressed in a Thom Browne creation for "Camp: Notes on Fashion."
She opted for the designer because "he is the essence of camp," she told Vogue.
Naomi Campbell, 1995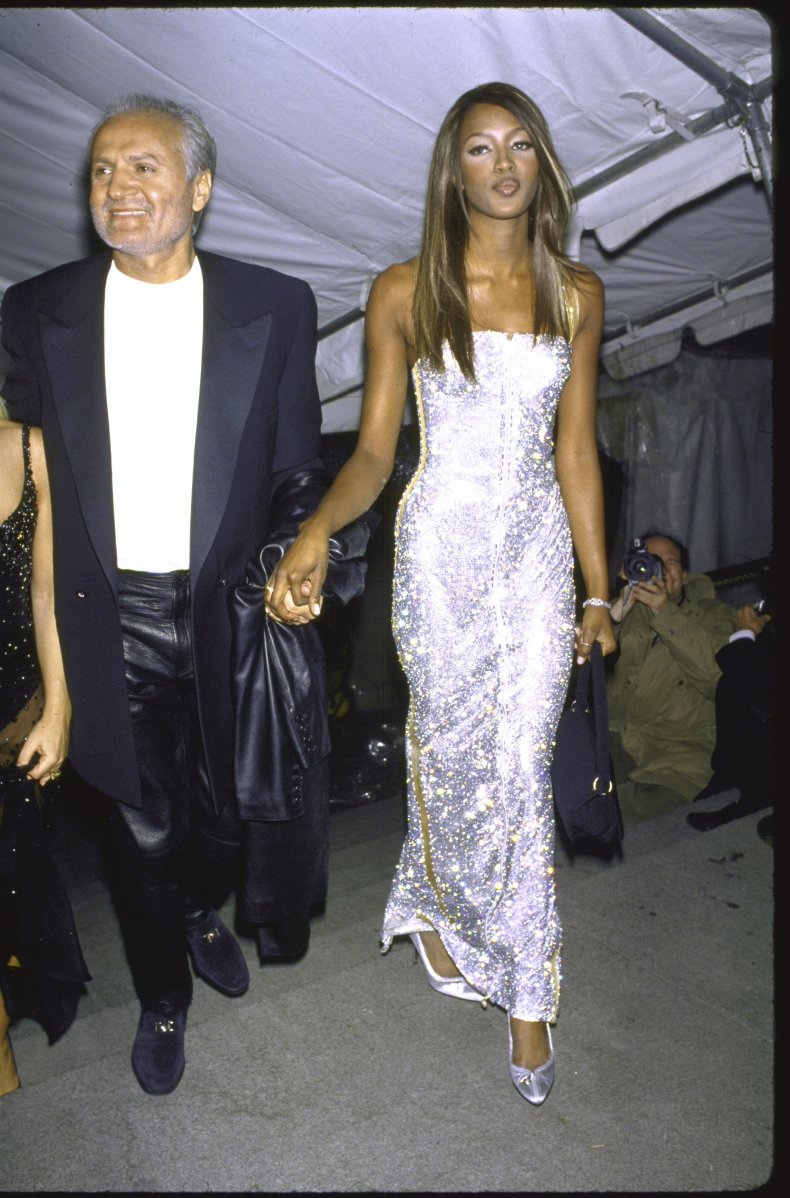 In 1995, aged 26, Naomi Campbell cemented her supermodel status attending the Met Gala as Gianni Versace's muse.
The theme was "Haute Couture" and the London-born model was a vision in a crystal-encrusted column gown created by the Italian designer.
Katy Perry, 2019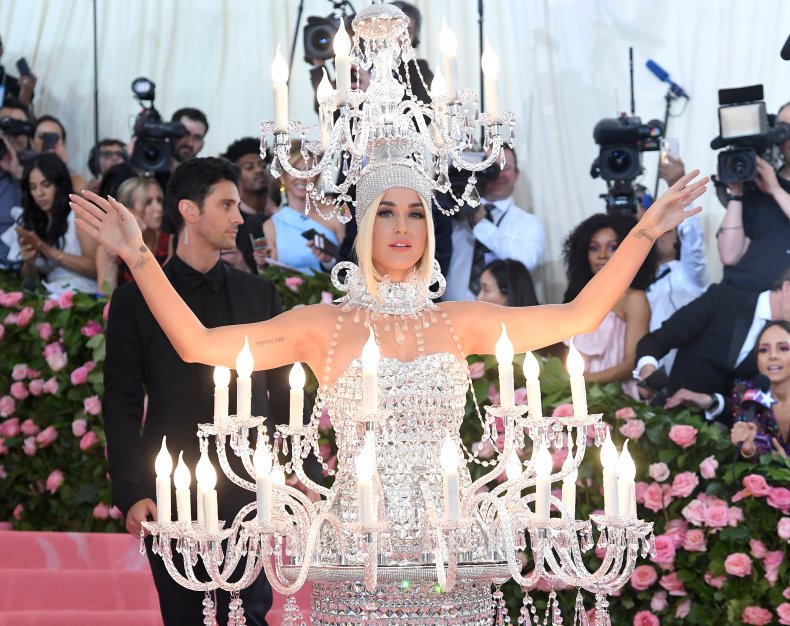 Someone else who truly understood the assignment when it came to 2019's theme was Katy Perry.
Her theatrical chandelier look was created by outlandish fashion house Moschino.
Cher, 1974
Cher definitely deserves a little commotion for this barely-there dress by long-time collaborator Bob Mackie.
The theme in 1974 was "Romantic and Glamorous Hollywood Design," and this look itself was later romanticized by Kim Kardashian who said it served as inspiration for her 2015 Met Gala outfit by Roberto Cavalli.
Beyoncé, 2015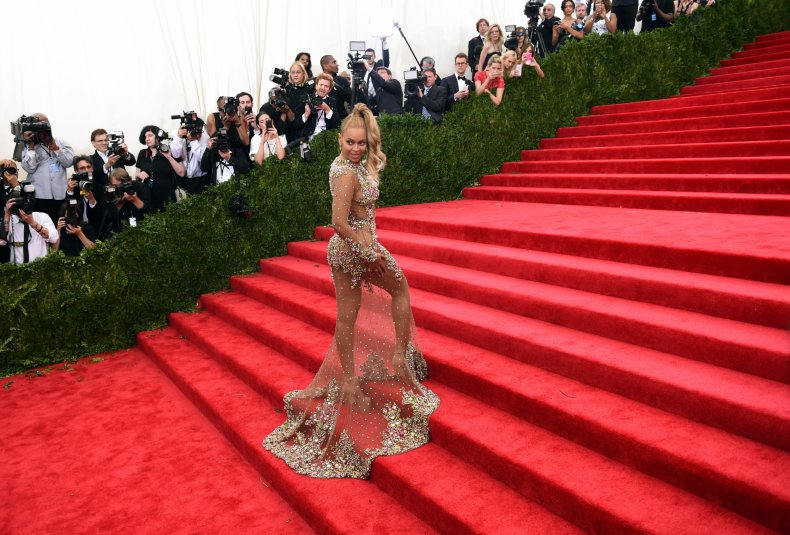 Similarly, Beyoncé's barely-there dress in 2015 was reminiscent of Cher's outfit and was just as much of a head-turner.
Ricardo Tisci designed this jewel-encrusted Givenchy Haute Couture creation for the singer.
Gwyneth Paltrow, 1995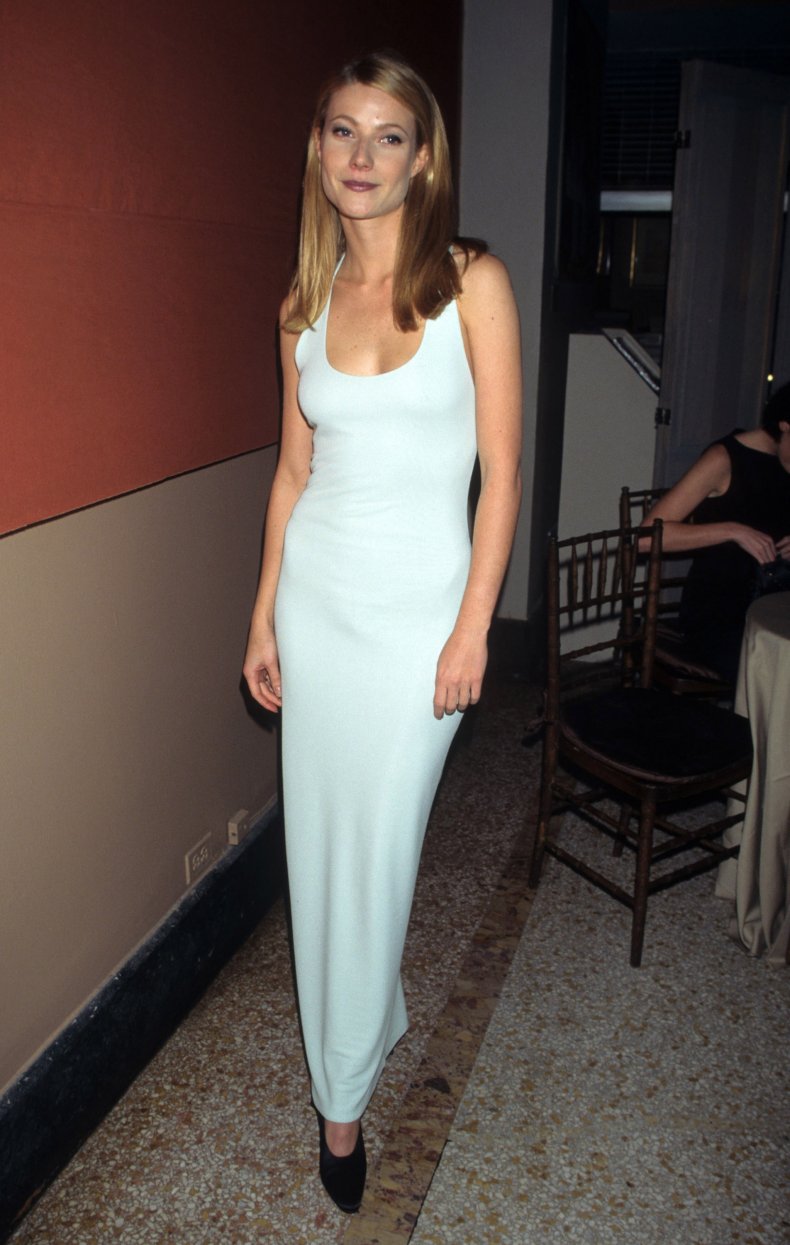 While the theme may have been "Haute Couture," Gwyneth Paltrow kept things simple at her first Met Gala.
This slim fitted Calvin Klein slip dress is effortlessly chic.
Donatella Versace, 1993
Attending the Met Gala with her brother Gianni, Donatella Versace arrived in a bondage-inspired leather outfit.
The look was part of the brand's "Miss S&M" collection in fall 1992 and has since been emulated by many other brands and worn by the likes of Cindy Crawford, Naomi Campbell and Beyoncé.
Clare Danes, 2016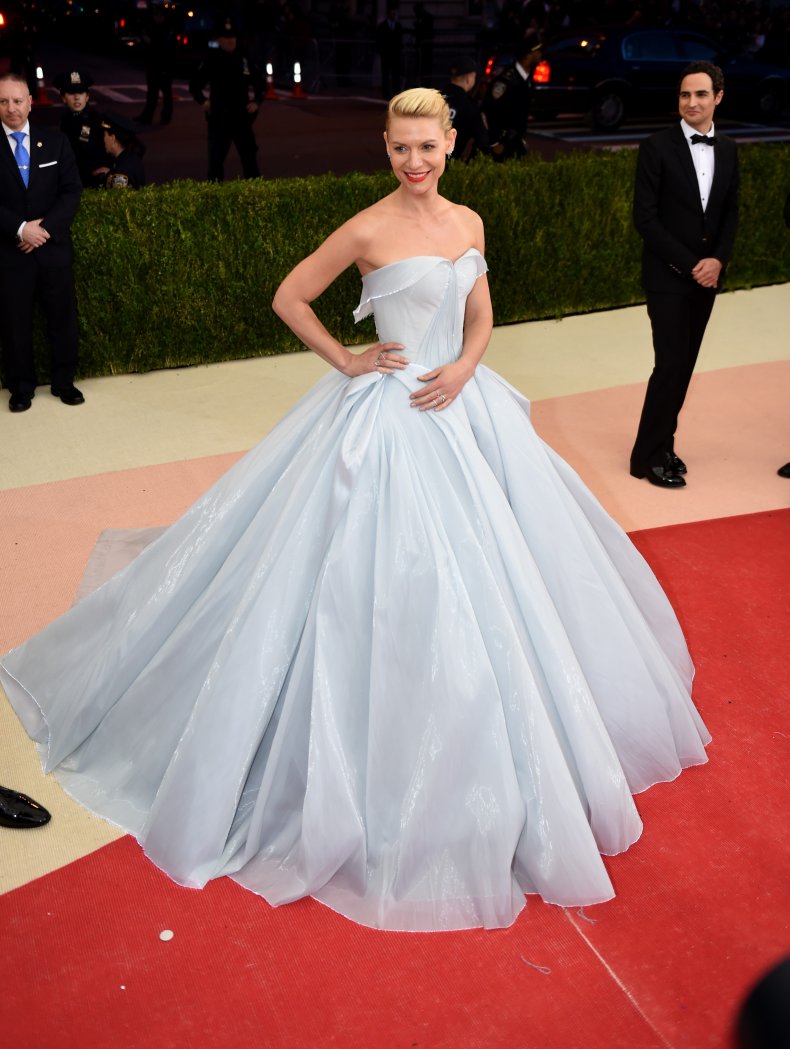 With many guests taking a certain robotic-inspired route for outfits to fit the 2016 Met Gala's theme "Manus x Machina: Fashion in an Age of Technology," Clare Danes took a different, more subtle direction.
Delivering a show-stopping entrance in a Cinderella-esque gown, once the lights went down it was revealed that the Zac Posen dress was crafted from organza and fiber optics, allowing the voluminous skirt to light up.
Kendall Jenner, 2017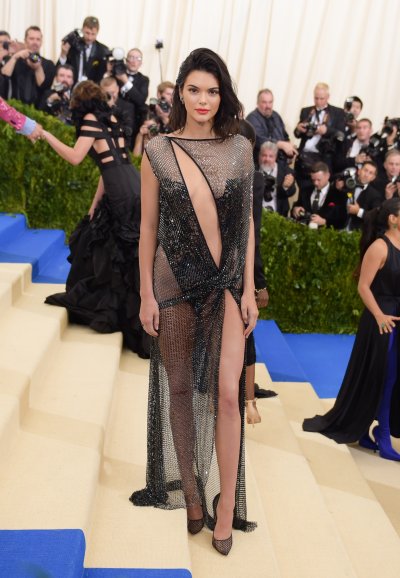 While Kendall Jenner's La Perla Haute Couture naked dress may not have been closely aligned with the 2017 theme of "Rei Kawakubo/Comme des Garçons: Art of the In-Between," it's one that people remember.
The daring outfit featured a thigh-high slit, a cut-out midriff and a sheer back, revealing her black thong.
Zendaya, 2017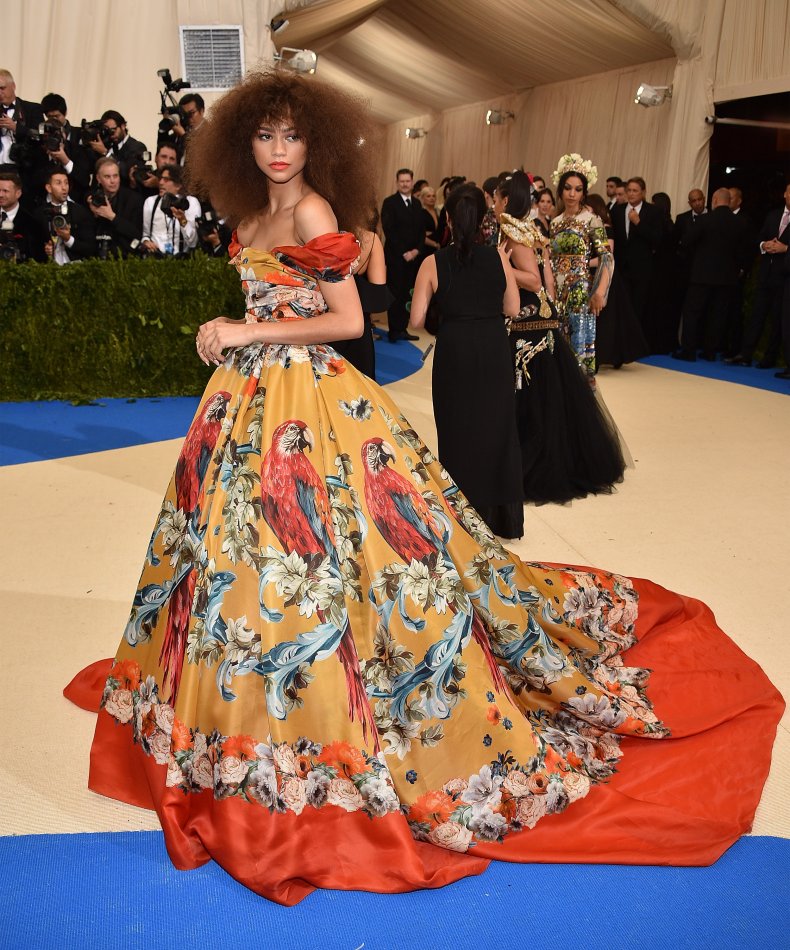 Zendaya is well-known for her ability to drop jaws with her astounding red carpet style and did not disappoint when attending the 2017 Met Gala.
While she may not have dressed on theme, she did not shy away from a bold outfit choice in this Dolce & Gabbana Alta Moda gown.
Cara Delevingne, 2017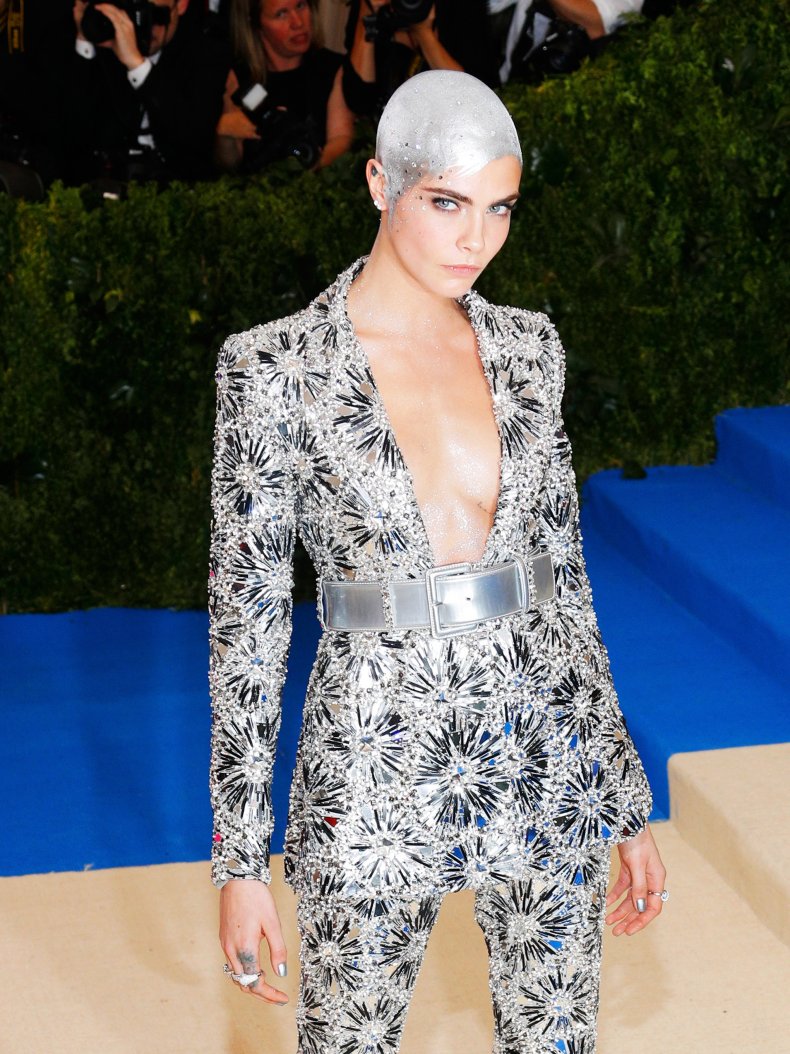 Cara Delevingne is another star who opted to make a bold statement with her look.
With her head freshly shaved for her part in the movie Life in a Year, the model opted to paint her buzzcut a striking shade of silver.
Her metallic suit was designed by Chanel Couture.
Jared Leto, 2019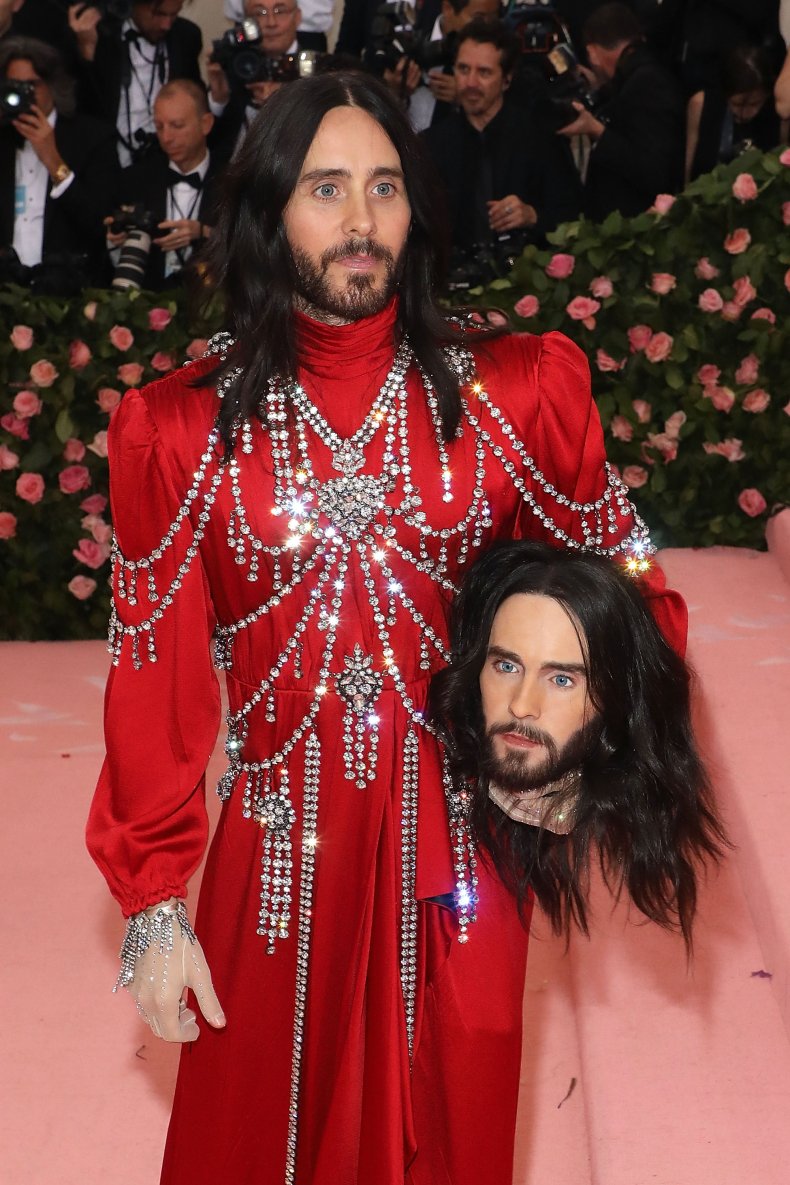 Jared Leto may have sported the Met Gala's wildest accessory ever, as he carried a replica of his own head down the red carpet.
Wearing head-to-toe Gucci, the move was an homage to the label's 2018 fashion show.
Celine Dion, 2019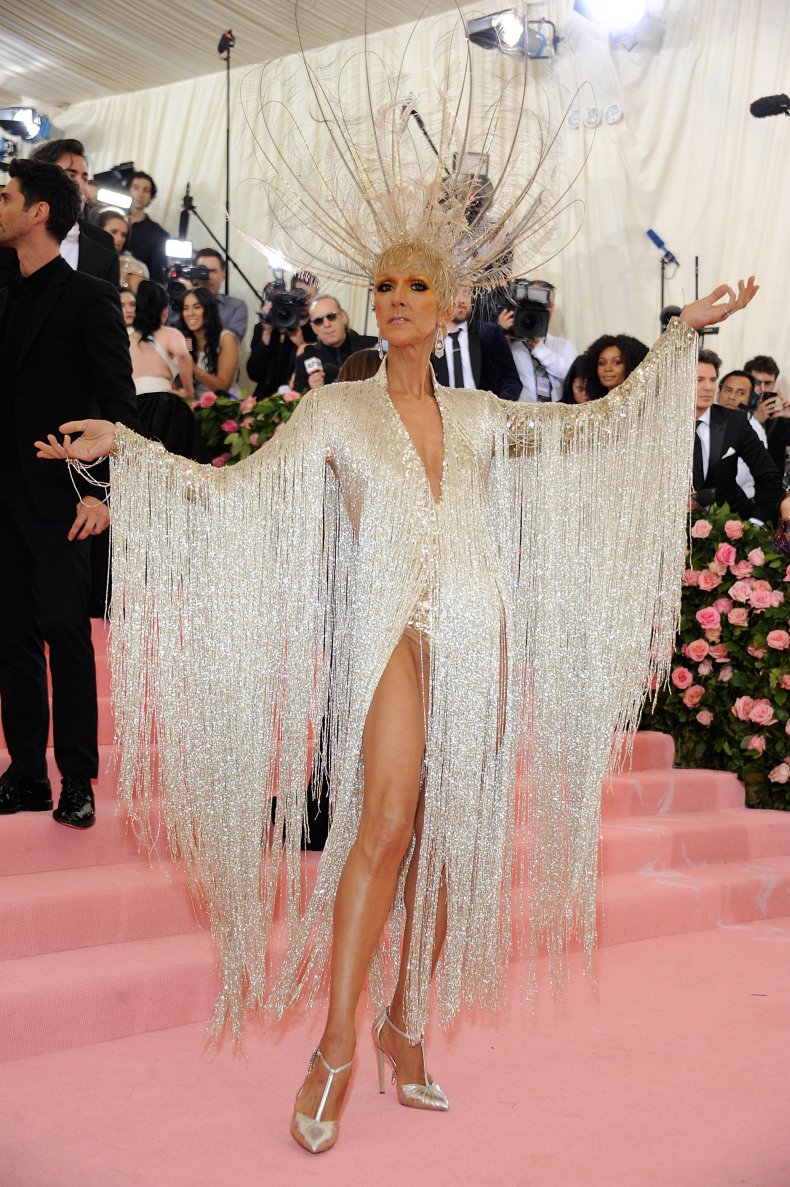 Singer Celine Dion channeled her inner show girl in this fringed Oscar de la Renta bodysuit.
It was only her second appearance at the Met Gala and is one that will certainly be remembered.
Lady Gaga, 2019

Co-chairing the event in 2019, Lady Gaga was sure to deliver a headline-making entrance.
She wore no less than four outfits, all by designer Brandon Maxwell, on the red carpet.
First arriving in a hot pink ball gown, the top layer was removed to reveal a chic black strapless gown.
Underneath that there was a hot pink satin slip dress, before she finally stripped down to just black lingerie.
Madonna, 2016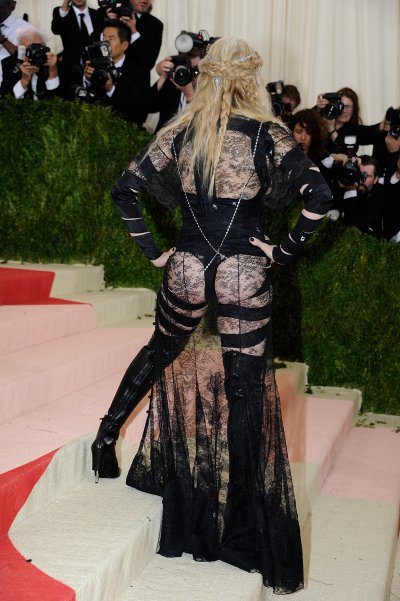 Madonna's breast and butt-baring outfit created by Ricardo Tisci at the 2016 event prompted a wave of unkind remarks by some commentators.
Addressing the detractors on social media the pop star wrote: "We have fought and continue to fight for civil rights and gay rights around the world. When it comes to women's rights we are still in the dark ages.
"My dress at the Met Ball was a political statement as well as a fashion statement.
"The fact that people actually believe a woman is not allowed to express her sexuality and be adventurous past a certain age is proof that we still live in an ageist and sexist society... If you have a problem with the way I dress it is simply a reflection of your prejudice."
Sarah Jessica Parker, 2006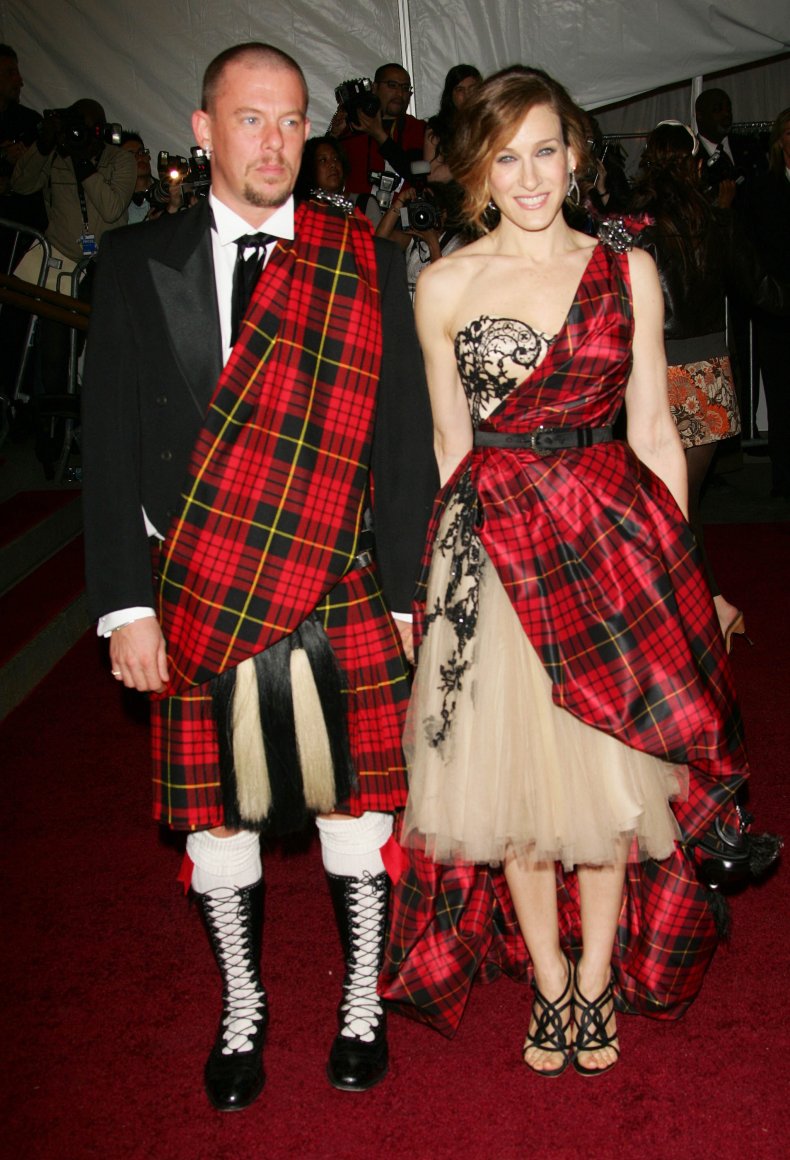 Sex and the City star Sarah Jessica Parker has become a regular fixture on the Met Gala's red carpet.
For the 2006 Met Gala's theme "AngloMania: Tradition and Transgression in British Fashion," Parker accompanied British fashion designer Alexander McQueen wearing tartan to celebrate his Scottish heritage.
Frances McDormand, 2018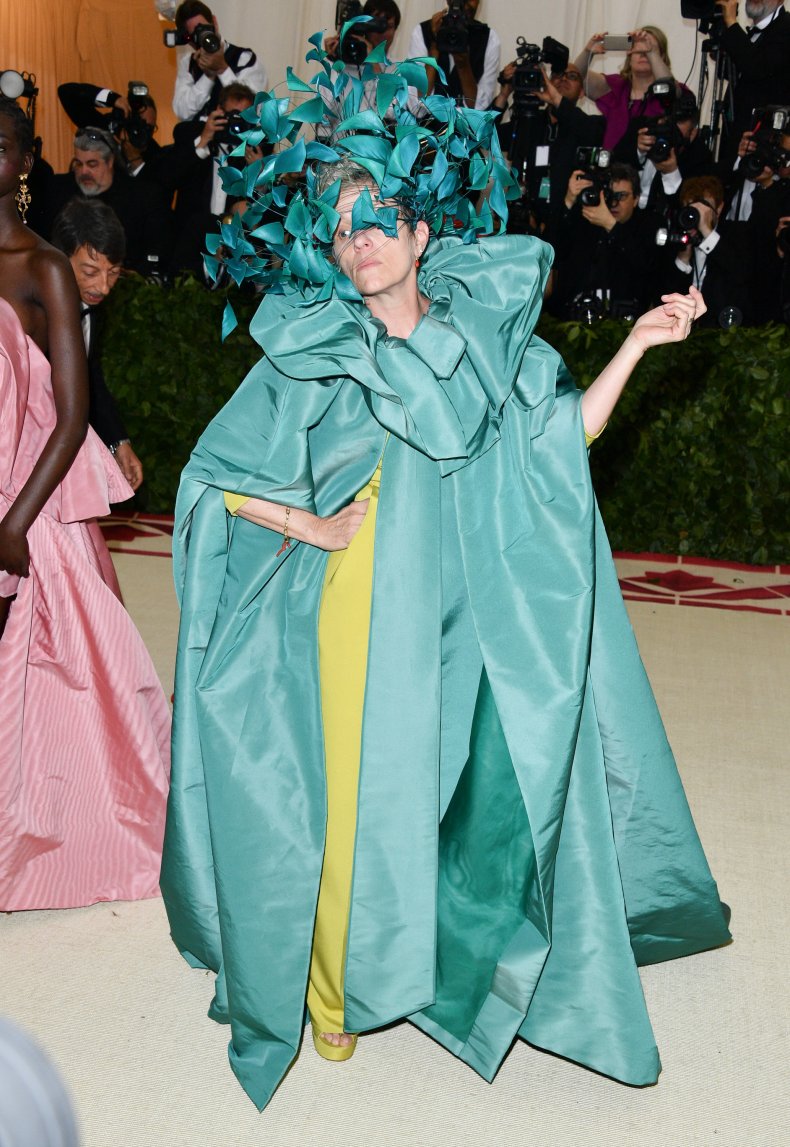 Wearing Valentino Haute Couture, Frances McDormand looked to be having the most fun on the red carpet for the 2018 Met Gala, despite not quite dressing to the theme of "Heavenly Bodies: Fashion and the Catholic Imagination."
She and the brand's creative director Pierpaolo Piccioli were spotted dancing joyfully to Basement Jaxx hit "Where's Your Head At."
Blake Lively, 2018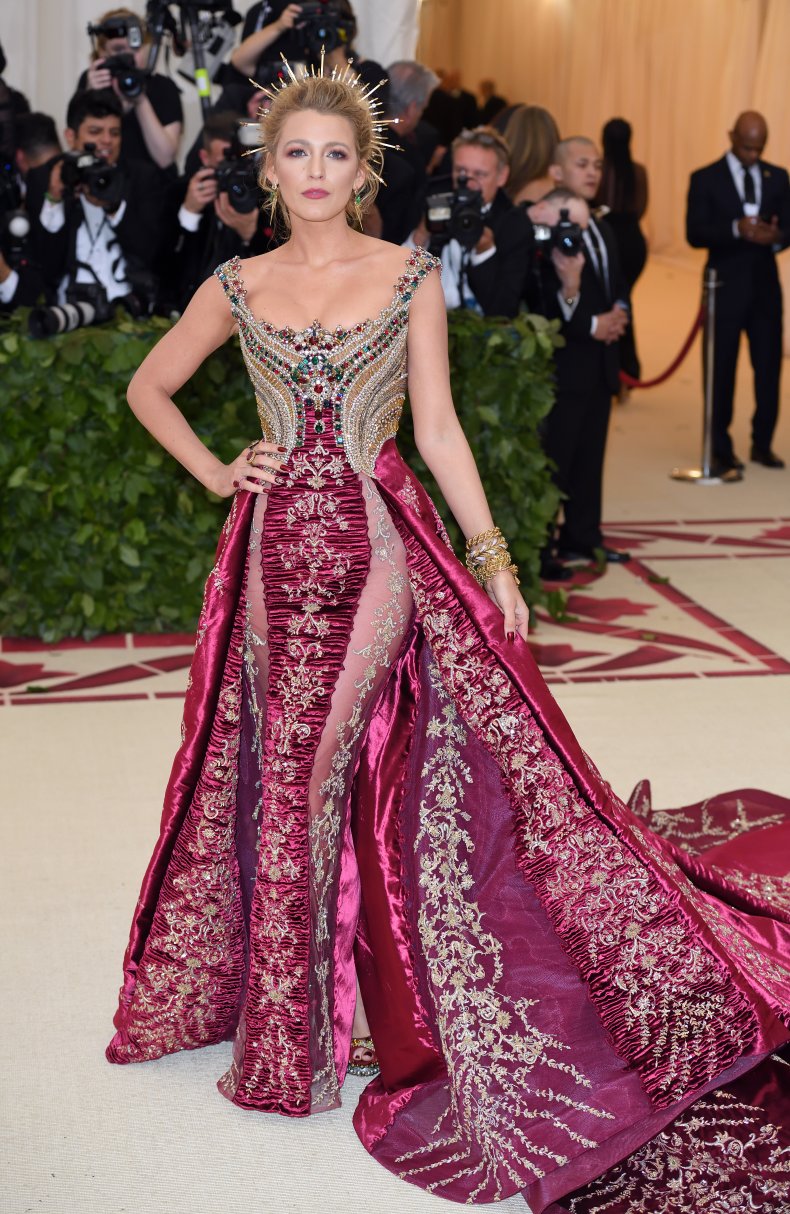 Blake Lively stunned in 2018 in this Atelier Versace gown.
Thanks to its extensive beading, it took over 600 hours to make.