Idaho Republicans Reject Amendment Allowing Abortion to Save Woman's Life
Idaho Republicans rejected an amendment to their party platform that would have allowed abortion to save a mother's life.
A 2020 law banning abortions except in cases of reported rape or incest or to protect the mother's life is set to take effect in the deeply conservative state 30 days after the U.S. Supreme Court overturned its landmark Roe v. Wade ruling on June 24.
At the Idaho GOP convention in Twin Falls on Saturday, delegates approved changes to the party platform that criminalize all abortions without exceptions for rape, incest or to save the life of the mother, according to Idaho Reports.
Delegates voted 412-164 to reject an amendment that would have allowed an exception if the mother's life was in "lethal danger."
The platform states: "We affirm that abortion is murder from the moment of fertilization. All children should be protected regardless of the circumstances of conception, including persons conceived in rape and incest."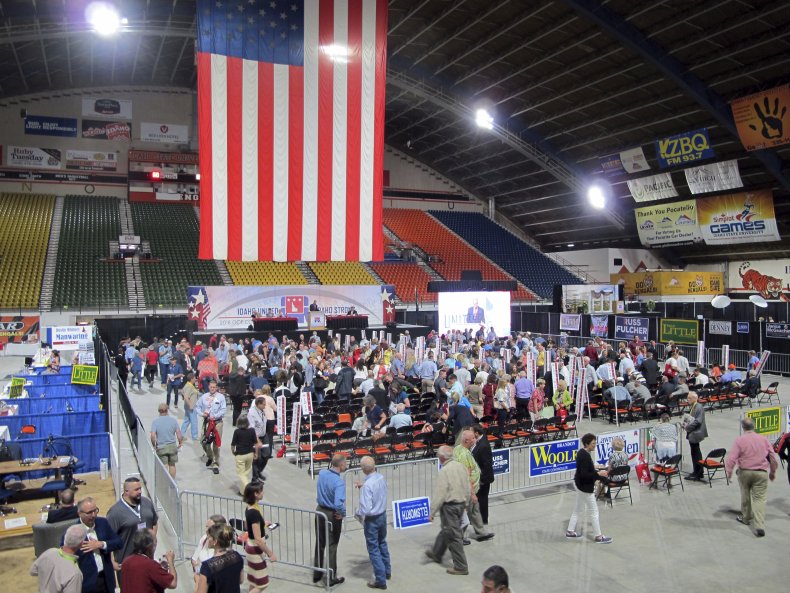 Scott Herndon, a Republican candidate who is running unopposed for the Idaho Senate, argued against the exception being included.
"For the last 49 years we have essentially lost the argument in the culture because we have focused on abortion as the termination of a pregnancy and not the termination of a living human being," Herndon told delegates, the Idaho Capital Sun reported.
"We will never win this human rights issue, the greatest of our time, if we make allowances for the intentional killing of another human being."
After Roe was struck down, Herndon said he would introduce a bill in the next legislative session making changes to Idaho's trigger law that would eliminate the exceptions for rape and incest.
Those exceptions are "absolutely unjust," and give mothers "a free pass," he said in a video posted on Facebook last month.
"You don't put to death the innocent child for the crime of its father, but that's what this law would allow," Herndon said.
And he added that "if a mother really wants to kill her child, she could lie, say she was raped, file a police report and go get her child killed in the state of Idaho and nobody would be prosecuted."
Abortion is expected to be banned in about 26 U.S. states following Roe's fall, according to the Guttmacher Institute.
At least a dozen states have begun restricting the procedure, with more bans expected to take effect in the coming weeks.
Idaho is among 13 states with trigger laws designed to take effect if Roe no longer applies. The others are: Arkansas, Kentucky, Louisiana, Mississippi, Missouri, North Dakota, Oklahoma, South Dakota, Tennessee, Texas, Utah, and Wyoming.
The Idaho Republican Party has been contacted for additional comment.