Idaho Lt. Governor Defers Pay After Office Ends Fiscal Year With 72 Cents
Idaho Lieutenant Governor Janice McGeachin is delaying pay as her office finishes its fiscal year with less than $1 as the result of a public records lawsuit.
The state's number-two elected official closed the books on her office's fiscal year—which ended a day earlier—with just 72 cents, The Idaho Statesman reported Friday. McGeachin also deferred part of her pay until the next fiscal year, according to the paper. The sparse fiscal situation is the latest controversy for the lieutenant governor who earlier made an insurgent run for the governor's office.
Citing an email from Chief Deputy Controller Joshua Whitworth, the Statesman reports McGeachin's office was projected to have $724.42 for June 24, the fiscal year's final payroll date. Whitworth advised McGeachin to defer $1,713.26 of her pay to avoid a deficit.
"This would close the fiscal year with an estimated $0.72 remaining in the appropriation budget for the office," Whitworth wrote, according to the paper. He added that the final balance could change based on tax and workers' compensation rate adjustments.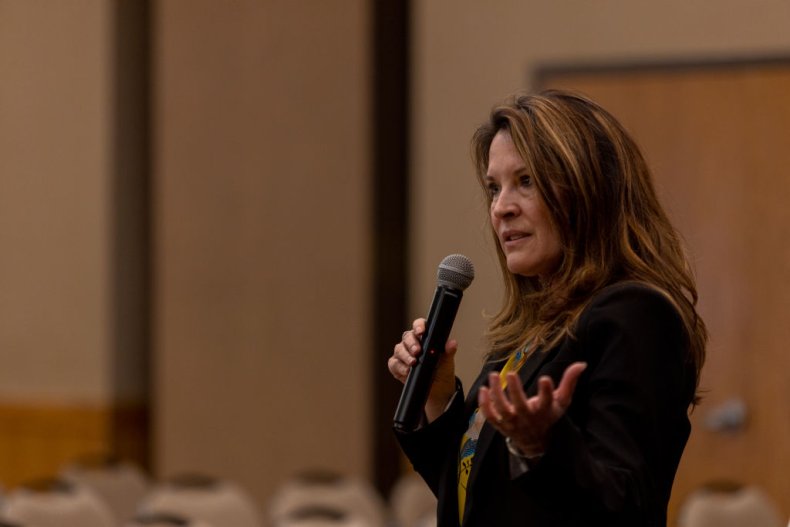 The administrator of the Idaho Division of Financial Management told the Statesman that McGeachin followed the course of action and will receive back pay on the third payroll date of the new fiscal year.
McGeachin's final paycheck for the fiscal year totaled $20.20, despite Idaho projecting to end its fiscal year with a surplus of about $1.3 billion, reports the Idaho Capital Sun.
Previously, state officials have sounded alarms that McGeachin's office would face a budget shortfall, according to the Sun.
However, McGeachin in April brushed off a request from state budget officials describing how she'd avoid a shortfall as a rather "pointless formality," reports Boise State Public Radio.
As a result of her office's shortfall, McGeachin has been working without a paid staff and state officials have paused vendor payments for her office, according to the Sun.
A central reason for McGeachin's budget woes is the Idaho Press Club winning a lawsuit last year over the release of records related to a task force her office assembled to look into indoctrination in Idaho schools, according to the Statesman.
A judge ruled that McGeachin illegally withheld records and ordered her office to pay the Idaho Press Club's legal fees, creating a $29,000 hole in her budget, the paper reports.
Previously, McGeachin had generated controversy for seeking to send National Guard troops to the U.S-Mexico border. She's also defended her appearance at a conference organized by far-right activists considered to be "white supremacists."
McGeachin additionally clashed with the state's Republican governor, Brad Little. She mounted a primary challenge against Little but lost in May even with the backing of former President Donald Trump.
Newsweek reached out to McGeachin's office for comment.