Idaho Murders Update: Decision Made About New Students Moving Into House
The University of Idaho provided an update on Friday regarding the off-campus residence where four students were fatally stabbed last November.
"The owner of the King Street house offered to give the house to the university, which we accepted. The house will be demolished," University of Idaho President C. Scott Green said in a memo on Friday. "This is a healing step and removes the physical structure where the crime that shook our community was committed. Demolition also removes efforts to further sensationalize the crime scene. We are evaluating options where students may be involved in the future development of the property."
Newsweek was directed to the announcement by Green after reaching out to the University of Idaho for comment.
The decision on Friday comes several months after four University of Idaho students, Kaylee Goncalves, 21, Madison Mogen, 21, Ethan Chapin, 20, and Xana Kernodle, 20, were murdered inside the home, which is located at 1122 King Road, in Moscow, Idaho, during the early morning hours of November 13.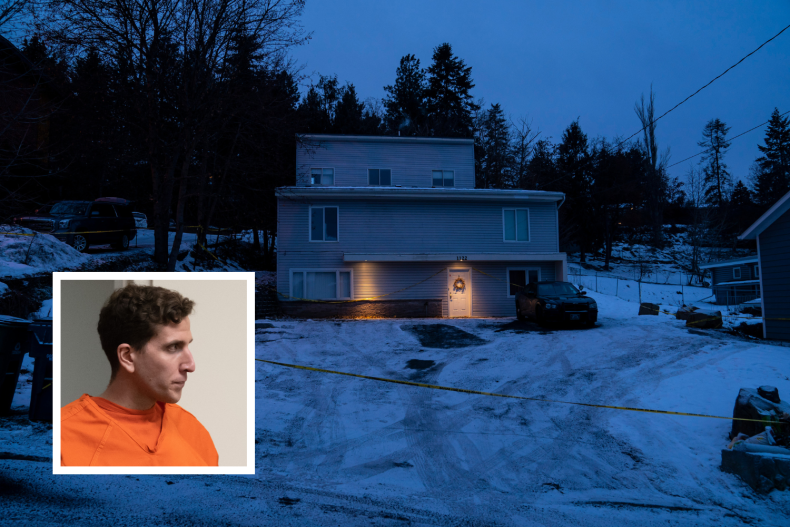 The murders prompted a wide scale investigation led by the Moscow Police Department, with assistance from other law enforcement agencies including the FBI.
On December 30, law enforcement officials announced the arrest of 28-year-old suspect Bryan Kohberger, who was charged with one count of felony burglary and four counts of first-degree murder. Kohberger was arrested in Albrightsville, Pennsylvania, at his parent's residence and previously attended Washington State University (WSU) as a Ph.D. student studying criminology.
Since his arrest, Kohberger has not made any public statements, but his attorney representing him during an extradition hearing in Pennsylvania, previously said that his client was "eager to be exonerated."
Prior to Kohberger's arrest, Moscow Police Chief James Fry told local news station, KREM-TV, that the owners of the 1122 King Road residence were "cooperating" with police.
In a probable cause affidavit released after Kohberger's arrest, authorities said that a knife sheath was left at the scene, which was revealed to have a "single source of male DNA" on it. A few days before his arrest, authorities in Pennsylvania collected trash from Kohberger's parent's home and were able to create two DNA profiles.
"On December 28, 2022, the Idaho State Lab reported that a DNA profile obtained from the trash and the DNA profile obtained from the sheath, identified a male as not being excluded as the biological father of Suspect Profile," the affidavit said. "At least 99.9998% of the male population would be expected to be excluded from the possibility of being the suspect's biological father."
Kohberger remains in custody in Idaho and is currently being represented by public defender Anne Taylor. There is a gag order in place, barring anyone involved in the case and investigation from speaking to the public. Kohberger is scheduled to appear back in court on June 26 for his preliminary hearing.