Idaho Police 'Internally' Dealing With Deputy Who Posted TikTok Mocking LeBron James' Ma'Khia Bryant Tweet
An Idaho law enforcement agency said on Tuesday they are "internally" dealing with a deputy who posted a viral TikTok video mocking a since-deleted tweet from LeBron James regarding the fatal police shooting of Ma'Khia Bryant.
In a statement posted to Facebook, the Bellevue Marshal's Office in Idaho wrote that they are aware of the controversial TikTok video posted by Deputy Nate Silvester.
"The statements made do NOT represent the Bellevue Marshal's Office. The Bellevue Marshal's Office always demands that our Deputies engage with our citizens in a friendly and professional manner. This is NOT how we expect our Deputies to act on duty or use city time. This is a personnel issue that is being dealt with internally," the Bellevue Marshal's Office wrote in the statement. "We would like to thank everyone that took the time to reach out to us. We greatly value our relationship within our wonderful community."
Newsweek reached out to the Bellevue Marshal's Office for further comment but did not receive a response in time for publication.
The statement by the Marshal's office comes shortly after the TikTok video circulated across social media and went viral, receiving more than 4.6 million views as of publication time.
In the TikTok video, Silvester can be seen responding to a fake disturbance call and reaching out to James to discuss how he should respond to the situation.
"LeBron, hey, yeah, it's me again. Listen I'm out here at this disturbance call and there's a guy trying to stab another guy with a knife. What do you think I should do?" Silvester says in the video.
Silvester then implies that James asked him what the race the individuals are and says, "Why does that matter? Well, they're both Black. One guy is trying to stab another guy with a knife, deadly force is completely justified."
Silvester continues to act out the fake phone call and says, "so you don't care if a Black person kills another Black person but you do care if a white cop kills a Black person even if he's doing it to save the life of another Black person."
Before the video ends, Silvester can be heard saying "I mean, that doesn't make a whole lot of sense, but then again, you're really good at basketball, so I guess I'll take your word for it."
In the video, Silvester was referencing a since-deleted tweet from James following the fatal police shooing of Bryant in Columbus, Ohio.
"YOU'RE NEXT #ACCOUNTABILITY," the Los Angles Lakers star tweeted after Bryant's death, including a picture of Nicholas Reardon, the officer who was identified with firing the four deadly shots at Bryant, a 16-year-old Black girl.
James' tweet was implying that Reardon would face the same fate as former Minneapolis Police Officer Derek Chauvin, who was found guilty of second-degree unintentional murder, third-degree murder and second-degree manslaughter in George Floyd's death.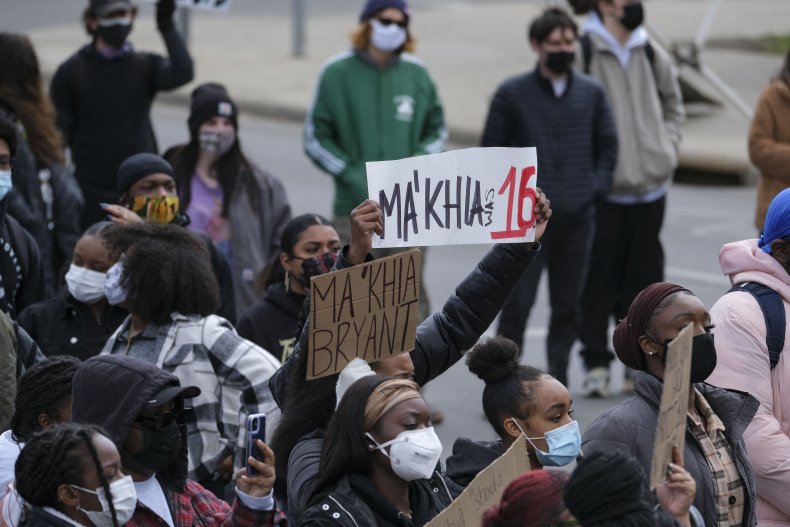 After deleting the tweet, James posted another explaining his decision.
"I'm so damn tired of seeing Black people killed by police. I took the tweet down because its [sic] being used to create more hate -This isn't about one officer. it's about the entire system and they always use our words to create more racism. I am so desperate for more ACCOUNTABILITY," the tweet said.
Newsweek previously reported that in addition to mocking James' tweet, Silvester also posted another TikTok video defending Kim Potter, the former Brooklyn Center Police Officer who is charged with second-degree manslaughter in the fatal police shooting of Daunte Wright, a 20-year-old Black man.