Idaho Sheriff Blames Biden for 'Rainbow Fentanyl' Threatening Children
An Idaho sheriff recently warned of the dangers associated with rainbow fentanyl and criticized President Joe Biden's administration as the new form of the deadly drug continues to spread across the nation.
During a recent appearance on Fox News' Fox & Friends First, Canyon County Sheriff Kieran Donahue spoke about rainbow fentanyl, as border agents and other law enforcement officials have recently seized large quantities of the new drug. During his interview, Donahue said that he met with former President Donald Trump twice to discuss ways to combat the spread of fentanyl but went on to criticize the current president, saying, "Unfortunately, this administration simply has shut the door on us."
Donahue continued, "[Homeland Security Secretary Alejandro] Mayorkas is absolutely not telling the truth when he's talking about the border....This administration seems to just completely be complicit in allowing and almost encouraging these drugs to come across into our country, and attacking our children."
The sheriff's comments come as law enforcement officials across the nation have recently warned of a rise in the discovery of rainbow fentanyl, which many believe is being used by drug cartels to target young children. Last month, authorities in Oregon said that they found several "grams of multi-colored, powdered fentanyl, often referred to as 'rainbow fentanyl.'" Customs and Border Patrol Port of Nogales Director Michael Humphries also recently posted a photo of a package of rainbow fentanyl that was seized by officials.
On August 30, the Drug Enforcement Administration (DEA) issued a warning about rainbow fentanyl and said, "This trend appears to be a new method used by drug cartels to sell highly addictive and potentially deadly fentanyl made to look like candy to children and young people."
According to the DEA, fentanyl is a synthetic opioid that is more potent than heroin and morphine. Additionally, the DEA states that a small amount of fentanyl, equivalent to 10 to 15 grains of table salt, could be deadly.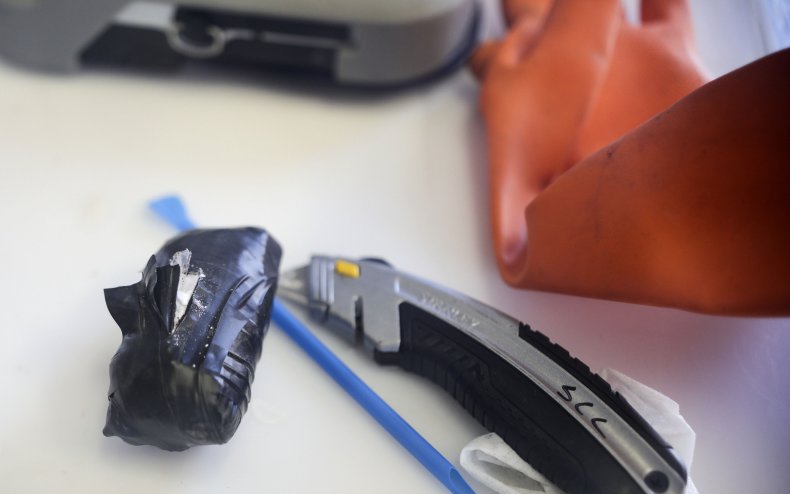 "Rainbow fentanyl—fentanyl pills and powder that come in a variety of bright colors, shapes, and sizes—is a deliberate effort by drug traffickers to drive addiction amongst kids and young adults," DEA Administrator Anne Milgram said in a statement on August 30.
Newsweek reached out to the DEA for further comment.
Donahue made similar comments during his interview on Wednesday, saying, "Little children thinking that they may be candy-like Sweet Tarts or Skittles...they're simply going to die from ingesting these."
Donahue is not the first to call on Biden to take further action against the current spread of fentanyl in the U.S. In early August, a group of families affected by fentanyl sent a letter to Biden asking him to make illicit fentanyl a "national security crisis."
"On behalf of bereaved Americans who have lost family members to illicit fentanyl, we urge you to address the fentanyl crisis and the National Security threat it has posed to the United States of America. We are families affected by fentanyl that work tirelessly to inform the American people about the dangers of illicit fentanyl to help save others from the devastation we have experienced," the organization, Facing Fentanyl, said in the letter.
Newsweek reached out to the Canyon County Sheriff's Office and the White House for further comment.