Rainbow Fentanyl May Target Kids as Drug Spreads on West Coast: Officials
Several grams of rainbow fentanyl were recently found at a residence in Oregon and officials are warning that the drug might be targeted to children and young adults along the West Coast.
The Multnomah County Sheriff's Office said in a press release on Wednesday that deputies with the Special Investigations Unit "found a new form of fentanyl that is considered to be more dangerous and potent than pressed pills."
During an investigation of an unidentified person's home, deputies discovered guns, cash and drugs, including "four grams of multi-colored, powdered fentanyl, often referred to as 'rainbow fentanyl,'" the sheriff's office said.
The most recent discovery of rainbow fentanyl comes as officials continue to warn of the dangers associated with the drug and its potency as it is known to cause overdoses.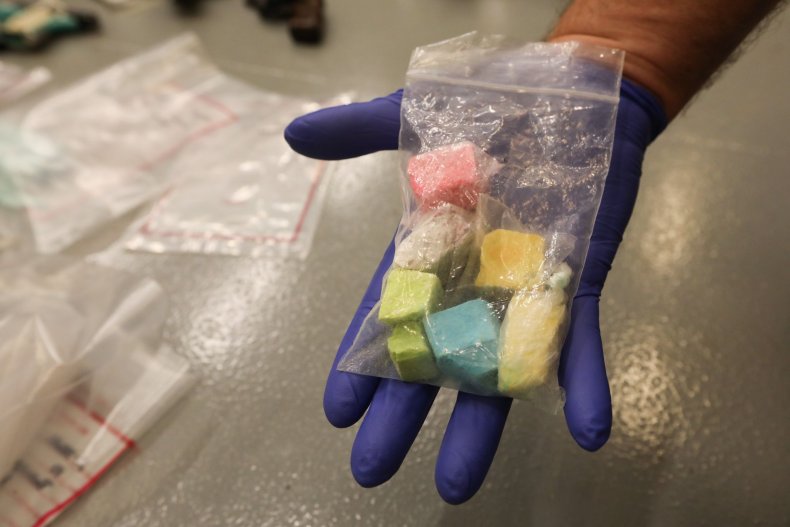 In the release, the sheriff's office said, "Deputies are particularly concerned about rainbow fentanyl getting into the hands of young adults or children, who mistake the drug for something else, such as candy or a toy, or those who may be willing to try the drug due to its playful coloring. The powdered fentanyl found during this investigation resembles the color and consistency of sidewalk chalk."
Kelly Sloop, a pharmacist and executive director of the Need 4 Narcan organization, told Newsweek on Wednesday about the possibility of drug dealers using colored fentanyl to target children and young adults.
"Now, there's this new rainbow-colored fentanyl because the drug dealers and drug cartels are trying to reinvent the wheel to find another means of appealing to kids and young adults," Sloop said. "And if you actually look at it, it does have the consistency of sidewalk chalk but it kind of looks like a taffy, saltwater taffy, and it is very appealing because it does look like candy.
"If we don't continue to stay up to date and continue to raise drug awareness, children and young adults will find this appealing and can get their hands on this and overdose, because they will not know how potent this fentanyl really is, because it does not take much at all to overdose on fentanyl."
Sloop also told Newsweek that she is "absolutely" concerned about the possibility of this new type of fentanyl traveling outside of Oregon and along the West Coast.
"My concern is for our young adults and our youth," Sloop said.
Following the discovery of the fentanyl by deputies this week, the Multnomah County Health Department also issued a warning to residents.
"We are seeing more powdered fentanyl that is dyed in various colors. The strength can vary but is typically stronger than pressed pills," Multnomah County Health Department Harm Reduction Supervisor Kelsi Junge said in a statement. "Anyone that intends to use powdered fentanyl should follow principles of harm reduction by going slow, not using when you are alone and ensuring that someone has narcan."
Newsweek was directed to the press release after reaching out to the Multnomah County Sheriff's Office for comment.