Idris Elba and Wife Sabrina Dhowre on How They Balance Career and Family
Idris Elba does it all. The award-winning actor, producer, DJ, philanthropist, and People magazine's 2018 "Sexiest Man Alive" has already accomplished more than most people do in a lifetime.
His latest business venture may be his most personal, however, as he's embarking on this one alongside his wife—model and co-founder of S'able Labs, Sabrina Dhowre Elba.
"I love that we dream and achieve together," Idris told Newsweek in an exclusive interview.
The couple aligned their business interests and joined forces for a new Audible Original podcast, Coupledom. The duo executive-produced the series with Audible, Awfully Nice, and S'able Labs—the latter a new lifestyle brand the Elba's launched in 2020. The brand already includes a blog, a full line of wellness products debuting later this year, and their groundbreaking podcast.
'Coupledom' podcast
Sabrina told Newsweek that they've been working on Coupledom "for the past two years" and that the idea for the project "came to us over conversations about the power of partnerships and what people can achieve when they come together."
Throughout the six-episode series, the Elbas dig into what it takes to make successful partnerships thrive as they interview some of the world's most renowned duos: Kris Jenner & Kim Kardashian West, Christian Louboutin & Mika, Nadiya & Abdal Hussain, Ben & Jerry, Tommy & Codie Oliver, and Mary & Sharon Bishop-Baldwin.
"We chose to interview duos that could speak to partnerships that have inspired us with their journeys," Idris said, adding that "our guests come from all walks of life because we want to expand coupledom to include more than just romantic partnerships."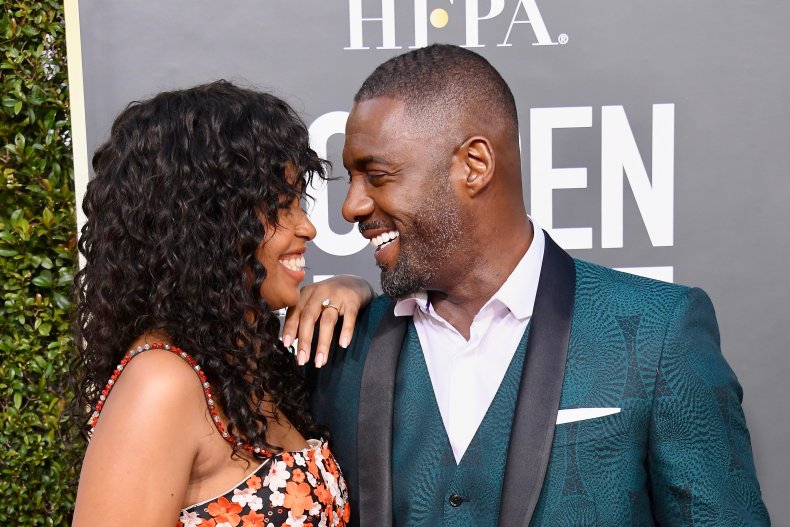 In the podcast, the Elba's don't shy away from any topic; candidly addressing important themes in the worlds of business, activism, and love. "The conversations we have on the podcast," Idris said, "are meant to stimulate and enlighten the community we're building, in hopes that they leave with something they can apply to their own lives."
An endeavor that works so well in part because it was born organically. "When I asked Sabrina to be my wife," Idris said, "I was fascinated with the conversations that started up around our own relationship and found myself talking with friends about what makes us work."
Balancing work and family life
Among the couple's many challenges that they've learned to navigate over the years has been finding ways to balance work and family—something Idris said he accomplishes "with great difficulty and organization." He explained: "I try to compartmentalize my work and my family life. It doesn't always work, but I try not to bleed the two together too often." In Coupledom, the duo made an exception and Sabrina said she's loved that the project is something they've had the "opportunity to work on together" and that it's a venture that has already strengthened their bond. "Building on our dreams together has been such a great experience for the both of us," she said.
Idris and Sabrina told Newsweek that in Coupledom, each of their guests surprised and inspired them in different ways. Idris said that the ice cream makers Ben & Jerry were particularly "fun to interview" and that he and Sabrina "were surprised at the end of the conversation with how much we wanted to emulate their business practices." Over the course of the interviews, Sabrina said she recognized a few things that each duo had in common - chief among them being trust. "When you enter a new partnership, you're taking some element of risk in the sense that this could go wrong," she said, "but taking those risks and trusting the other person can lead to beautiful outcomes."
Both Elbas said they've experienced such outcomes in their own marriage. "I love that—although I was once a cynic about marriage—through pure love and intention of heart, Sabrina helped me change my perspective," Idris said. For her part, Sabrina recognized that "marriage takes work, which inevitably means it takes time," but she said she appreciates "that Idris challenges me to grow as a person and as a businesswoman," and that her husband has "taught me how to dream big."
Idris affirmed that Sabrina has done the same for him and said, "I have someone who I can look into her eyes and say 'wow, we did it.'"
Coupledom with Idris and Sabrina Elba is now available exclusively on Audible.